Previous Overview
ACIAR is established by the Australian Centre for International Agricultural Research Act 1982 (ACIAR Act), as amended, and it is an agency of the Australian Government Foreign Affairs and Trade portfolio.
ACIAR is a non-corporate Commonwealth entity under the Public Governance, Performance and Accountability Act 2013 and a statutory agency under the Public Service Act 1999.
ACIAR has an executive management governance structure headed by the CEO, who reports directly to the Minister for Foreign Affairs.
The CEO manages the administrative and financial affairs of ACIAR and its staff, subject to, and in accordance with, any directions given by the Minister. An executive team supports and advises the CEO on strategic priorities and corporate and operational policies.
The CEO is supported by an Audit Committee, which provides independent assurance to the CEO on financial, performance and risk management of ACIAR.
Also established under the ACIAR Act is the Commission for International Agricultural Research (the Commission), which provides collective decision-making and expert strategic advice to the Minister on the operations of ACIAR; and the Policy Advisory Council, which provides advice to the Minister on strategic aspects of national and regional development.
Image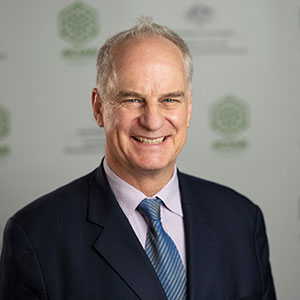 ACIAR CEO
Chief Executive Officer
Professor Andrew Campbell FTSE FAICD
The CEO is directly responsible to the Minister for managing the affairs of ACIAR, in a way that provides proper use of the Commonwealth resources for which the CEO is responsible. As agency head, the CEO is also responsible for managing the agency with direct accountability to the Australian Government.
Professor Andrew Campbell was appointed to the role of CEO on 31 July 2016. He was reappointed to the role for another 2 years by the Minister for Foreign Affairs, Senator the Hon Marise Payne, in June 2021. Andrew has played influential roles in sustainable agriculture and natural resource management in Australia for more than 30 years. He has a Diploma of Forestry from the Victorian School of Forestry, Creswick, a Bachelor of Forest Science (Honours) from the University of Melbourne and a Master of Science (Management of Agricultural Knowledge Systems) from Wageningen University in The Netherlands. Andrew is an elected Fellow of the Academy of Technology and Engineering, Fellow of the Australian Institute of Company Directors and an honorary Professorial Fellow at the Australian National University.
Image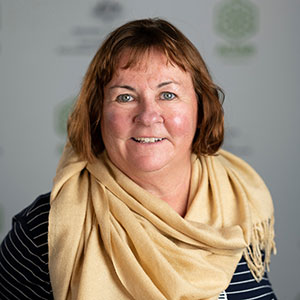 ACIAR Executive
Chief Finance Officer
Ms Audrey Gormley
The Chief Finance Officer is responsible for providing strategic financial advice to the organisation, in addition to managing human resources, business services (information technology), procurement, legal, property and other corporate activity.
Ms Audrey Gormley joined ACIAR in July 2017 and has more than 30 years experience in all facets of finance and accounting both at strategic and operational levels, working in investment banking and insurance sectors before joining the Australian Government. Prior to joining ACIAR, Audrey was Chief Finance Officer at Food Standards Australia New Zealand for more than 10 years. She holds a Bachelor of Commerce from University College Dublin and is a Fellow of the Association of Chartered Certified Accountants.
Image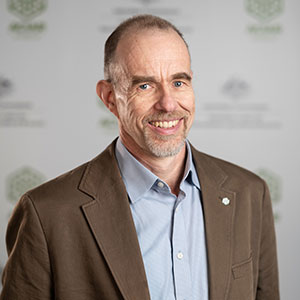 Chief Scientist
Dr Daniel Walker
The Chief Scientist oversees the strategic science focus of the ACIAR research portfolio and its impact assessment, monitoring and evaluation work. The Chief Scientist also provides leadership for research program managers across 10 research areas, and oversight of our relationship with the Australian innovation system.
Dr Daniel Walker joined ACIAR in November 2017 to take up the newly created role of Chief Scientist. Prior to ACIAR, Daniel spent 23 years at CSIRO, where he was Research Director for Agriculture and Global Change with CSIRO Agriculture and Food and previously, Chief of CSIRO Ecosystem Sciences. Daniel has a Bachelor of Science (Honours) in agriculture, forestry and rural economy from the University of Edinburgh and a PhD from the University of Wales.
Image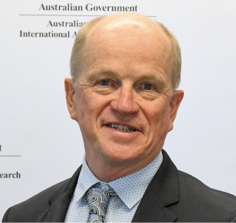 General Manager, Country Partnerships
Dr Peter Horne
The General Manager, Country Partnerships is responsible for overseeing the strategic directions of ACIAR in-country programs, managing the ACIAR Country Network, and leading the engagement with key research partners and stakeholders, in Australia and overseas.
Previously, Dr Peter Horne was Research Program Manager for Livestock Production Systems for ACIAR. Peter has spent most of his career based in Asia, involved in agricultural research-for-development with a particular focus on forages and livestock systems. Peter has a Bachelor of Science (Honours) in environmental sciences from Griffith University and a PhD in tropical forage agronomy from University of New England, Australia.
Image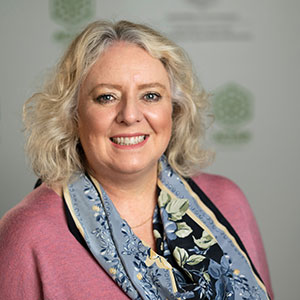 General Manager, Outreach and Capacity Building
Ms Eleanor Dean
The General Manager, Outreach and Capacity Building leads the development and implementation of the ACIAR outreach strategy, and leads and directs a team responsible for ACIAR communications, stakeholder engagement, capacity building and outreach activities.
Ms Eleanor Dean has worked in public affairs and communication for the Australian Government for more than 25 years on a diverse range of issues including natural resource management, biodiversity, education and training. Prior to joining ACIAR in 2017, Eleanor led the safety promotion and communication branch at the Civil Aviation Safety Authority. She has a Bachelor of Communication (Honours) from the University of Canberra.
Commission for International Agricultural Research
The Commission for International Agricultural Research (the Commission) has a critical governance role under the ACIAR Act to provide strategic advice to the Minister and the CEO of ACIAR. The Commission will continue to play an important role as a sounding board and source of strategic advice for ACIAR as we develop and refine new business models in response to a radically disruptive global pandemic.
Commissioner

 

Mrs Fiona Simson GAICD BA (Chair)

Grazier, northern New South Wales
President, National Farmers' Federation

Professor Andrew Campbell FTSE FAICD

CEO, ACIAR

Dr Sasha Courville

Executive, Social Impact, National Australia Bank

Emeritus Professor Lindsay Falvey FTSE, FAIAS

University of Melbourne

Ms Su McCluskey

Cattle farmer, southern New South Wales
Non-executive director and commissioner

Dr Beth Woods OAM FTSE

Recently retired Director-General of the Department of Agriculture and Fisheries, Queensland

Mr Tony York

Farmer, central wheatbelt, Western Australia
Director, National Farmers' Federation
Policy Advisory Council
The role of the Policy Advisory Council under the ACIAR Act is to advise the Minister on the agricultural problems of developing countries, providing rich contextual detail and insight on how Australia supports international agricultural research and development. The Act requires that council members are predominantly residents of countries other than Australia. The Policy Advisory Council provided important feedback on the early phases of our rapid assessment of food system risks and resilience, in response to the COVID-19 pandemic. It will be a valuable source of advice as we design intervention options in response to the assessment during 2021–22.
Council member

 

Prof Wendy Umberger (President)

Executive Director, Centre for Global Food and Resources, and Professor of Agricultural Economics and Food Policy, University of Adelaide, South Australia

Dr Audrey Aumua

CEO, Fred Hollows Foundation, New Zealand

Prof Ramesh Chand

Member, Union Minister of State National Institute of Transforming India (NITI Aayog)

Dr Sar Chetra

Deputy Director, Ministry of Agriculture, Forestry, and Fisheries, Cambodia

Dr Reynaldo Ebora

Executive Director of the Philippine Council for Agriculture, Aquatic and Natural Resources Research and Development (PCAARRD)

Dr Segenet Kelemu

Director General and CEO of the International Centre of Insect Physiology and Ecology (icipe), Kenya

Prof Achmad Suryana

Senior researcher, Indonesian Center for Agriculture Socio Economic and Policy Studies
Professor, Bogor Agricultural University specialising in food and agribusiness policy

Prof Teatulohi Matainaho

Chairman, PNG Science and Technology Council
Chief Science Advisor to the Papua New Guinea Government

Dr Nguyen Van Bo

Member, Vietnam Panel on Climate Change
Vice Chairman of Vietnam Rural Development Science Association

Dr Su Su Win

Deputy Director General (Technology), Department of Agricultural Research, Ministry of Agriculture, Livestock and Irrigation, Myanmar

Ex-officio member

Secretary of the Department of Foreign Affairs and Trade, or nominee of the Secretary
Funding and expenditure
Table 1. Overview of planned funding and expenditure, 2021–22
| Budget estimate |   |   |
| --- | --- | --- |
| Funding |   | A$ million |
| Administered | Administered appropriation | 91.19 |
|   | Special accounts | 3.14 |
|   | Total administered funding | 94.33 |
| Departmental | Departmental appropriation | 9.36 |
|   | s 74 Retained revenue receiptsa | 0.37 |
|   | Expenses not requiring appropriationb | 1.48 |
|   | Total departmental funding | 11.21 |
| Total funding |   | 105.54 |
| Expenditure |   |   |
| Administered | Bilateral and regional research projectsc | 64.16 |
|   | Global research collaborationsd | 18.79 |
|   | Scientific and policy capacity building activitiese | 9.35 |
|   | Outreach | 2.03 |
|   | Total administered costs | 94.33 |
| Departmental | Total departmental costsf | 11.21 |
| Total expenditure |   | 105.54 |
a) Revenue from external sources.
b) Depreciation, amortisation and audit fees.
c) Includes program support and impact evaluation.
d) Includes unrestricted funding to international centres.
e) Does not include training and communication activity within projects.
f) Includes salaries, executive, Commission, Policy Advisory Council and corporate support.
Table 2. Planned contribution to ACIAR activities by external funders or partners, 2021–22
| Activity area | Funder or partner | Expenditure |
| --- | --- | --- |
|   |   | A$ million |
| Regional and country projects | Department of Foreign Affairs and Trade | 5.29 |
| Postgraduate Scholarships | Department of Foreign Affairs and Trade | 2.73 |
| Cultivate Africa's Future Fund | International Development Research Centre (Canada) | 1.00 |
| Food Futures Research Program | International Development Research Centre (Canada) | 0.35 |
| Total |   | 9.36 |
Note There is no external funding expenditure on projects and programs in Africa by Department of Foreign Affairs and Trade.
Table 3. Australia's funding to international agricultural research centres, 2021–22
|   | Unrestricted | Restricted (project specific) | Total |
| --- | --- | --- | --- |
|   | A$ million | A$ million | A$ million |
| CGIAR | 17.30 | 5.70 | 23.00 |
| Other centres | 1.49 | — | 1.49 |
| Total | 18.79 | 5.70 | 24.49 |
Note 'Other centres' encompasses international partners that do not belong to the CGIAR network.
Table 4. Planned project expenditure by country, 2021–22
Region and country

Target appropriation budget allocations

ACIAR base appropriation

DFAT and other external funding

Total allocation

 

%

A$ million

A$ million

A$ million

Pacific region

35

18.93

3.13

22.06

Fiji

—

4.17

0.78

4.95

Kiribati

—

0.31

0.28

0.59

Samoa

—

0.26

—

1.26

Solomon Islands

—

1.18

0.36

1.54

Tonga

—

1.08

—

1.08

Vanuatu

—

1.26

0.28

1.54

Pacific region – general

—

0.50

0.28

0.78

Papua New Guinea

—

7.48

1.15

8.63

Timor-Leste

—

1.69

—

1.69

East and
South-East Asia

42

22.40

2.16

24.56

Cambodia

—

2.91

0.35

3.26

China

—

0.12

—

0.12

Indonesia

—

5.50

0.97

6.47

Laos

—

3.63

0.18

3.81

Malaysia

—

0.04

—

0.04

Myanmar

—

1.69

—

1.69

Philippines

—

3.91

0.46

4.37

Thailand

—

0.04

—

0.04

Vietnam

—

4.56

0.20

4.76

South Asia

13

6.90

—

6.90

Bangladesh

—

1.82

—

1.82

India

—

0.73

—

0.73

Nepal

—

0.72

—

0.72

Pakistan

—

3.14

—

3.14

Sri Lanka

—

0.49

—

0.49

Eastern and Southern Africa

10

5.11

1.00

6.11

Burundi

—

0.05

—

0.05

Ethiopia

—

1.22

0.25

1.47

Kenya

—

1.17

0.17

1.34

Malawi

—

0.31

0.07

0.38

Mozambique

—

0.54

0.23

0.77

Rwanda

—

0.10

—

0.10

South Africa

—

0.34

—

0.34

Tanzania

—

0.36

—

0.36

Uganda

—

0.35

0.14

0.49

Zambia

—

0.12

0.07

0.19

Zimbabwe

—

0.55

0.07

0.62

Total project expenditure

100

53.34

6.29

59.63
Note Due to rounding, subtotals may not add up to the total.
Next ACIAR regions and partner countries