Alumni Research Support Facility
Image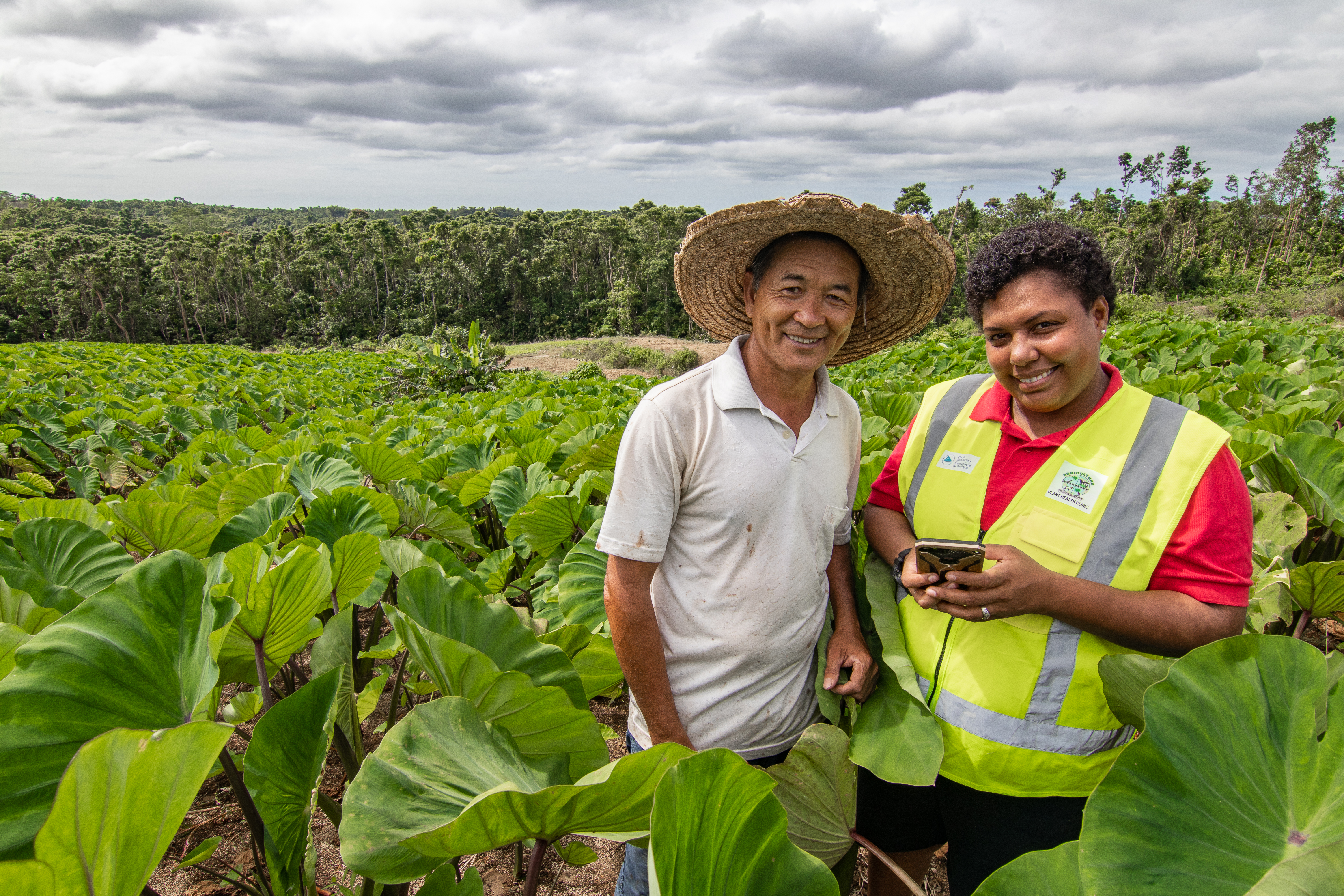 Agricultural Fieldman Specialist, Maca Vakaloloma, with local Fijian farmer Cheung Ho Fai, diagnoses his suspected diseased Dalo plants on the Pacific pests and pathogens app. The app is one of the innovative tools the ACIAR and The Pacific Community (SPC) plant health trainees are equipped with.
ACIAR announced the Alumni Research Support Facility (ARSF) in April 2020 as a swift response to the COVID-19 pandemic. The ARSF enables research projects that build resilience and respond to the pandemic's challenges to agriculture systems in ACIAR partner countries.
ACIAR Alumni were invited to apply for up to A$20,000 to support research activities to deliver short-term outcomes that directly relate to the pandemic and build upon a region's capacity to respond to it.
Each ARSF project is matched with an Australian mentor or collaborator who works with the ACIAR Alumni to build the research team's capacity and provide mentorship and guidance.
Once you have started the SurveyMonkey form, you can exit and re-open it again as many times as you need, as long as you access it with the same device you used to open the form for the first time.
When you have completed your SurveyMonkey form and do not wish to make any more changes you should click on the "Completed" button at the end of the form.
Alumni Research Support Facility 1
In the first round, ARSF1, 38 ACIAR Alumni received funding for their projects, most of which are now completed.
Dr Hoa Pham, Meryl Williams Fellow Vietnam: investigation into the strategies used by flower and vegetable growers in the Lam Dong province, Vietnam to adapt to challenges posed by the pandemic. Emphasis upon including representation of smallholders in supply chain policy and management.
Alumni Research Support Facility 2
In a second round, ARSF2, launched in 2021, the program was expanded beyond research projects to also include agricultural outreach and policy where they seek to build capacity and develop resilience in partner countries. A total of 28 Alumni received funding for their projects. These projects are now well underway.
Aradhana Deesh, Meryl Williams Fellow Fiji: research on supplying seeds, seedlings and other home gardening resources aimed at improving food security to individuals and families left vulnerable by the COVID-19 pandemic.
Alumni Research Support Facility 3 – Early-Career Researchers
Building on the success of the ARSF rounds 1 and 2 (ARSF1 and ARSF2), this third round, launched in 2022, is a response to support early-career researchers (ECR) through the ongoing impacts of the COVID-19 pandemic. Termed ARSF3-ECR, the program aims to support early-career researchers to undertake research or extension activities that will build the resilience of food systems to the ongoing impacts of the pandemic or seek to explore new areas of research or extension for the post-COVID world.
Through the ARSF3-ECR, ACIAR will support and fund up to 40 research or extension projects designed and implemented by early-career researchers. The ARSF3-ECR will support projects with mentoring, support for international research collaboration and up to A$20,000 in funding which is provided to the organisation in which the awardee is currently working.
Applications are now closed for round 3 and are currently under review for approval.