Image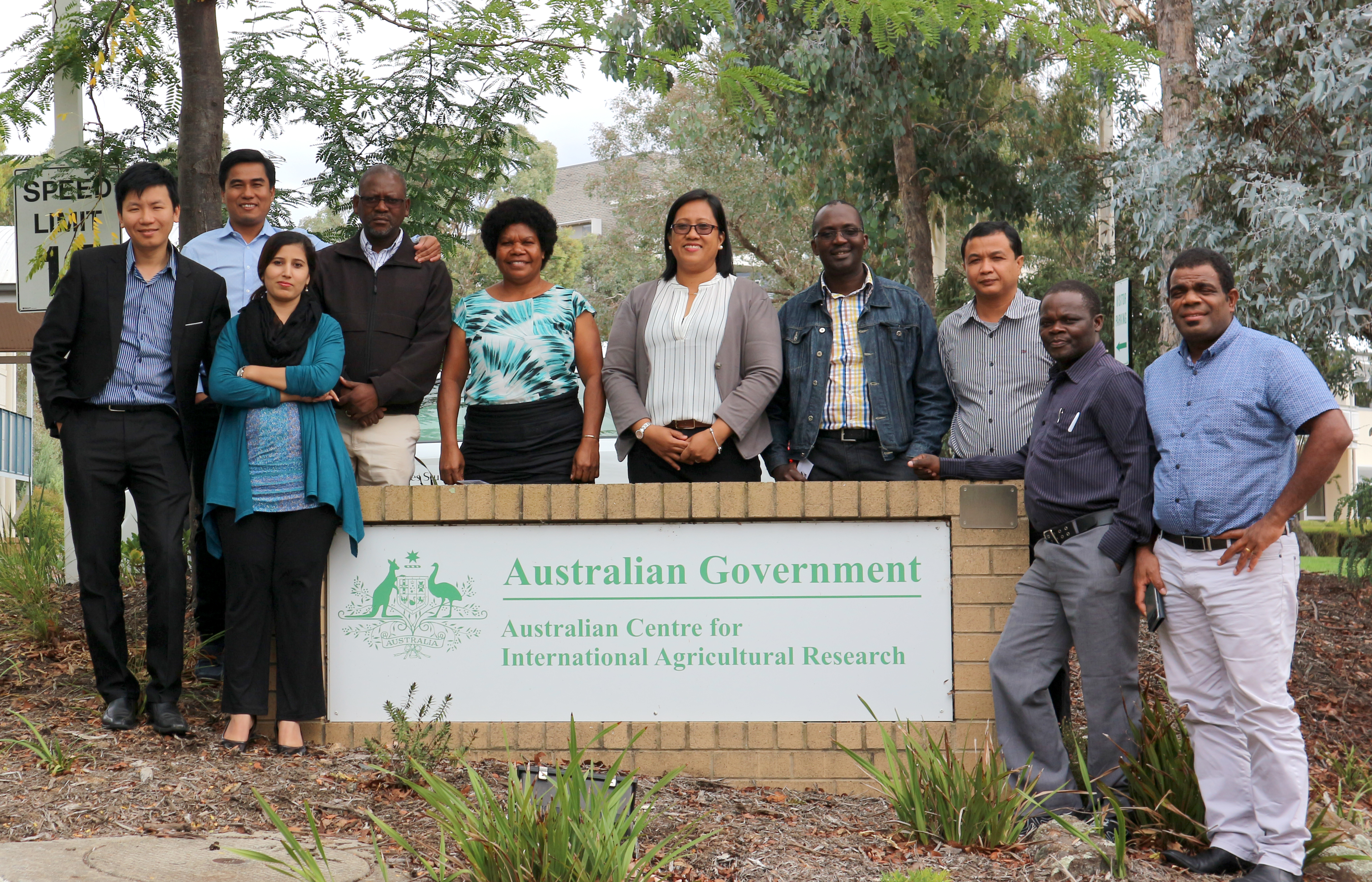 Established in 2002 in recognition of Professor John L Dillon's life-long commitment to agricultural research, the John Dillon Fellowship (JDF) is one of the flagship fellowship programs of the Australian Centre for International Agricultural Research (ACIAR).
The program aims to develop the leadership and management skills of mid-career professionals, particularly scientists, researchers and economists working in agriculture research for development from ACIAR partner countries.
ACIAR responded to the 2020 global pandemic swiftly and is proud to be introducing a newly designed John Dillon Fellowship in 2021 that builds upon the program's past success. The program will now be delivered in individual country cohorts of up to 15 participants with a strong focus upon cross-organisational collaboration and strengthening ties with Australian collaborators.
Developed and delivered by the International Development team at the University of New England, Australia, the new John Dillon Fellowship program will be adaptive to the differing needs and requirements of partner organisations and the agriculture sector in each region. The first round of the John Dillon Fellowship in 2021 will be run in the Philippines.
John Dillon Fellowship – Vietnam 2021
The John Dillon Fellowship Vietnam 2021 has been jointly designed by ACIAR and MARD. The program is an outcome of the ACIAR-Vietnam 10-year research collaboration strategy which was also built upon the 28-year strong collaborative relationship between the Ministry of Agriculture and Rural Development (MARD) and ACIAR.
John Dillon Fellows will receive training in crucial leadership and management skills including leadership in the face of a crisis/the-pandemic, partnership brokering, leadership communication, gender equity, diversity, and social inclusion. With input from MARD, the program has been tailored to suit the specific needs of the Vietnam partner organisations. As a result, particular emphasis will be placed upon delivering the skills required to create an enabling research environment as well as project collaboration.
In addition, awardees will have the opportunity to collaborate with one another and design a project for possible funding by the JDF program. The project is a vehicle for Fellows to put to practice their skills and learnings from the program. As such, it must address a pressing development or leadership challenge within the context of research, extension, policy, communication, and organizational development that has real life application. 
Projects will tackle an important research, extension, policy, management or professional development problem. Projects that receive ACIAR funding to go ahead will be matched with an Australian collaborator who will support the professional development of the research team.
Key features of the JDF Program
Online Training Modules (16 weeks): Covering Leadership & Management, Modern Communication, Partnership Skills & Collaboration, Gender Equity, Diversity & Social Inclusion, and Project Leadership & Management.
Collaborative Project Pitch Development: Awardees are supported in developing a project pitch to be made to ACIAR and MARD, to receive ACIAR project funding. Collaborative projects will tackle an important research, extension, policy, management or professional development problem. 
JDF Collaborative Project Execution (12 months): providing real-world experience and capacity development while also strengthening collaboration across organisations  in-country and with Australian collaborators.
Final Immersive Workshop in Australia: includes final training sessions, site-visits to Australian organisations and two days at ACIAR House in Canberra.
Application guidelines
Applications will be invited from the MARD and ACIAR endorsed organisations for the John Dillon Fellowship.  ACIAR and MARD will select 18 fellows from the invited organisations. There is no public application process for the John Dillon Fellowship in 2021.
In line with ACIAR's ongoing commitment to gender equality, applications are open to all genders with expectation that half of all Fellows will be women. 
If you are eligible to apply, the outline of the program and guidelines for application are available below. If you are unsure about your eligibility, the Guidelines provide full details of who is eligible.
Applications close at 11:59pm (Hanoi time) on Sunday 5th September 2021.
For any inquiries, please contact Ms Nguyen Thi Lan Phuong at [email protected], mobile:  + 84 903 441 519.
Download outline and application guidelines
Eligibility: John Dillon Fellowship Vietnam 2021
To be eligible for this fellowship you must:
Be currently employed by one of the John Dillon Fellowship Vietnam invited organisations.
Be a mid-career agriculture research and development professional with potential to be an outstanding emerging leader.
Have personal commitment and enthusiasm to develop skills in research leadership and management. 
Have an association with ACIAR and its research projects (past, current or future).
Have your agencies support to release you for the full duration of the program.
Work in one of the priority areas agreed between MARD and ACIAR for Vietnam – Australia collaboration. (A list is provided in the application form, or you can read the ACIAR – Vietnam collaboration research strategy 2017-2027 for more information.)
Vietnam citizen and resides/ work in the Vietnam, holds a current passport and is eligible for an Australian visa (tourist)
The fellowship is delivered in English. A minimum band score of 5.5 IELTS is required, however 6 in speaking or equivalent is highly recommended.
Key dates – Vietnam round 2021
| | |
| --- | --- |
| Applications for John Dillon Fellowship Vietnam Open | 9 August 2021 |
| Applications for John Dillon Fellowship Vietnam Close | 5 September 2021 |
| Applicants notified of the outcome | 17 September 2021 |
| Fellowship commences (tentative) | Last week October 2021 |
Fellow in the spotlight: Dr Phan Thuy Hien, Vietnam
Dr Phan Thuy Hien, currently Deputy Director of the National Institute of Medicinal Materials, found that the JDF helped her to sharpen her critical thinking and strengthened her leadership capacity.
Hien reflected on her professional development through the Fellowship experience:
"Participating in the JDF changed the way I think about scientific research. Now I pose questions for issues that need to be resolved, and then seek the answers. Additionally, I learned how to plan and design research carefully before starting."
With her professional accomplishments, Dr Hien was promoted to become a leader at her institution, leading researches on planting and managing diseases on medicinal plants. The institute is a long-standing partner of ACIAR, and her field of research is a part of ACIAR's ten-year strategy in Vietnam.
Experience
The best way to understand the Fellowship experience is to hear from the past fellows themselves. Check out this video to hear from some of the JDF alumni about their 2018 ACIAR John Dillon Fellowship Experience.