Date released
04 May 2022
Smallholder farmers in Northwest Vietnam have a long tradition of free-grazing beef cattle production, thanks to large areas of wild forage.
However, the grazing-based system has been in strong competition for land with the expanding crop production, such as maize and cassava. Furthermore, free-graze herds are also highly vulnerable to long cold winters, diseases, and fatal falls from steep slopes that dominate the region.
In addition to being heavily dependent on a reducing natural feed source, local livestock production is limited in its marketability. Instead of selling the animals at the optimal age for market price and production cost, farmers usually keep their cattle as savings accounts for family events, children's education, or unexpected financial crises. These traditional practices, coupled with poor linkages to urban markets, and limited information exchange on market demands and other opportunities along the beef cattle value chain, have denied smallholder farmers of real financial benefits, despite the growing domestic demand for beef.
An ACIAR-funded project led by the University of Tasmania since 2015 has been looking to improve livestock production in the region by increasing the farming system efficiency and building linkages to urban beef markets.
'Improved efficiencies in beef cattle farming can help increase farmers' income, which can then be used for other benefits such as school fees, healthcare costs or re-investment back into their farming enterprises. In this way, the project can help bring multiple benefits to the whole region,' said Dr Anna Okello, Research Program Manager for Livestock Systems at ACIAR.
To develop more efficient and market-oriented beef cattle production, the project's first mission was to understand the social, economic, and policy context to build practical interventions.
'We spent four years of intensive research into the local farmers' livelihood assets, their ability to cope with economic shocks, their production and marketing strategies, and institutional processes affecting their livelihood. We want to design practical farming systems that will benefit smallholder farmers in the end,' said ACIAR project leader Dr Stephen Ives from the University of Tasmania.
On top of building a solid understanding of the systems, the project also supported farmers in growing nutritious grass and making hay to keep food longer and richer in nutrition content. This technique will enable farmers to shift from free-grazing to intensive production more confidently.
Seeing is believing
'But the first real 'nudge' to help farmers in this paradigm shift from traditional cattle keeping to beef production and supply was through peer learning. We supported several Northwest farmers to travel to the Central Highlands to learn from their highly productive beef producer peers. Seeing the real-life benefits of effective production systems, they changed their mind and took action almost immediately after the trip,' said Dr Ives.
Other factors contributing to farmers' practice change is the highly enthusiastic local extension officers and the motivation of the farmers themselves. The domino effect happens when farmers see how other farmers benefit from growing nutritious grass and making silages. They come to the early adopters of new technologies to ask for seed sharing and growing experience.
Naturally, more Northwest farmers have shifted from free-grazing to stall-fed production systems, using grown forage and crop by-products. Through this more intensive system, farmers have been able to increase the frequency of cattle sales and their herd sizes.
'I used to drive 20 to 30 cows to the mountain and let them feed on natural grass. But I can't raise cows that way anymore because the local livestock herds are growing, and the grazing grounds cannot feed them all. Now my herd is in their barn. I plant grass to feed them and make silage to store food for the whole winter.' - Mr Vang A Cao and Mrs Mua Thi May in Tuan Giao district, Dien Bien province, shared.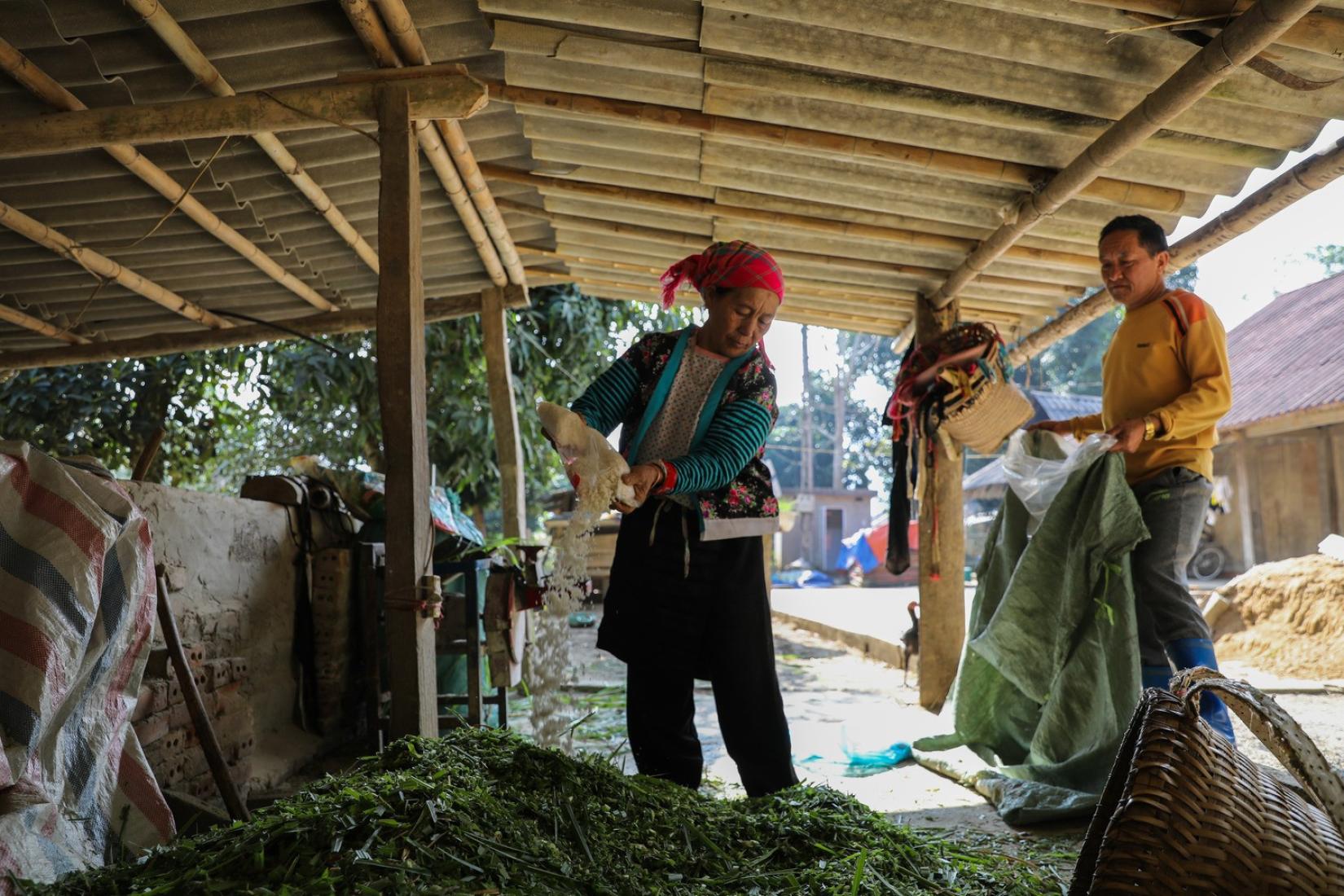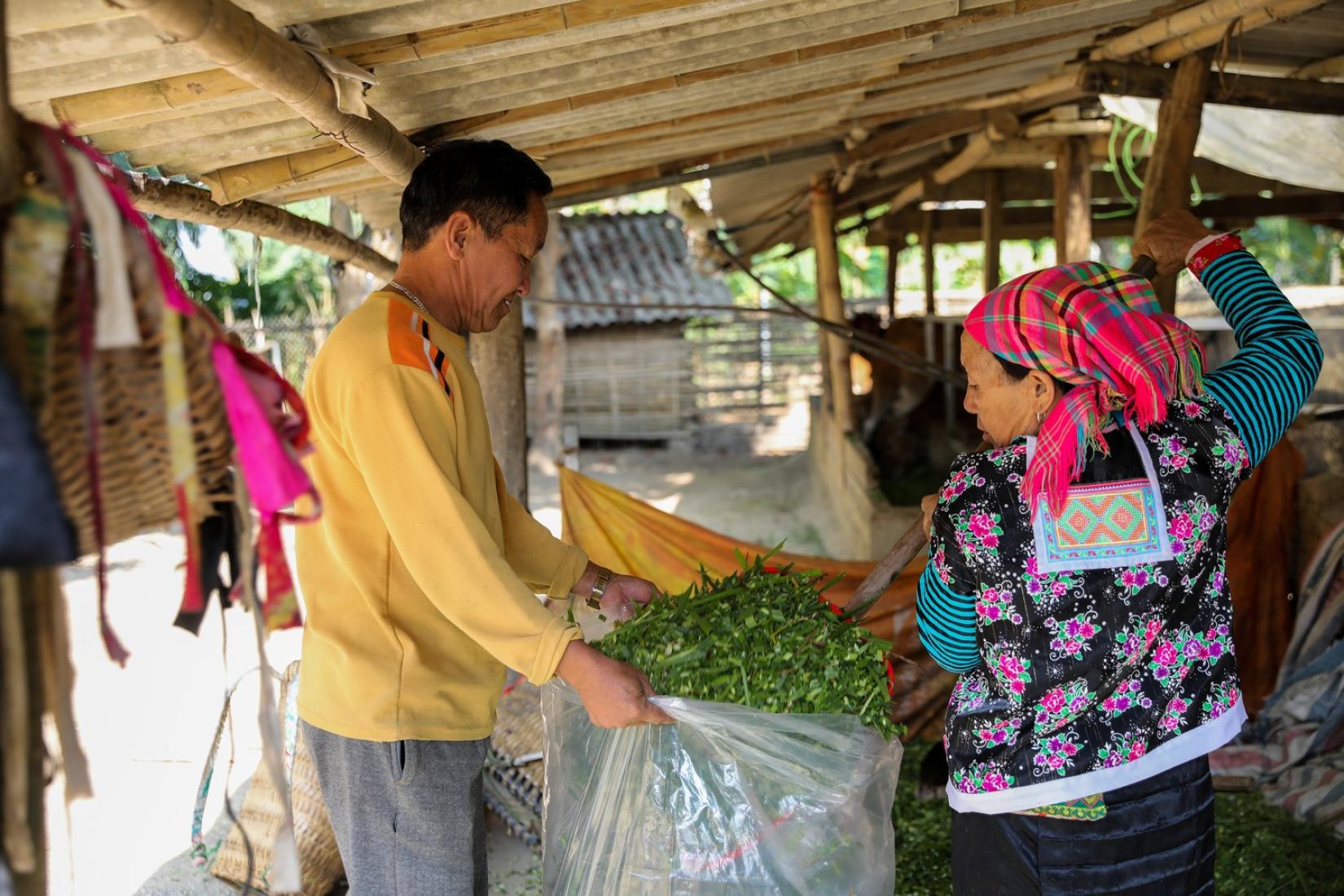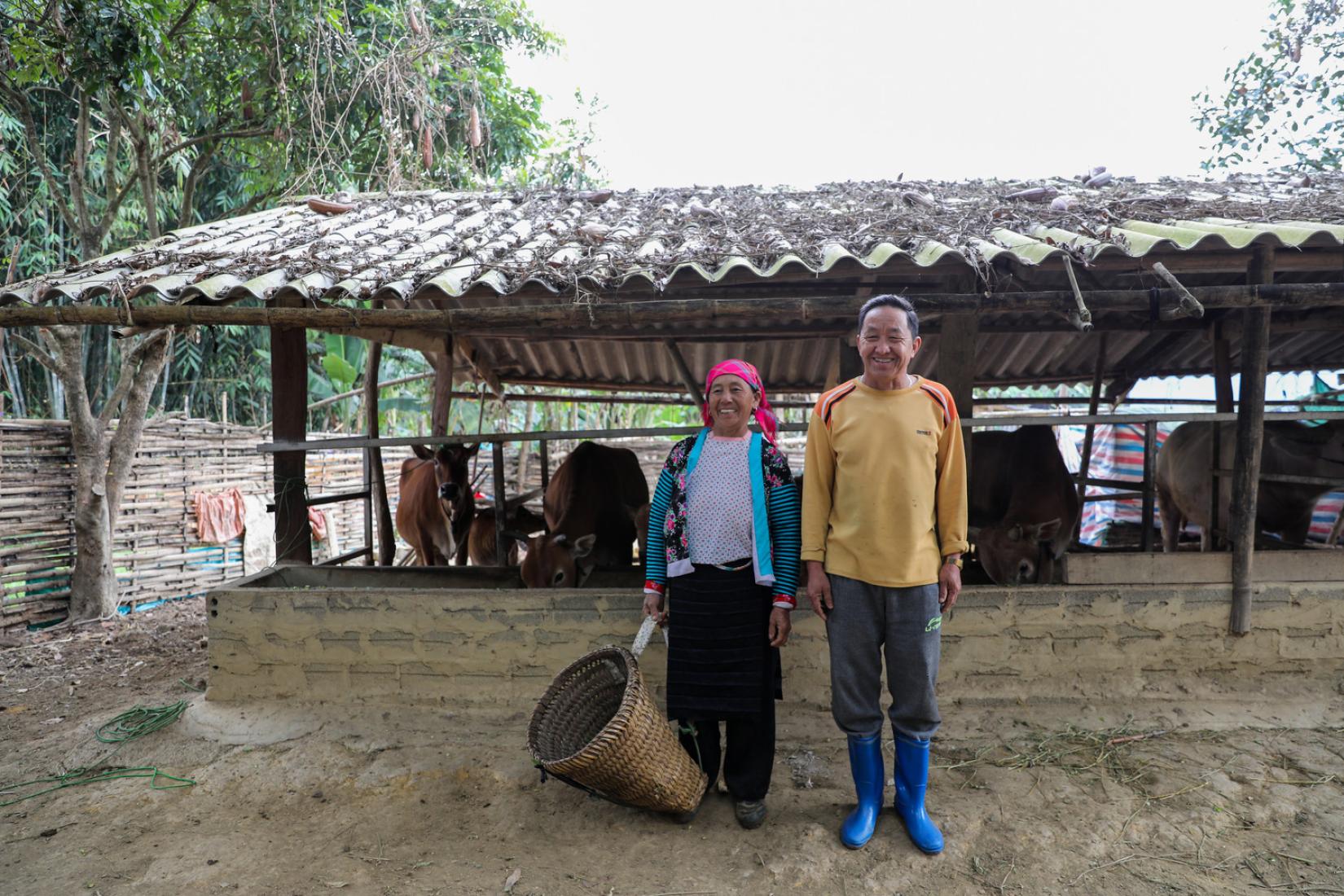 They have benefited from growing high yield, nutrition-rich forage, and silage-making methods that ensure food supplies for livestock during the dry season. With the new farming techniques, they also significantly reduce the risk of losing their free-gazing cattle due to diseases, accidents and long, cold winter. Mr Cao and Mrs May happily shared that they can 'live well' with an income of about 100 million VND/year (A$6,000) from livestock, in addition to other revenues gained from growing sugar cane and maize.
In the future, to encourage more smallholders in the Northwest to change to more sustainable production systems, building social capital is very important. Social capital means more opportunities for farmers to access information, increase business connections and build market linkages to increase their income. Therefore, the project has worked with leading farmers and community leaders to establish and manage farmer interest groups and farmer-led cooperatives.
New waves of farmer-led business in the value chains
Mr Do Duc Thang in Dien Bien district, Dien Bien province, has a medical college degree but is passionate about agribusiness. With support from the project, he has started making green forage and hay to support more intensive animal husbandry practices. In 2020, in collaboration with the Dien Bien Department of Agricultural and Rural Development (DARD) and the project, Thang established the Dien Bien Livestock Cooperative, breeding and trading cattle and buffalo.
The cooperative is now developing a closed chain in the region: cows from local farmers are collected, fattened if necessary, slaughtered at cooperatives, and beef products are sold in supermarkets. All products have certificates of origin and food hygiene and safety.
Another cooperative led by smallholder farmers in Tuan Giao district, Dien Bien province, functions as an effective broker, connecting local beef farmers with the traders and protecting trade equality. Farmers are happy to participate in a cooperative with a stronger voice in dealing prices with traders.
The project has helped us with high productive farming techniques and facilitated cooperative forming. Now our people can stay home and make a good income from selling their cattle through our cooperatives. They don't need to do low-skill works in the cities.
Mr Quang Van Thuy
Founding member of the Tuan Giao Beef Cooperative
The project has been running since 2015 and will end on a high note. The province authority has approved a 29 billion VND ($A1.7 million), 5-year strategy for a market-oriented livestock development program. This new program is an achievement of the technical team of DARD after many years of working with the ACIAR-funded project team and becoming confident to take the lead in such a significant project. Their new program will focus on breed quality improvement, better feedstock and quality, and building value chains for local beef production.
The project, Intensification of beef cattle production in upland cropping systems in Northwest Vietnam is funded through the ACIAR Livestock Systems Research Program and is led by the University of Tasmania in collaboration with the Vietnam National Institute of Animal Science, Vietnam National University of Agriculture and the Department of Agriculture and Rural Development in Dien Bien.