Date released
17 September 2020
Travel restrictions introduced in response to the COVID-19 pandemic have changed the way researchers work. They've posed a particular challenge for those involved in international agriculture, but also presented opportunities.
Lockdowns and domestic and international travel restrictions have seen hands-on experiments—such as laboratory research and field trials—put on hold as scientists, students, technicians and extension staff have had to stay at home.
Here, Australian researchers Dr Di Mayberry from CSIRO and Dr Bradley Campbell from the University of Queensland discuss how they have been adapting to the new work situation.
Dr Mayberry leads an ACIAR-supported project to improve beef cattle production systems for farmers in Myanmar's Central Dry Zone (CDZ), one of the country's driest and poorest regions.
She leads a team from CSIRO, the University of Melbourne and—in Myanmar—the Livestock Breeding and Veterinary Department, University of Veterinary Science and Yezin Agricultural University.
In March, when travel restrictions were imposed, some of the Australian researchers were preparing to travel to Myanmar to help conduct farmer surveys and set up field trials.
Instead, team members from both countries had to work from home, communicating via email, messaging and video-calls, and adjusting their work to the new situation. 
'Nothing comes close to going out, kicking the dirt and talking to people in the villages to better understand the farming systems, the problems local producers face and where the opportunities are,' Dr Mayberry says.
'It also enables us to teach staff and students how to do things in a scientifically rigorous way. If it's a field experiment, we might mark plots and plant seeds together. If it's an animal experiment, we'd do the feeding together.'
However, the project team is adapting, with the University of Melbourne developing online training resources, which Dr Mayberry hopes will be helpful. The team will also use online data collection tools, such as CommCare. 
'CommCare will be a lifesaver for us,' she says. 'It makes it easy for us to check data as it comes in and identify any issues early.'
The experience has led Dr Mayberry to adjust her expectations of what can and cannot be achieved within project timeframes.
'We're putting a lot of thought into how we can repurpose existing projects, so they are more reliant on people on the ground.' Dan Walker
'Initially, we were a bit naïve about how long the restrictions would last. That's been one of the most challenging things: not knowing when we can get back out and do field work.
'Now we have to rethink how we work in-country and focus more on communication between trips so the trips themselves can be more focused. I hope that in a year's time or whenever we can travel, we get more benefit from the field trips we do.'
For Dr Mayberry, the time spent working in isolation has reinforced the value of working in-country and developing strong relationships with people on the ground. It is these relationships that can be relied upon during difficult times.
In Myanmar, Professor Aung Aung and Dr Lwin Naing Oo are two of the ACIAR project researchers working on the beef project with Dr Mayberry.
When the pandemic hit, Dr Lwin Naing Oo was in Australia as a John Dillon Fellow. He returned to Myanmar in late March, completing a two-week quarantine before heading back to his university. Professor Aung Aung had been preparing to travel to Japan this year with the support of the International Atomic Energy Agency to study forage plant breeding. Like so many others, he has had to postpone his visit indefinitely.
Now back at their university, the researchers plan to continue teaching, laboratory work, writing research papers and maintaining forage trial plots of mombasa grass, sorghum and stylo (a legume), already set up under a previous ACIAR project.
However, they too had been looking forward to getting new forage trials under way and engaging with farmers to improve animal feeding and nutrition, because in the wake of this pandemic food security will be more critical for their country than ever.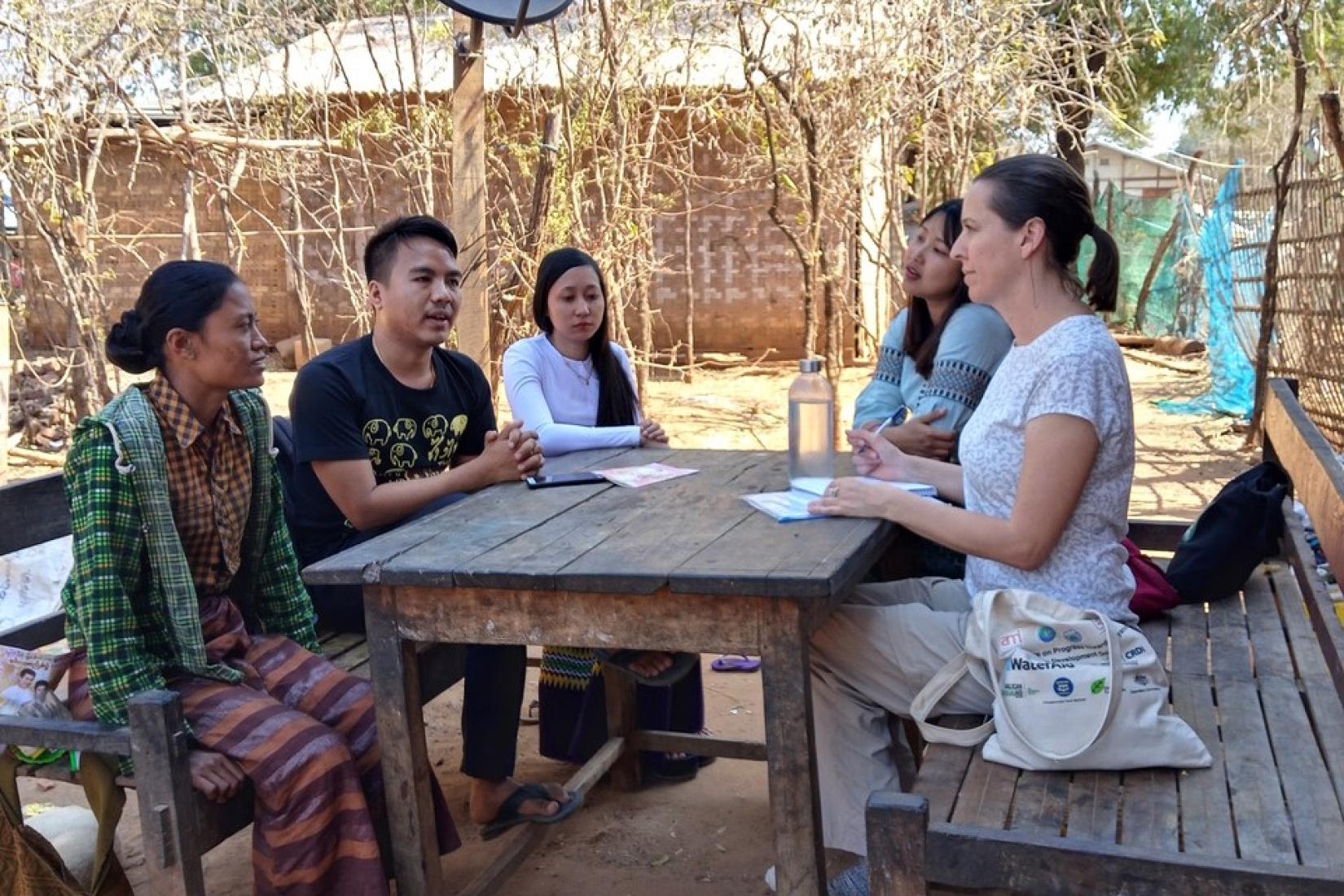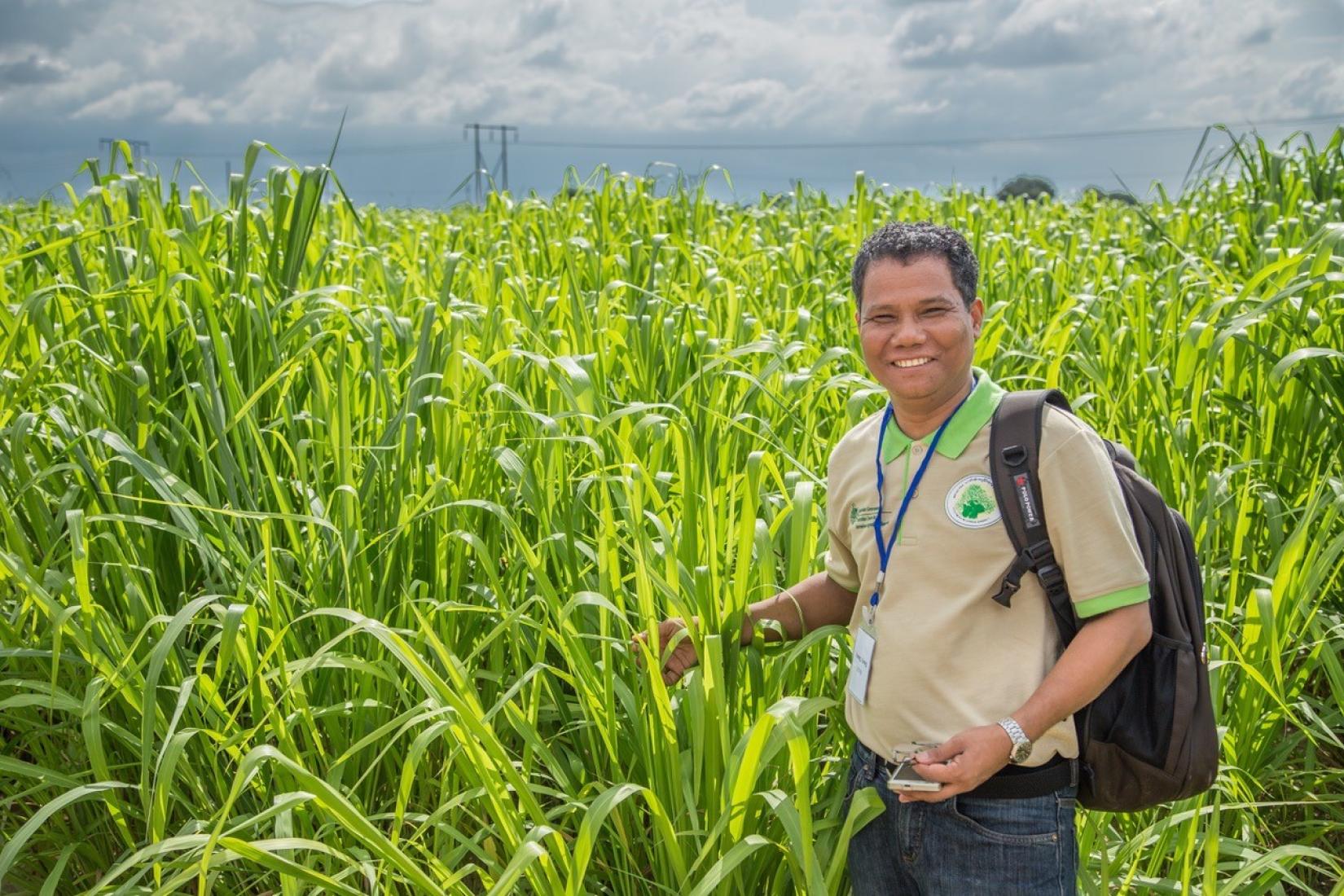 Exploring a Pacific food genebank
Dr Campbell is working on a Food and Agriculture Organization (FAO) project to help improve yields of taro, a staple crop throughout the Pacific.
The work involves identifying adaptive genes—for traits such as disease-resistance and salinity-resistance—within a large taro gene bank of cultivated and wild plant tissue.
Fiji became a major taro exporter in 1993 when taro leaf blight (TLB) annihilated crops in neighbouring Samoa—a problem since linked to the small gene pool of cultivated varieties commonly planted in the Pacific.
In response, a Centre for Pacific Crops and Trees (CePaCT) was established by the Pacific Community (SPC) to conserve tissue samples of taro and other valuable crop plants.
SPC has since distributed around 50 different types of taro to scientists and farmers across the region and globally, including TLB-tolerant varieties.
Dr Campbell is using his expertise to help identify even more promising genotypes from the gene bank for evaluation in plant-breeding trials. 
The ultimate aims are to build Fiji's capacity in using new genetic technologies and equip Pacific taro growers with a range of resilient varieties able to withstand diseases like TLB.
Before COVID restrictions, Dr Campbell had hoped to run a workshop in Fiji later this year for the Pacific region explaining the latest in genomics technology and how it applies to germplasm conservation of traditional crops. He may now deliver the workshop remotely via videoconferencing.
Dr Campbell was also due to head to Fiji in March to set up genotyping experiments with his SPC colleagues. Instead, he and a network of geneticists from the Queensland Alliance for Agriculture and Food Innovation have used their time in lockdown to collaborate online and plan experiments 'more forensically' than otherwise would have been the case.
Dr Mayberry and Dr Campbell discussed doing research during COVID-19 at a RAID (Researchers in Agriculture for International Development) webinar, alongside other panellists. The webinar is available on the RAID Facebook page. RAID is funded by ACIAR through the Crawford Fund.
Since March, ACIAR Chief Scientist, Dr Daniel Walker, has been assessing the impact of COVID-19 on the organisation's research partnerships and future directions.
The challenges he faces in pivoting ACIAR research to respond to local and international COVID-19 restrictions are amplified by the day-to-day uncertainties.
For example, in May and June Dr Walker had hoped Australian researchers could continue working in the region under a Pacific 'travel bubble'. However, the second wave of community infection in Victoria, starting in July, put paid to that.
'It became clear that COVID-19 was here for the longer term,' says Dr Walker, 'so for existing projects researchers had to think about new ways of working remotely.'
Technologies like videoconferencing, online collaboration platforms and email are working well, he says, where relationships between researchers are already established.
'In fact, for some activities, such as our review processes, working online can be as good as, if not better, than face-to-face if it means people are more focused.
'In the future we might start using web-based tools for some of those processes and use travel only for activities that are more about building partnerships or co-designing new activities.
'We may also ask project teams to assess how much of their work depends on Australian researchers travelling to collaboratively conduct research, how much can be transferred to in-country partners and how we can best support those partners to do that.'
Dr Walker notes that every country has a different level of preparedness to take on more research responsibility. For some in-country partners, there will be an opportunity for increased research leadership, he says.
'However, in other places and for certain areas of science it's a more difficult thing to do.
'We're putting a lot of thought into how we can repurpose existing projects so they are more reliant on people on the ground. How can we redesign them to allow field work to continue? How do we provide effective capacity-building and mentoring guidance from Australia?
'It needs to happen project by project, country by country, and the devil is in the detail.'
Capacity-building activities will certainly be affected. Fellowship programs such as those offered by ACIAR depend on emerging researchers spending significant time both in-country and in Australia with peers and mentors.
'The capacity building team is thinking very hard about alternative ways of delivering those programs,' says Dr Walker.
He adds that ACIAR may also rely more on staff based within its 10 in-country offices to play a broader role in supporting research on the ground.
'This is a learning journey for everyone,' he says. 'We're trying to be creative and learn and try new things instead of just doing what we were doing before or giving up because it was all too difficult.
'From the project teams we've contacted there's a very strong commitment. They've each responded that "the project may not work out as we planned but we'll make it work somehow".' 
See ACIAR project: Improving cattle production in the Myanmar Central Dry Zone through improved animal nutrition, health and management
International agricultural research for development has continued despite COVID-19 travel restrictions, with new tools being adopted to help researchers adapt.
Good relationships and experience on the ground in-country remain important ingredients for successful delivery of projects.
Some changes brought about by COVID-19 may see long-term improvements to project delivery.