Date released
17 November 2023
Kralanh District, Siem Reap Province, Cambodia – A momentous occasion unfolded in Kralanh district, Siem Reap province, Cambodia, as hundreds of community members and government officials gathered to witness the opening of the Sleng Fishway, the first of its kind in the country.
Funded by the Australian Government through ACIAR and the Department of Foreign Affairs and Trade (DFAT), the new infrastructure was installed as part of the FishTech project and marks a significant milestone in Cambodia's effort to revitalise its fisheries and enhance rural prosperity. The Sleng Fishway is poised to play a role in boosting fish migration, ensuring access to protein-rich food sources for local communities, and promoting sustainable fisheries management practices.
The opening ceremony was attended by Australia's Ambassador to Cambodia, Mr Justin Whyatt, who commended the FishTech initiative for its positive impact on communities, livelihoods, and the environment. He emphasised that the fishway exemplifies Australia's longstanding and broad partnership with Cambodia in the agricultural sector.
'This project holds immense significance,' said Ambassador Whyatt. 'It promotes the health of river systems, enabling fish to travel upstream and downstream to reach their spawning grounds and return safely. This, in turn, ensures that communities have access to more fish and protein for their nutritional needs.'
The Sleng Fishway is the combined efforts of a diverse team, including researchers and funding providers from ACIAR and DFAT, fisheries experts and water engineers from Charles Sturt University, the Fisheries Administration of Cambodia and the active participation of local communities and authorities. This shared commitment has resulted in a valuable community asset that will increase fish yields, bolster food security and promote conservation efforts.
The Sleng Fishway is expected to benefit over 20,000 individuals from 31 villages directly. Wild-caught fish from the Tonle Sap Great Lake, particularly small-bodied fish, serve as a staple food source for local communities, providing essential nutrients and protein for families, especially pregnant women and children. The fishway's design considers fish size and community needs to ensure a thriving fishery for future generations. Current data from the Ministry of Agriculture, Forestry and Fisheries in 2021 show that fish consumption in Cambodia has increased, with one person consuming an average of 52.4kg annually.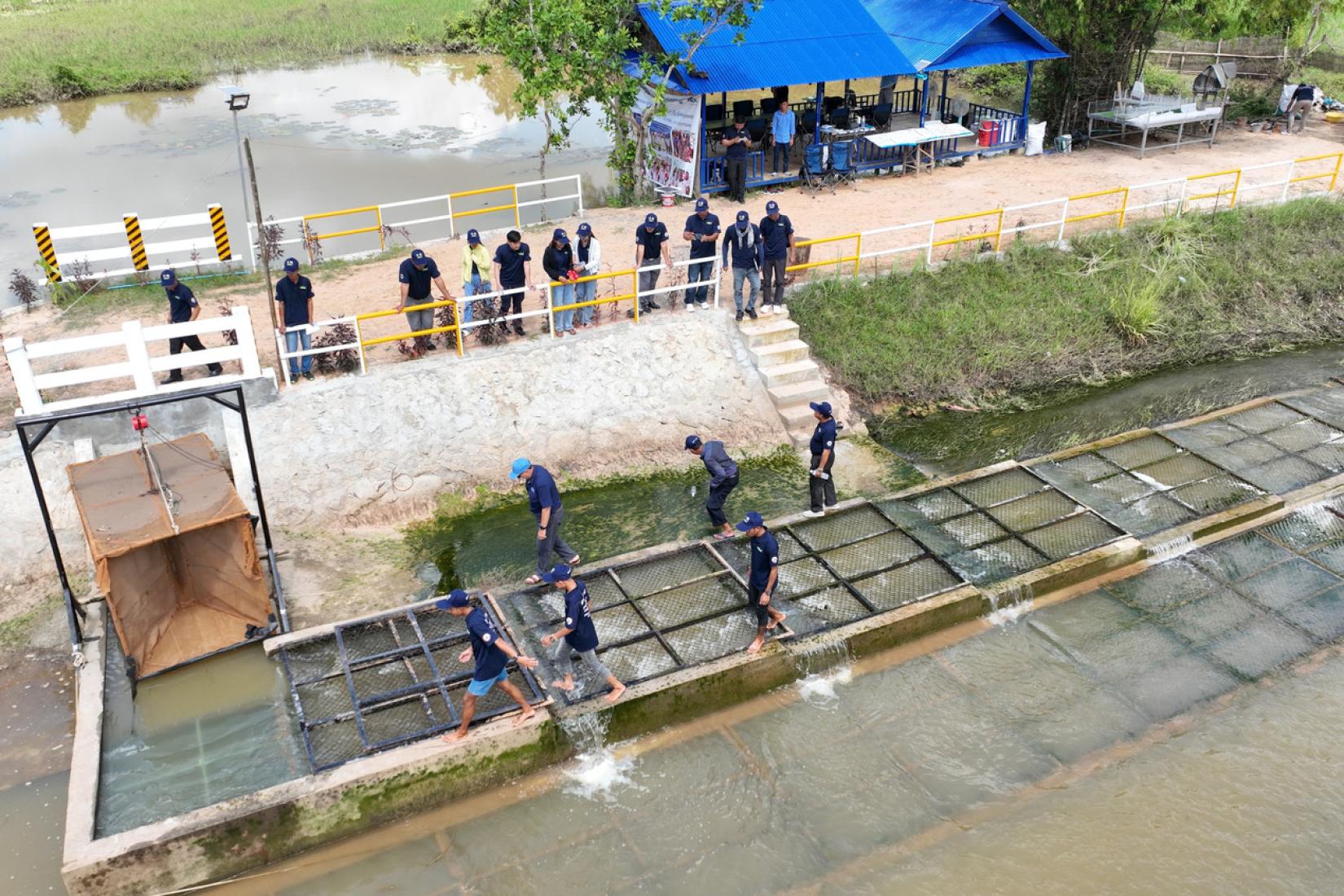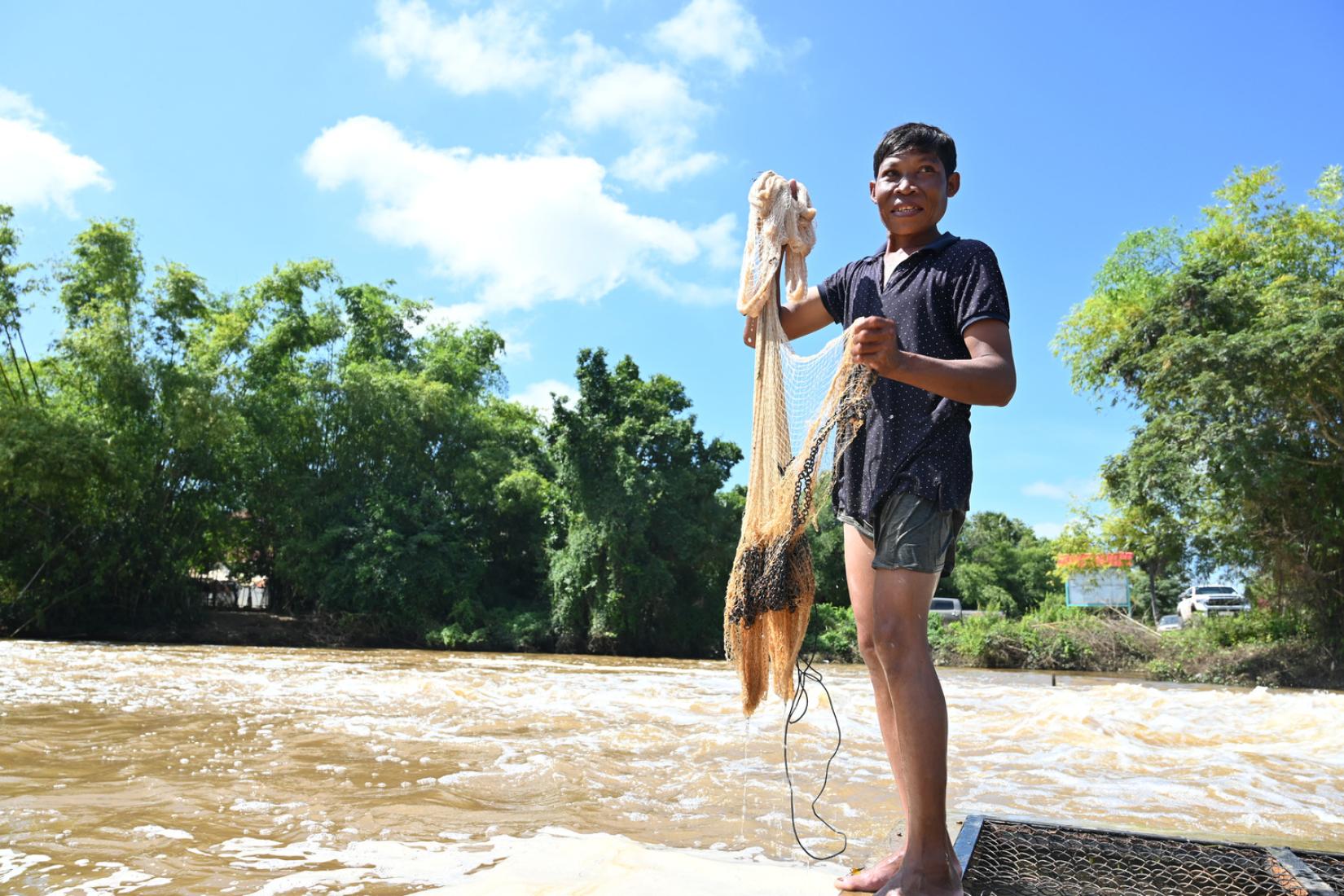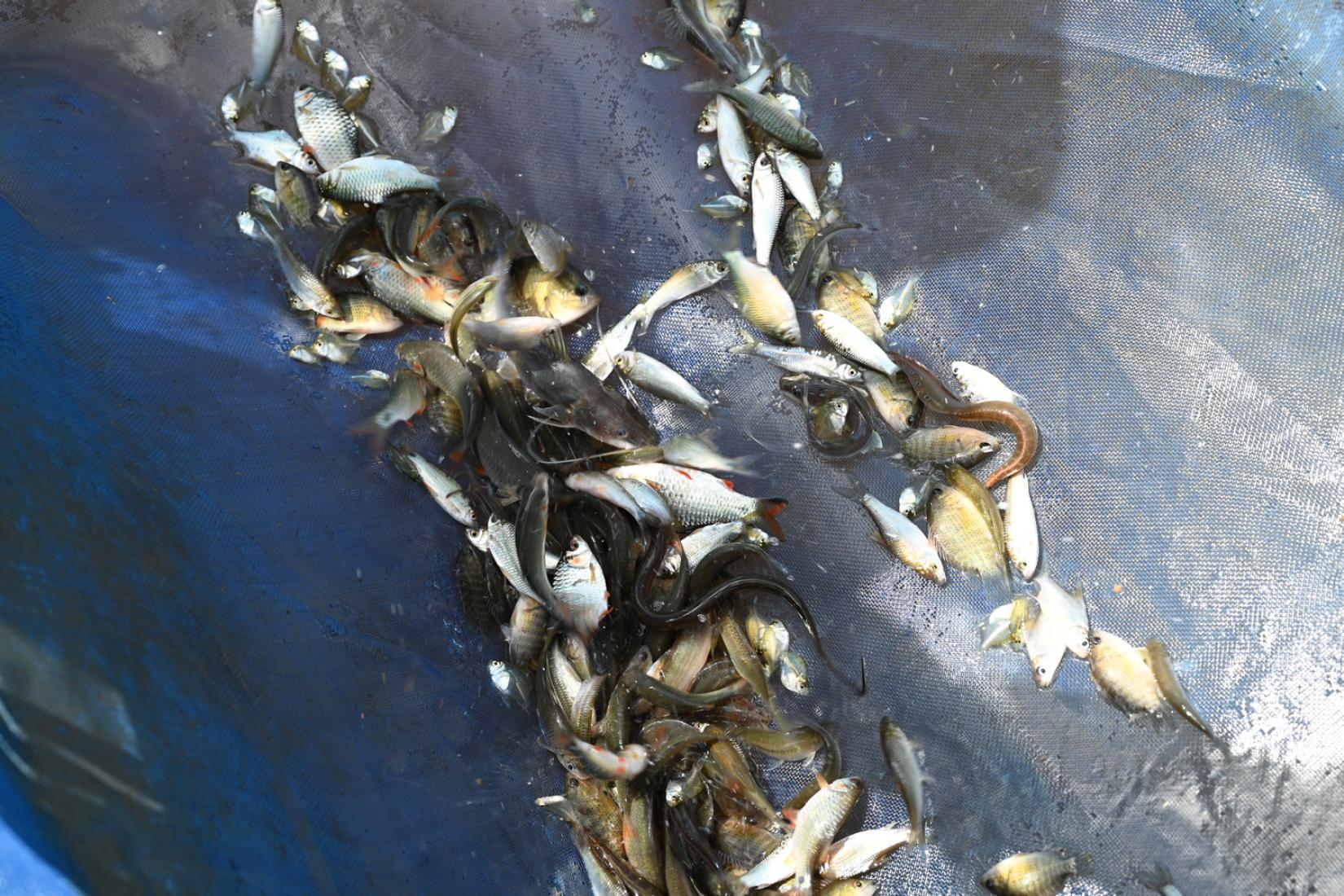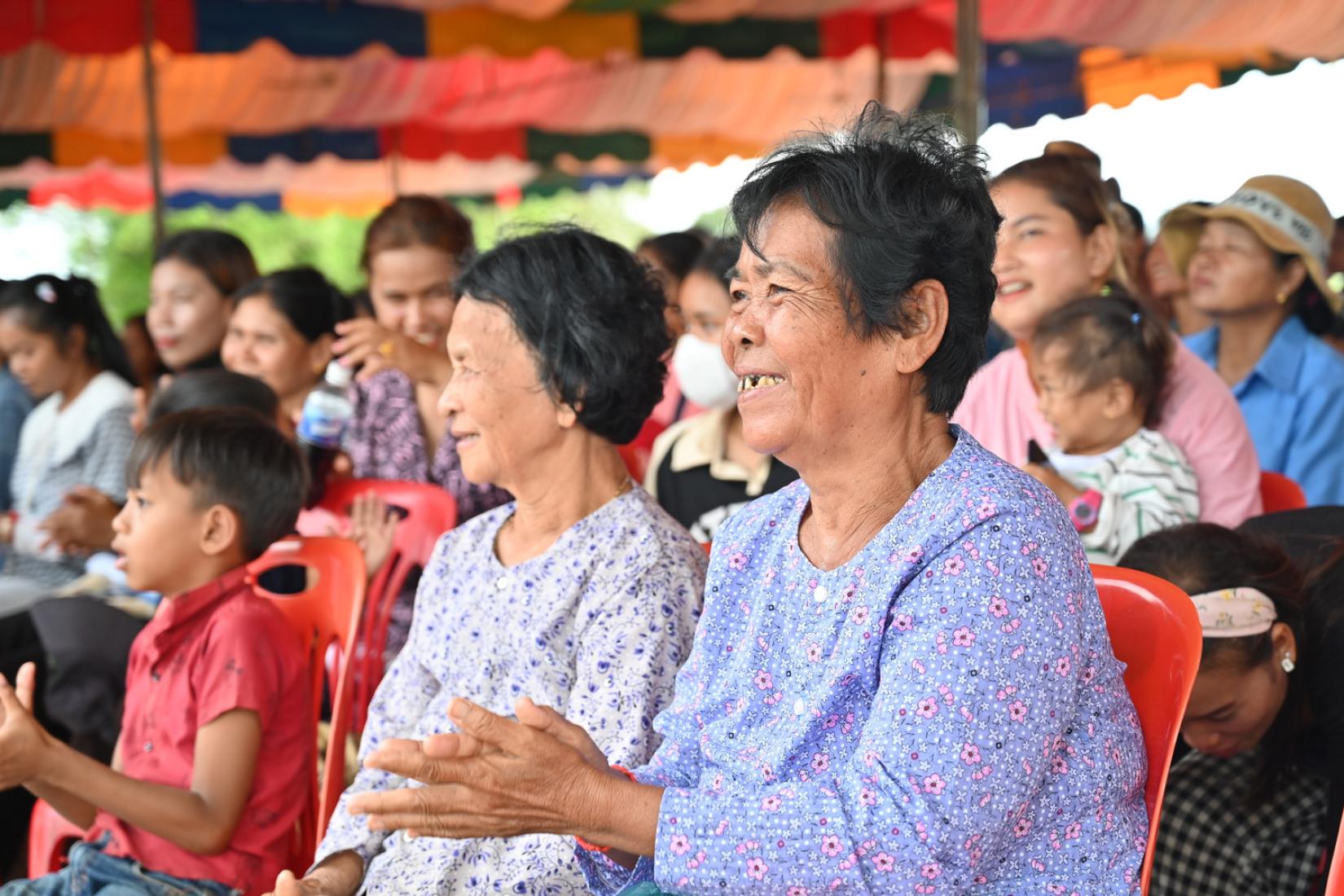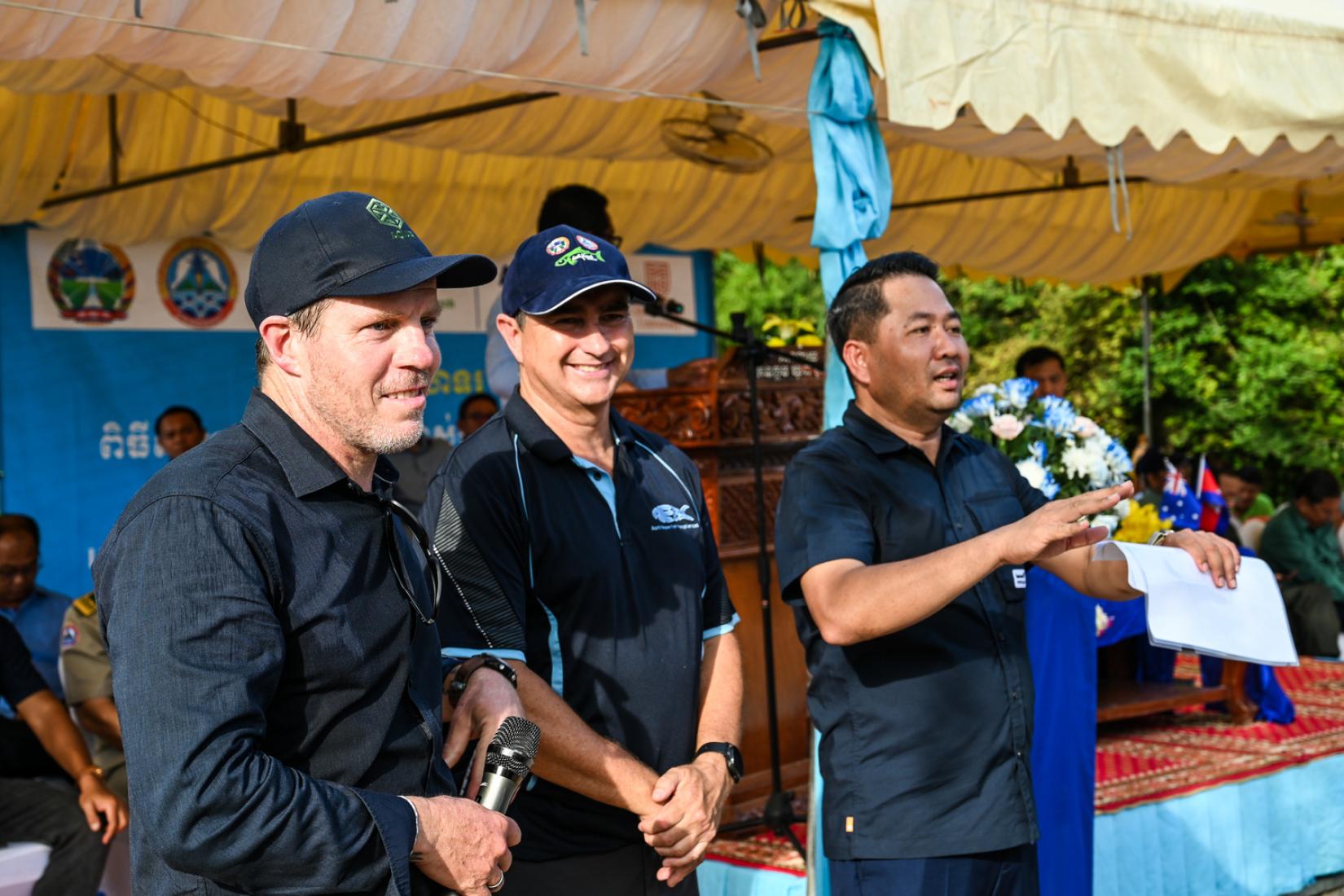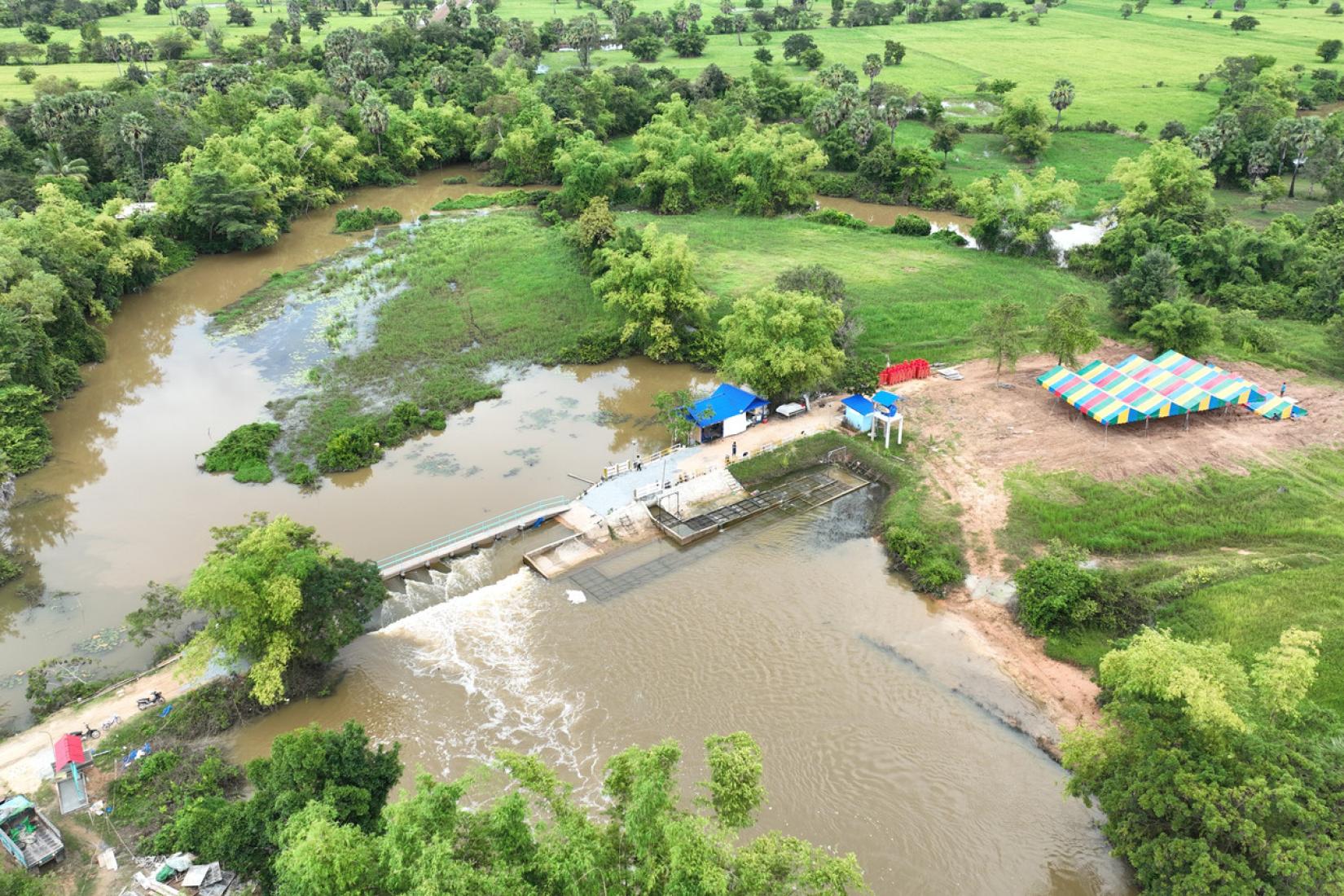 A commitment to science-based solutions
The project aligns with broader Australian priorities to assist Cambodia in enhancing its sustainable fisheries management practices. Mr Khun Savoeun, Cambodian Secretary of State for the Ministry of Agriculture, Forestry and Fisheries, reiterated the Cambodian government's commitment to collaborating with partners to implement science-based solutions for maintaining the nation's river ecosystem services.
'The Sleng Fishway serves as a prime example of this cooperation,' said Mr Savoeun. 'It illustrates how we can work together to develop innovative solutions that benefit both the environment and the community.'
Professor Wendy Umberger, ACIAR Chief Executive Officer, highlighted ACIAR's unwavering dedication to preserving Mekong fish stocks, investing in long-running research that began in 2006. She emphasised ACIAR's collaborative efforts, bringing together Australian and Cambodian experts to tackle interconnected challenges related to food security and development.
'The innovations developed through these research partnerships have greatly benefited rural communities that depend on fish for their health and wellbeing,' said Professor Umberger. 'I am delighted to witness the expansion of this technology to benefit communities in Siem Reap.'
Mr Lok Vuong, Sranal Commune Chief, expressed his gratitude on behalf of the community for the construction of the fishway in his commune. He pledged to collaborate with the project team and continue educating locals about the fishway's benefits for conservation and boosting the fish population in their community.
A future learning ground for Cambodian freshwater fish
Grasping the concept of a fishway posed a challenge for Ms Kan Saloeung, a resident of Sleng village. 'Initially, I had no idea what a fish ladder was,' admitted Ms Saloeung. 'However, witnessing its construction and understanding its purpose made me enthusiastic about the project, as I recognised its potential to safeguard the fish population in the village.'
To enhance the understanding of key stakeholders, particularly those involved in implementing effective fish passage programs for upstream migrating fish, the project team organised a Fish Passage Master Class a week before the official opening allowing participants to observe its construction, functionality and design.
Ms Hong Sotheanika, a Natural Resource Management and Development student, attended the course and was amazed by the fishway structure. Echoing Ms. Saloeung's feelings, she applauded the Sleng Fishway as a ground-breaking innovation for Cambodia.
'I envision a future with a network of fish ladders, empowering fish to navigate upstream for spawning purposes, that will in turn uplift the livelihoods of fisher people, transforming their lives for the better.'
The Australian Government announced the FishTech initiative in 2022, with the project planning to construct a further four additional fishways across different provinces in Cambodia.
Learn more about the project via the ACIAR website.