AIM for Climate Summit: Breakout | Agricultural innovation in an ancient continent
Image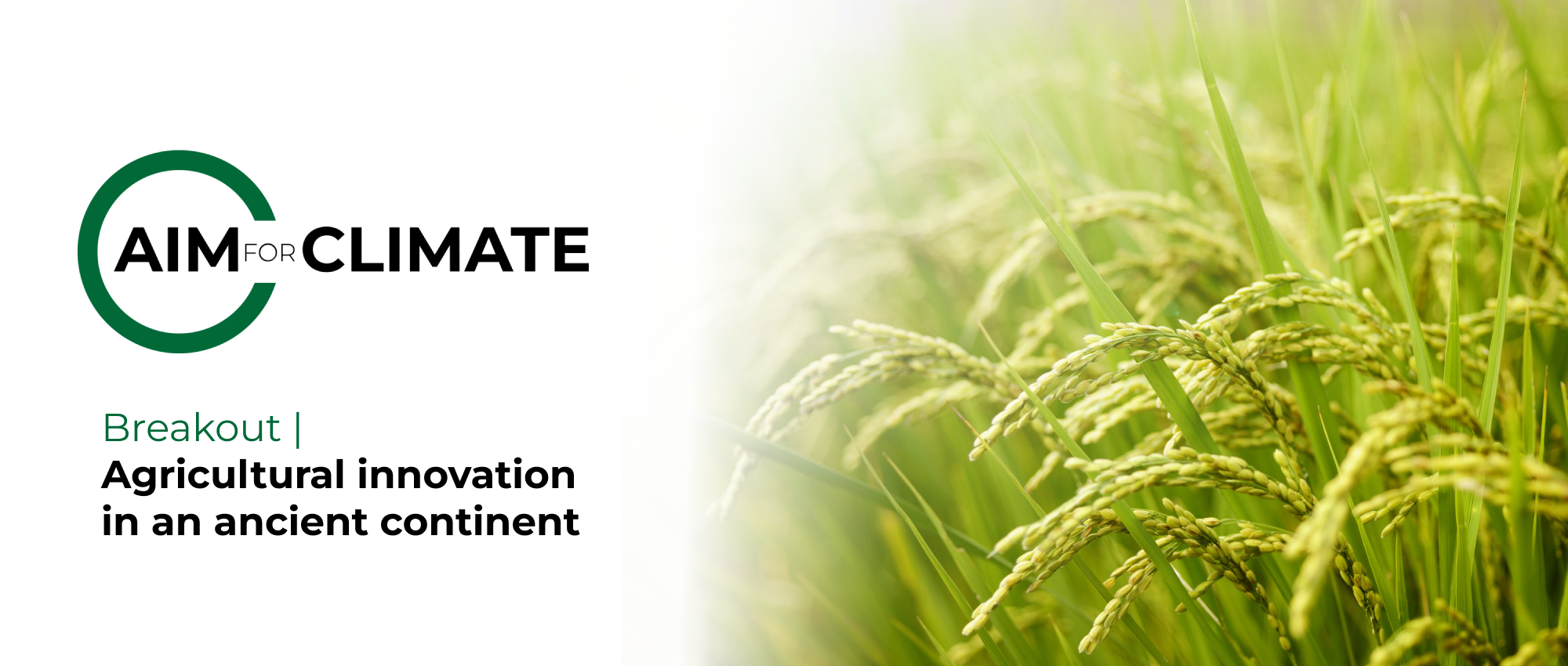 2:30-3:30pm (EDT) | JW Marriott, Salon G
ACIAR CEO Professor Andrew Campbell and other Australian experts will talk about climate-smart agriculture, including the challenges of reducing emissions and adapting to a changing climate in different agricultural landscapes and climatic conditions. The discussion will focus on a variety of technological, social, and financial solutions needed to address these challenges.
Session description
An overview of Australian-led climate-smart agricultural innovation, including innovation that builds on First Nations people's knowledge and practices, innovation in delivering climate information to farmers, innovation in carbon and biodiversity markets, innovation to reduce methane in livestock, innovation in national scale partnerships and innovation in adaptation. This session will feature the breadth of landscapes and climatic conditions for agricultural production in Australia that necessitates a broad range of technological, social and financial solutions to tackle emissions reduction and climate adaptation and Australia's contribution to agricultural research for development.
The audience will be invited to join a discussion on the challenges associated with scaling up the implementation of practices and technologies.
Australia is building from a strong base in water efficiency, soil management and digital agriculture and seeking to drive effort towards emissions targets, climate resilience, responsible innovation and the integration of First Nations knowledge and science. We are also testing innovation partnership models to better direct Australia's diverse research efforts into meeting our national climate challenges in agriculture. In doing so, Australia has much to share with others in our region and across the world.
Speakers
Su McCluskey
As the first Special Representative for Australian Agriculture, Su McCluskey works to promote the sector through the Australian Government's Global Agriculture Leadership Initiative.Su brings a depth of knowledge to the role as a Director of Australian Unity, Foundation for Young Australians, Australian Pork Research Institute, Australian Wool Network Pty Ltd and as a Commissioner for the Australian Centre for International Agricultural Research.
Previously Su was the CEO of the Regional Australia Institute and the Council of Rural Research and Development Corporations and the Executive Director of the Office of Best Practice Regulation. She has held senior positions with the Business Council of Australia, the National Farmers' Federation and the Australian Taxation Office. When she isn't working to promote and enhance the agricultural sector, Su runs a beef cattle farm in Yass, New South Wales.
Professor Andrew Campbell
Professor Andrew Campbell, FTSE FAICD, is directly responsible to the Minister for Foreign Affairs and was appointed as CEO in 2016. As agency head, the CEO manages the administrative and financial affairs of ACIAR and its staff.
Professor Andrew Campbell has played influential roles in sustainable agriculture and natural resource management in Australia for over 30 years, including as the first National Landcare Facilitator and Chief Executive of Land & Water Australia.
He represents Australia on the System Council of the CGIAR, is a Commissioner on the Commission for International Agricultural Research, and is the outgoing Chair of the Global Research Alliance on Agricultural Greenhouse Gases. Andrew is an elected Fellow of the Australian Academy of Technology and Engineering, Fellow of the Australian Institute of Company Directors and an Honorary Professorial Fellow at the Australian National University.  He has a Master of Science (Management of Agricultural Knowledge Systems) from Wageningen University in The Netherlands, a Bachelor of Forest Science (Honours) from the University of Melbourne and a Diploma of Forestry from Creswick. Andrew is still involved (from a distance) in his farm in western Victoria, where his family has been farming since the 1860s.
Jen Taylor
Starting her career in gene identification in human disease, Jen undertook postdoctoral research in the Department of Statistics, University of Oxford in the UK, before taking up a scientific position at the Wellcome Trust Centre for Human Genetics at Oxford, where she also contributed to the development and delivery of the university's Master of Bioinformatics program. After her return to Australia, Jen shifted her scientific focus to crop genomics and data science, contributing to a wide range of national and international research projects with agritech and philanthropic partners. She has a particular interest in the utilisation of data science methods across agriculture, including the delivery of new technologies for crop genetic improvement, provenance of food and biosecurity.
She was a leader of the Genomic Science for Crop Performance research group in the CSIRO Agriculture and Food Business Unit, exploring and developing crop performance technologies such as hybrid vigour, RNAi, asexual seed formation and in-plant nitrogen fixation. Going on to head up the Systems program, Jen oversaw the research of more than 120 scientists working across a distributed national footprint, including eight sites and multiple research stations, delivering emerging digital and biophysical technologies to enhance farm and landscape decision-making for profitability and natural resource sustainability.
In 2022, Jen was appointed Deputy Director - Science for CSIRO Agriculture and Food and is now focused on supporting world-class research in Australia and internationally. She leads the delivery of scientific advances and industry impact in areas of resilient food and fibre farming systems, future novel crops, high-value protein industries, healthy foods, secure food systems, trusted supply chains and improved footprint for our agrifood and agrifibre industries.
Jen undertook a global study tour as a Nuffield Farming Scholar and has completed a Graduate Diploma in Executive Management (UNSW). She has contributed to more than 90 peer-reviewed research articles, completed terms on multiple boards and currently serves on the Board of Food tech startup Eden Brew.
Dr David Henry
A Chief Research Scientist at Australia's national science agency CSIRO, Dr David Henry leads the Climate Smart Agriculture Group within CSIRO's Agriculture & Food Business Unit. Spread across five Australian states, the team has an innovative focus on Climate Adaptation and Sustainability Assessment and Metrics.
With a background in farming systems, agronomy and livestock nutrition, he works broadly across the innovation system on the development and application of digital technologies and how to capture value from new technologies for a productive, sustainable and vibrant Agricultural sector. His current work also includes climate risk and adaptation and the development of sustainability credentialling tools to help build resilience in the Agriculture sector in the face of climate change and variability. Working with both the private and public sectors, his work has national reach and global significance.
Other speakers
Participating Organisations
Aim for Climate Summit
The United States will host the AIM for Climate Summit in Washington D.C on 8-10 May 2023. The Summit aims to bring together partners to increase and accelerate investment in and support for agriculture and food systems innovation for climate action.
The Summit agenda includes three days of high-level plenaries, breakout sessions, interactive exhibits and site tours.
The Summit is exclusively for AIM for Climate partners. If you would like to attend, you can: