Agricultural journalism in the Pacific set to grow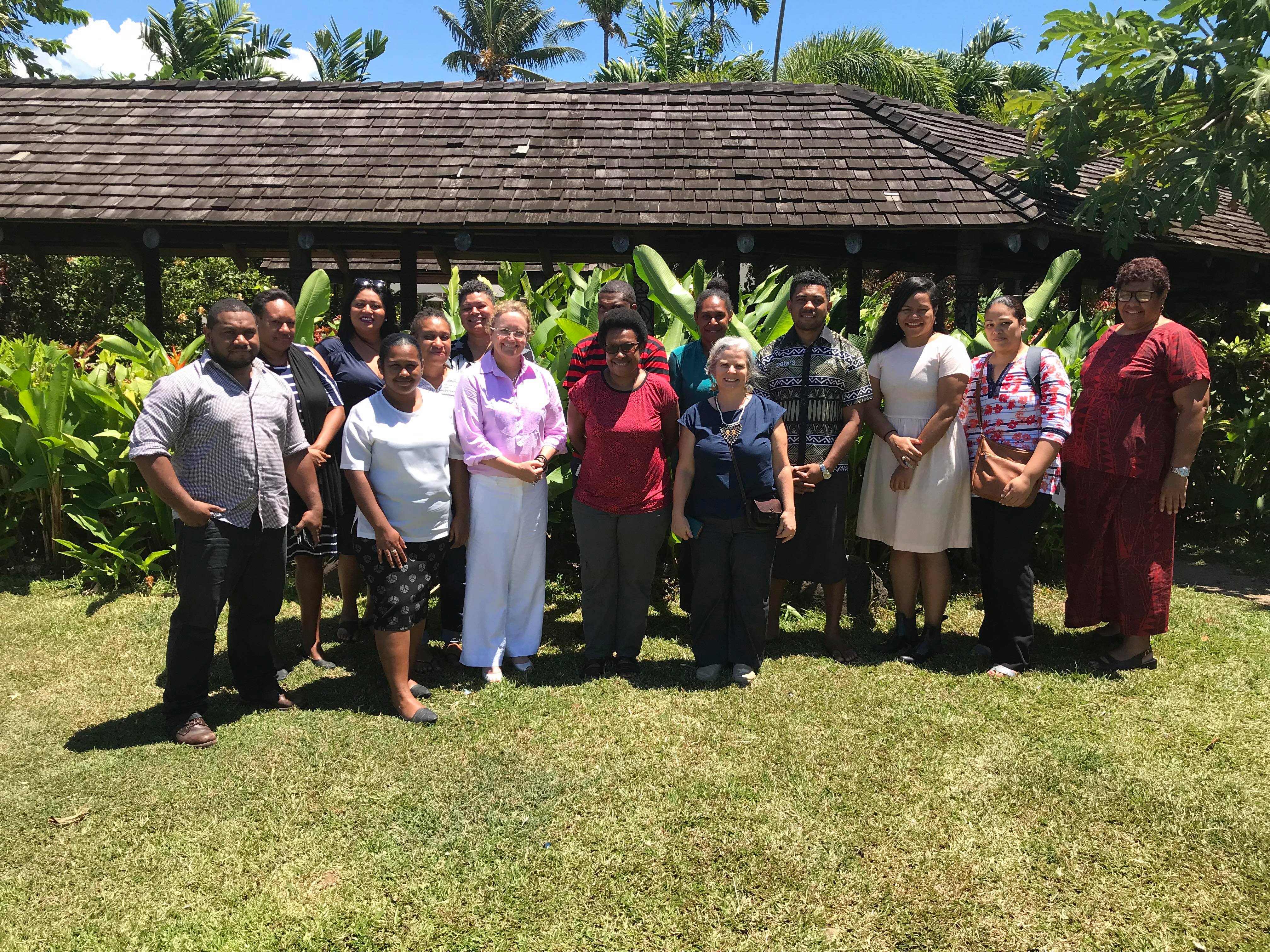 Media coverage of agricultural research projects and the benefits and outcomes to local communities is set to grow across the Pacific as a result of a competition run by ACIAR and the Australian Broadcasting Corporation's (ABC) International Development group.
Celebrating Agriculture in the News – or CAN – was open to all emerging journalists from across the Pacific nations. Entries were submitted by published journalists working or studying in a range of countries including Tuvalu, Samoa, Fiji, Papua New Guinea, Kiribati, Solomon Islands and Tonga. As a group, they represent print, radio, television and social media platforms.
Each entrant was judged on their already published work – but the prize for the top 16 is a chance to polish their reporting technique at a special masterclass being run as part of the second Pacific Week of Agriculture, this year being held in Apia, Samoa.
The winners have converged in Apia to take part in a week of discussions, workshops, networking and field trips with media development experts and journalists from the ABC. The week's activities have been dubbed the CAN Masterclass and was officially launched by Ms Sara Moriarty, Australia's High Commissioner to Samoa, at an event hosted by ACIAR's Chief Executive Officer, Professor Andrew Campbell. Ms Moriarty presented the winners with certificates to mark their status as competition winners and their participation in the masterclass.
With support from ACIAR agricultural research program and outreach experts, the masterclass is being led by veteran Australian journalist Philippa (Pip) Courtney and Amelia Makutu, Country Liaison from the ABC's Pacific Media Assistance Scheme (PACMAS).
Pip Courtney is an award-winning journalist who is best known to Australian audiences as the anchor for the ABC's long running rural reporting program Landline. Amelia Makutu's role in PACMAS sees her focus on improving the capacity of journalists and communication practitioners in the Pacific to report responsibly on and mediate discussion about key issues affecting development in the region.
Several key themes that will be explored during the masterclass, with an emphasis on agricultural research to improve nutrition and projects that build farmer resilience to climate change. Participants will visit and report on ACIAR-funded projects currently underway in Samoa – and that have application across the broader Pacific – which are directly researching ways to address these issues.
"CAN is primarily a capacity building initiative that is designed to help early-career journalists gain insights into new techniques and novel approaches they can take to reporting on agricultural research stories and make them interesting as well as informative for their audiences," said Eleanor Dean, General Manager of AICAR Outreach and Capacity Building.
"We expect that we will see the results of this masterclass in stories published and broadcast throughout the Pacific countries involved for many years to come."
The winners are:
Digital journalists
Elizabeth Ah Hi from Samoa
Cyril Patjole, Priscilla Joanna Waikaidi and Rachel Tarsan from Papua New Guinea
Illeyah Draunidalo from Fiji​​​​​​​
Iliesa Tora from Tonga
Print journalists
Benjamin Geteng from Papua New Guinea
Samantha Rina and Josefa Kotobalavu from Fiji
Video journalists
Jean Paul Niptik and Pauline Timothy from Vanuatu
Adelaide Sirox Kari and Lillian Keneqa from Papua New Guinea​​​​​​​
Mereoni Mili, Tora Talei, and Laiseana Nasiga from Fiji