Australia and Canada partner to combat food insecurity in Africa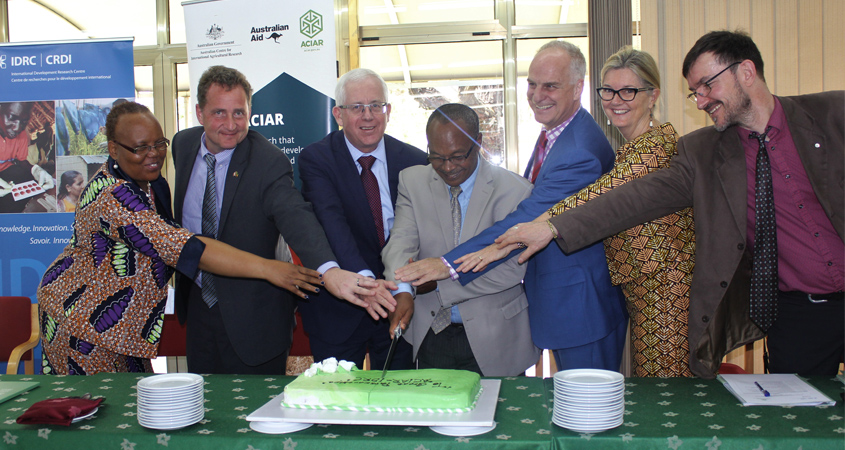 A major step towards improving food security across seven Eastern and Southern African countries has reached a vital milestone with the announcement of an expansion of the Cultivate Africa's Future Fund (CultiAF).
The fund is a co-investment program by the Australian Centre for International Agricultural Research (ACIAR) and the Canadian International Development and Research Centre (IDRC) which has been delivering agricultural research for development project in Africa for six years.
This expansion will target smallholder farmers in seven countries, including Ethiopia, Kenya, Uganda, Malawi, Mozambique, Zambia and Zimbabwe.
Officials from ACIAR, including CEO Professor Andrew Campbell, General Manager for Global Programs Mellissa Wood and Africa Country Manager Dr Leah Ndungu joined their IDRC counterparts and other stakeholders in Addis Ababa, Ethiopia to participate in the rollout of CultiAF phase two.
The CultiAF program has been operating since 2013 and comprises nine projects that cut across four research themes impacting production by smallholders in Africa including increasing productivity and reducing post-harvest losses; linking agriculture, nutrition and human health; gender equality; and climate change and agricultural water management.
"Global partnerships have great potential in boosting food and nutrition security, not just in Africa, but globally," said ACIAR CEO Professor Andrew Campbell. "ACIAR recognises the value of research in the development of agriculture, targeting especially smallholder farmers."
The scaling up of CultiAF phase two is expected to build the capacity of farmers, many of whom are women, helping them generate practical, lasting solutions that are economically viable. The program will also engage with young people, addressing both economic issues and building a new generation of smallholder farmers.
"Integrating issues regarding gender into research and knowledge generation projects takes time, effort, expertise, learning and commitment over the long term — and leads to better research and outcomes for more just societies," said IDRC Regional Director, Sub-Saharan Africa, Dr. Kathryn Toure.
With more than 70 percent of the rural population in Eastern and Southern Africa depending on agriculture for their livelihoods, poor performance in the agricultural sector resulted in stunted regional economic growth.
To mitigate this effect, ACIAR and IDRC have jointly invested A$37million between 2013-2023 in research aiming to foster economic growth, reduce poverty and improve food security in the region.
"These areas of focus are based on the priorities of the region and ACIAR is pleased to be working with research for development targeting smallholder farmers", said ACIAR's Africa Country Manager Dr Leah Ndungu.
CultiAF phase two will also further engage the private sector, NGOs and civil society organisations to build innovative partnerships providing insights into new markets and product development, improved extension delivery mechanisms, and clearer pathways for policy engagement.
You can read more about CulitAF phase two via the IDRC website.