Award-winning Bougainville cocoa farmers to showcase chocolate in Melbourne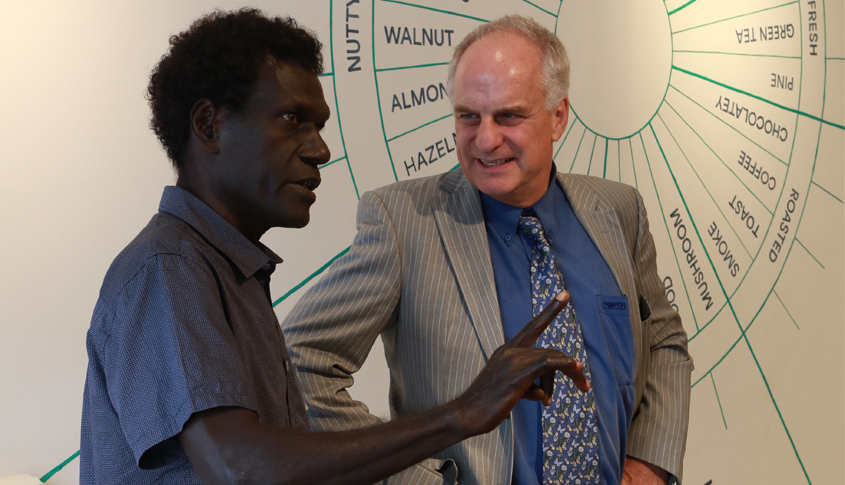 Award-winning cocoa producers from the Autonomous Region of Bougainville in Papua New Guinea (PNG) will team up with some of Australia's leading chocolate makers to try and create the world's best chocolate.
Travelling from a remote region in PNG, Steven and Elizabeth Saveke recently won the Bougainville Chocolate Competition. The husband-and-wife duo will meet with seven companies in Melbourne where they will showcase chocolate made from their beans, with some of the resulting products to be entered in competitions around the world.
The Taste and Tell event is part of a wider initiative to promote PNG's expanding cocoa industry with the Australian Centre for International Agricultural Research (ACIAR) and the Department of Foreign Affairs and Trade (DFAT) collaborating through the Papua New Guinea – Australia Partnership to link PNG's farmers with international markets.
Andrew Campbell, CEO at ACIAR, said the event is a great opportunity to raise awareness about PNG's ability to produce world-class cocoa.
'Cocoa is the major crop of Bougainville and is a key potential export earner for smallholder farmers,' says Campbell. 'There are real opportunities to improve its productivity and quality, but there's no point if you don't have a market to sell to. Australia is supporting market linkages between cocoa farmers in Bougainville to chocolate makers in Australia and around the world.'
Australia has been co-funding the research in Bougainville through the University of Sydney since 2016, with the project being part of the Transformative Agriculture and Enterprise Development Program.
Jasper + Myrtle is one of seven Australian chocolate makers attending Taste and Tell and was one of the first private organisations to collaborate with PNG farmers following their attendance at the 2016 Bougainville Chocolate Festival and went on to win a gold medal at the 2017 Academy of Chocolate awards in London.
Other chocolate makers attending the event include Gabriel Chocolate, Federation Artisan Chocolate, Spencer Cocoa, 17 Rocks Chocolate, Atypic and Ratio Cocoa Roasters. Students from a local high school, Strathcona Girls Grammar, are also taking part in the day's activities.
Taste and Tell is being held from 2-5pm on Wednesday, 20 March at the Ratio Cocoa Roasters in Brunswick, Melbourne. The event is free and open to the public.
For more information contact:
Shannon Miskelly. Email: [email protected] Mobile: 0466 582 672
Patrick Cape. Email: [email protected] Mobile: 0466 463 899