Charting the course for agriculture and forestry research across the Pacific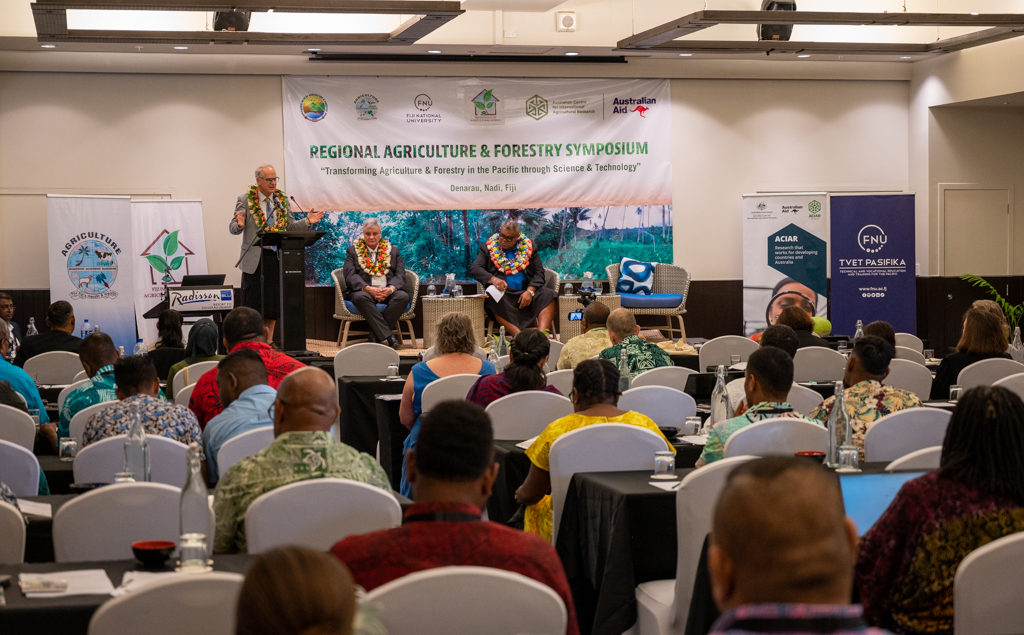 Agriculture experts from across the Pacific are meeting in Fiji to identify how science and innovation can strengthen food security and further economic development.
Run by the Fiji Institute of Agricultural Science (FIAS), the 2-day symposium commenced this morning in Nadi and will see scientists, private-sector experts, development partners, and policymakers discuss regional food systems and explore ways to strengthen research partnerships.  
Supported by ACIAR, the Regional Agriculture and Forestry Symposium 2023 is being run in close collaboration with the Fiji Ministry of Agriculture and Ministry of Forestry with support from Fiji National University.
FIAS President and Head of Agriculture Research for Fiji, Mr Shalendra Prasad, said the event is focusing on transforming agriculture and forestry in the Pacific through research and technology.
'Over the 2-day symposium, participants will discuss challenges and opportunities to agriculture and forestry research and lay the foundation for how we can all enhance this research agenda for the benefit of our communities,' Mr Prasad said.
Emphasising the need for Pacific island researchers to strengthen collaboration and establish a better network of sharing information, Mr Prasad added that FIAS is open to exploring new research collaborations and establishing a regional research institute.
The symposium features 8 sessions over 2 days, focusing on pest and disease, agribusiness, genetics and plant breeding, soils, post-harvest, livestock, forestry and climate change, and extension and education. ACIAR-funded researchers will present their latest findings and contribute to broader discussions on future priorities.
ACIAR CEO Professor Andrew Campbell opened the symposium and highlighted how research collaborations could further secure regional food systems in the wake of the COVID-19 pandemic.
'The pandemic reinforced that food systems remain at the heart of the Pacific and are vital to providing communities with food and nutrition security while providing resilience to economic shocks. These systems need to be improved to sustain Pacific communities into the future,' said Prof Campbell.
'This symposium will play a significant role in charting that course across science and technology, climate change and soil conservation, agribusiness and extension, pests and diseases and food security and sustainability.
'The next 2 days is an opportunity for you, our Pacific Family, to lead that conversation and provide guidance on how we can best work together to secure our future.'
'ACIAR is proud to support this important event, as well as contributing to the broader discussions about how we as a region can work together to transform agricultural systems and improve food security.'
The symposium is part of the Pacific Week of Agriculture and Forestry (PWAF) which concludes with a meeting of Ministers and Heads of Agriculture and Forestry. Leaders will aim to secure crucial agreements for the direction of agriculture and forestry in the region.