Community fisheries at heart of Sri Lanka project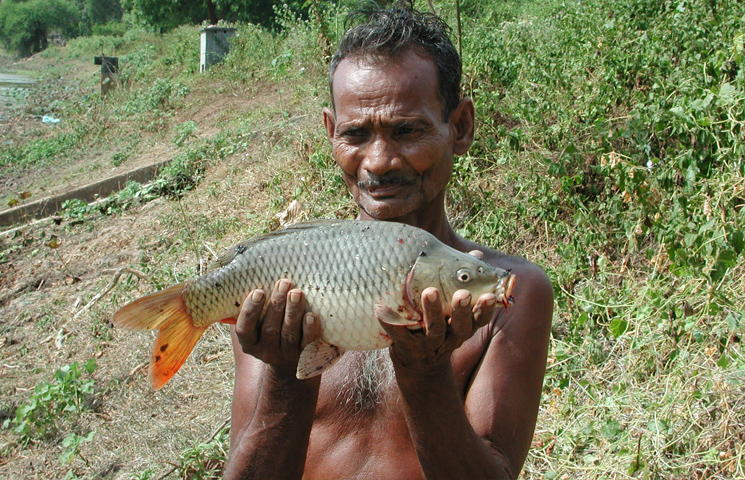 The long-term sustainability of inland aquaculture and how it can improve rural livelihoods is the focus of a new ACIAR-supported research project in Sri Lanka.
In partnership with Sri Lanka's fisheries agency and universities, the project will look to improve the management of finfish and giant freshwater prawn fisheries to support food security of inland rural communities in the country's north.
The project will focus on culture-based fisheries, a practice that enhances fish stocks in waters where fish populations do not grow fast enough naturally to sustain a fishery.
Culture-based fisheries can help farmers boost their food production and income by making use of existing infrastructure and the natural food supplies such as plants and insects.
This is the first ACIAR-supported project in Sri Lanka since 2005 and follows a smaller study that consulted with stakeholders in Sri Lanka to find opportunities for ACIAR to re-engage in the country.
ACIAR Fisheries Research Program Manager, Prof Ann Fleming said the many large reservoirs of freshwater in northern Sri Lanka were a vital natural resource for many inland rural communities.
'The reservoirs have traditionally supported populations of native fish, including freshwater prawns,' she said.
'The advent of culture-based fishery practices has increased fish production significantly and with it the value of the water resources.'
Prof Fleming gave the example of the finfish sector, which accounted for an annual production of about 83,000 tonnes in 2017. It is the main source of affordable animal protein for the local communities.
In recent years, giant freshwater prawns have become part of the stocking program of the national fisheries agency, the National Aquaculture Development Authority of Sri Lanka. 
An earlier ACIAR study revealed that giant freshwater prawns tend to be sold to high-end restaurants and hotels in major Sri Lankan cities or are exported.
'Their value is some 10 times higher per kilogram than the finfish species,' Prof Fleming said.
She said the new project would strengthen ACIAR and its partners' understanding of how to support governments and communities to manage fisheries resources sustainably, while also improving household access to protein-rich foods and increasing income to fishers.
Dr Clive Jones of James Cook University is leading the project and said the research would investigate the biological, physical and socio-economic aspects of the fisheries and how they are managed.
'Our project aims to increase the productivity of fish and giant freshwater prawns within reservoirs where culture-based fishery practices are applied.
'We'll also recommend how the practices can be extended to more reservoirs.'
The project has assembled a team of scientists in Sri Lanka, who will collaborate with an Australian team of scientists.
Prof Upali Amarasinghe, University of Kelaniya, will coordinate the project in Sri Lanka. He said this project was part of wider push to identify and implement scientifically defined approaches to develop culture-based fisheries in Sri Lankan reservoirs.
Professor Amarasinghe said the giant freshwater prawn held great potential to increase fishers' incomes, and this project could help to increase the survival of the stocked crustacean.
'Preliminary field observations showed the financial benefits to fishers, local buyers, exporters and consumers could be optimised through proper value chain analysis,' he said.
'The findings showed that developing culture-based fisheries for the giant freshwater prawns could enhance rural economies. This inspired the research team to conduct further research on the subject.'
The project is scheduled to run until December 2023. Learn more via the ACIAR website.