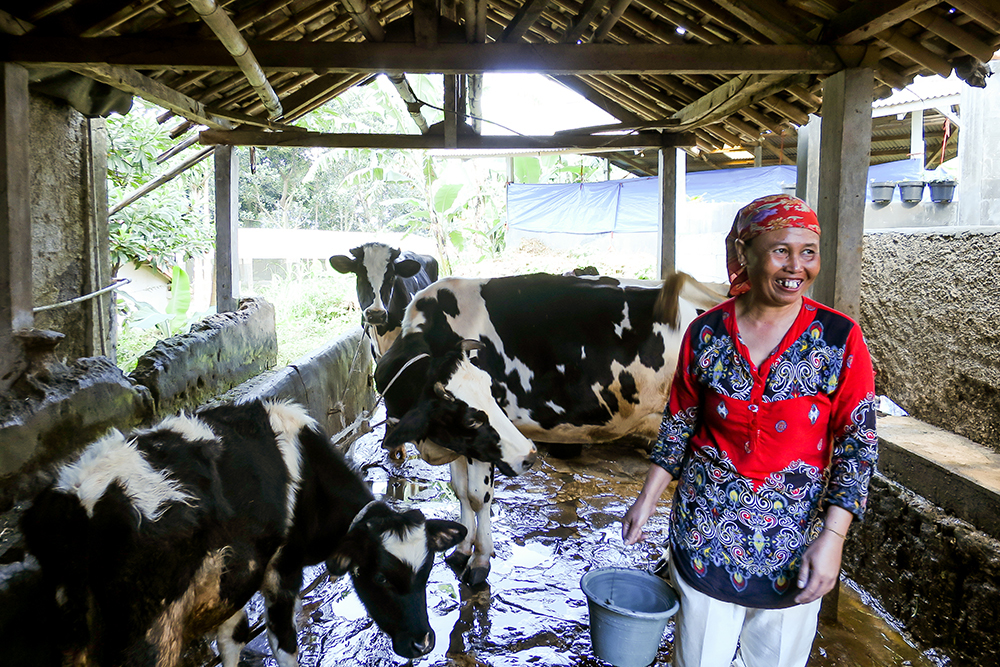 Indonesian researchers will visit rural Queensland this week to learn industry best-practice from Australian dairy farmers.
Seven researchers will travel from West Java as part of a wider initiative to improve milk supply and dairy farmer livelihoods in Indonesia.
Indonesia's dairy industry is struggling to meet domestic demand, with the Indonesian Government investing heavily in the sector to boost domestic production and improve the livelihoods of dairy farming communities.
Since 2016, the Australian Centre for International Agricultural Research (ACIAR) has funded research through the University of Adelaide's Centre for Global Food and Resources, working with partner organisations in Indonesia to develop strategies supporting the expansion of sustainable, profitable and inclusive dairy value chains.
The project's leader, Professor Wendy Umberger, Executive Director of the University of Adelaide's Centre for Global Food and Resources, says the visit will be a valuable opportunity for the researchers to learn from world-leading dairy producers in Australia.
'The dairy supply chains in West Java currently suffer from poor economies of scale, limited forage availability, poor milk quality, a lack of knowledge in animal husbandry practices, and very limited business skills, particularly at the farm level,' says Professor Umberger.
'We've already been able to create opportunities for local producers to incorporate innovative and relevant agronomic, dairy science, social and economic knowledge and research into practice through effective communication with their dairy cooperatives,' she says.
'The practice-change programs, which are currently underway, are building extensively on this foundation. Dairy industry professionals from Australia are providing training for the Indonesian farmers in best-practice production and farm management.'
Among the visiting cohort are five village-level researchers (VLRs) who are crucial to ensuring the project's impact with farming communities.
'They are young and passionate and have already been facilitating extension activities across five sites in West Java,' says Jack Hetherington, the project's coordinator and former ACIAR graduate officer. 'The trip is being coordinated with the support of Subtropical Dairy, the regional program of Dairy Australia, so the researchers will have a valuable opportunity to learn contemporary approaches to extension in Australia,' he says.
'The VLRs will also be able to develop their understanding of dairy science and management practices in the tropical and subtropical regions, all information they can take back and share with dairy farmers in Indonesia.'
The overall aim of the project is to increase milk supply—both quality and quantity—by 25 percent for at least 3,000 dairy producers by 2020. These goals will help meet domestic demand, improve farmer livelihoods and increase access to local fresh milk, providing health and nutrition benefits.
The trip has also been timed to coincide with the Subtropical Dairy Conference in Malanda which the Indonesian researchers will attend following farm visits and technical presentations at James Cook University's Vet Centre. The group will also travel to Gatton to visit a Dairy Australia research and development project.
Despite Australia's relatively small population, the country's dairy industry is valued in the billions due to widespread adoption of best-practice farm management efficiency-enhancing technologies.
Improving milk supply, competitiveness and livelihoods in smallholder dairy chains in Indonesia is funded through ACIAR's Agribusiness research program and is due to conclude at the end of 2020.