The Good Cooks - Agricultural science and culinary creativity come together in kitchens around the world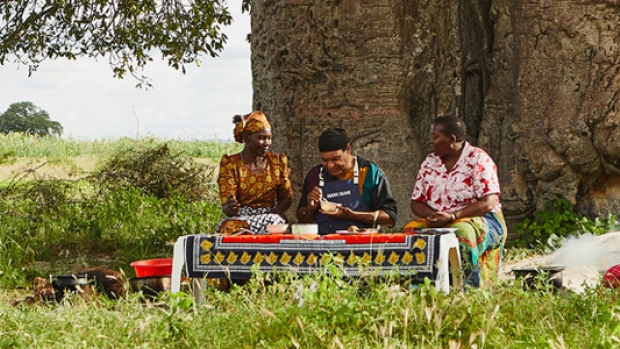 An innovative television series commissioned by ACIAR premiered on SBS Food in November 2018. The Good Cooks takes six Australian chefs to remote parts of the world to learn how ACIAR is helping improve food security and sustainability practices while learning to cook like the locals.
The six chefs travel off the beaten track on a unique paddock-to-plate experience. Along the way they discover how ACIAR is working with local communities to make a difference to the lives of the families and farmers, who are growing food in some of the most vulnerable and challenging environments in the world.
Episode 1 - Vietnam with Dan Churchill: How Australian science is helping Vietnam's farmers adapt to environmental change … and how to cook snake
With irrepressible energy and enthusiasm, Dan Churchill a Sydney born chef with a restaurant in New York, travelled to the Mekong Delta of Vietnam. He tried his hand at seafood soup, rice paper rolls and even catching, filleting and cooking a local water snake.
Episode 2 – Fiji with Sarah Todd: How Australian scientists are helping a tropical paradise build its tropical fruit industry
As if being a mum, entrepreneur, chef and running three restaurants isn't enough, Sarah Todd travelled to the tourist hub of the South Pacific, Nadi, Fiji to explore the fledgling tropical fruit industry being helped by Australian agricultural science and to cook like a Fijian.
Episode 3 – Indonesia with Rebecca Sullivan: Acacia and cattle feed with heaps of chilli
Aussie food writer, TV presenter, and chef Rebecca Sullivan went to West Timor in Indonesia to meet beef farmers and to learn how to cook their way (with rather a lot of chilli).
Episode 4 – The Philippines with Luke Hines: Australia's aid is protecting critically endangered giant grouper
Aussie fitness/wellness coach and cookbook author, Luke Hines travelled to Guimaras Island in the central Philippines to cook some local delicacies and learn how captive breeding of giant grouper is important for the future of the Asian fishing industry.
Episode 5 – Tanzania with Mark Olive: Eye drops for chickens, nutrition for kids and cooking the Tanzanian way
Mark Olive, aka 'The Black Olive', is a well-known celebrity chef with a charismatic style and creative approach to cooking Australian bush foods. Mark saw first-hand how an Australian poultry vaccine is improving Tanzanian village nutrition and to learn how to cook like a local in the remote Rift Valley.
Episode 6 – Mozambique with Paul West: How Australia is using irrigation to grow a stronger Mozambique
Passionate about connecting people to how their food is grown, Chef and TV presenter Paul West took an adventure across the Indian Ocean to Mozambique to see how one of Africa's poorest nations is being supported through an Australian-led research partnership.