Growing plant biosecurity in the Pacific region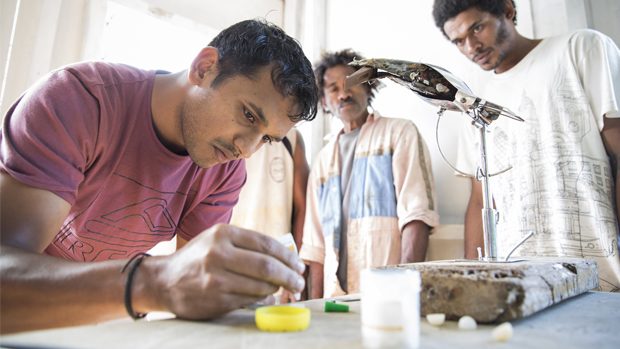 Following the successful delivery of a plant biosecurity capacity building program in Eastern and Southern Africa, ACIAR is supporting the expansion of the program into the Pacific region.
Having developed the concept and guided the team that delivered a similar program in Africa, Mellissa Wood, General Manager of Global Programs at ACIAR, was keen to see the program expanded to the Pacific region.
'Following the success of the plant biosecurity capacity building program in Africa, we want to take the best elements of the training and share the relevant knowledge with biosecurity agencies in the Pacific,' Ms Wood said.
'The first step is for program leaders to explore the plant pest and disease issues challenging countries, including Papua New Guinea, Fiji, Solomon Islands, Vanuatu, Tonga, Samoa, Kiribati, Tuvalu and the Pacific Community Pacific region,' she said.
The plant biosecurity program is managed by biosecurity specialist Bill Magee in association with Sanitary and Phytosanitary (SPS) specialists from Kalang Consultancy Services.
'Next week we will run a planning workshop in Fiji with scientists, regulators and researchers, including plant protection officers from PNG, Fiji, Solomon Islands, Vanuatu, Tonga, Samoa, Kiribati, Tuvalu, as well as representatives from other relevant agencies,' Mr Magee said.
'Information gathered at this workshop will inform the development of the three-year program. Discussions will be held around areas for development, mechanisms for change and opportunities to work with the private sector.'
Rob Duthie, Director Kalang Consultancy Services described the approach.
'We intend to take a multi-pronged approach in the Pacific and target regional, national, institutional and individual needs. The training will be backed up by a mentoring program, including work placements, which will in turn will lead to the development of strong relationships and a responsive biosecurity network across the region.'
'We also plan to partner with NZ biosecurity agencies which have a long history of capacity building and biosecurity investment across the wider region.'
To date many Pacific Island and Country Territories biosecurity agencies continue to be challenged by existing and emerging plant pest and diseases.
'Taking a more holistic approach on a regional scale has proven successful in Africa. And with some tailoring to meet regional needs we have every reason to believe this approach will also be successful the Pacific region,' Ms Wood said.
'By directly addressing some key plant biosecurity issues in the region, we would expect to see improved performance in surveillance, diagnostics, pest risk analysis, import border controls, export inspection and trade negotiation; in addition to improved supply chain compliance by the private sector and strengthened export markets.
'This in turn will lead to increased production and market access resulting in improved food security and livelihoods across the region.
'From Australia's perspective, it is an important program of work as Pacific countries will be increasingly important as trading partners. Plant pests and diseases found in Pacific exports can affect Australian food production and potentially put trade pathways and opportunities at risk,' she said.
For further information please contact: