High-yield cassava boosts farmer incomes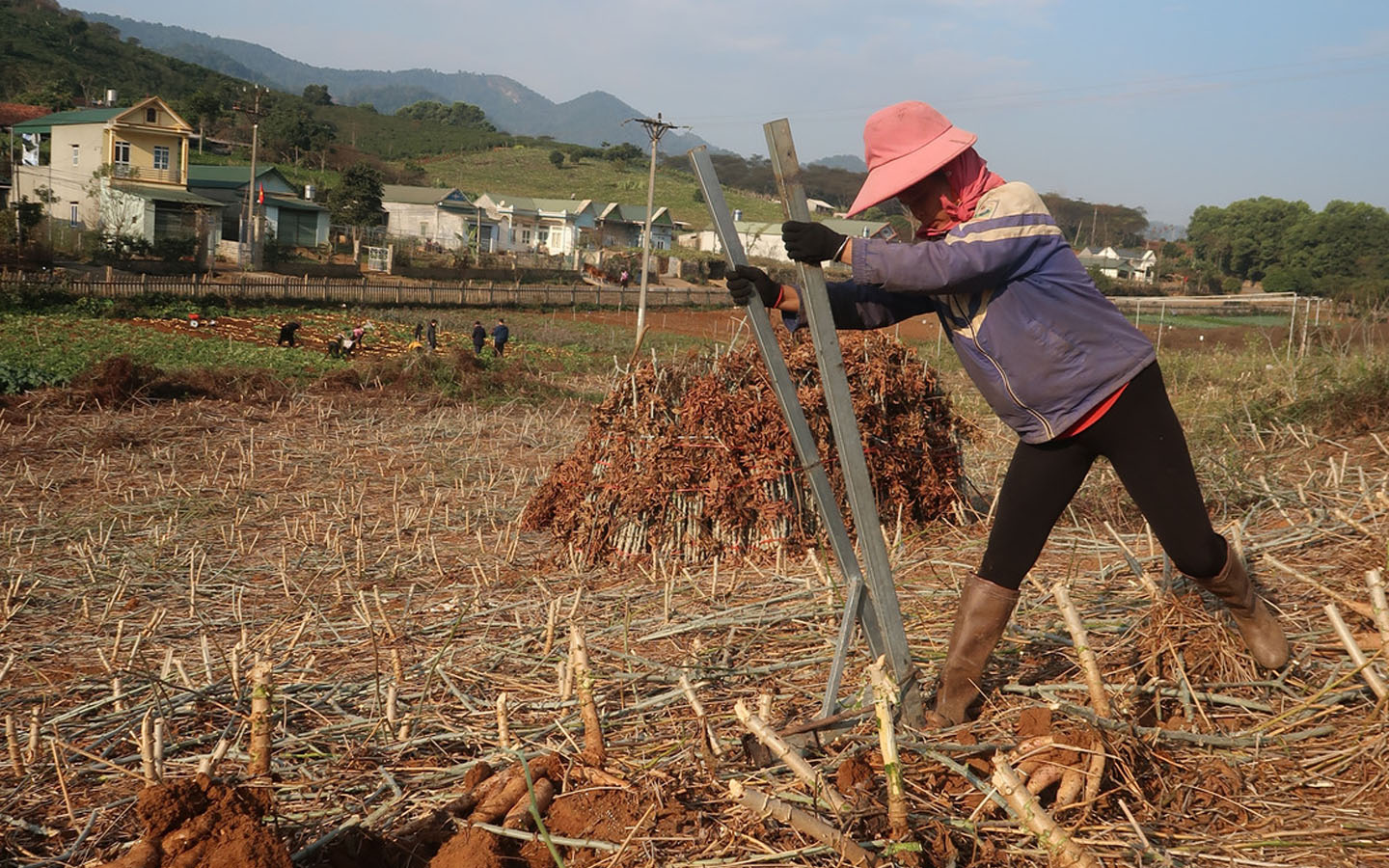 Rural communities in the Northwest of Vietnam are earning more money from cassava harvests thanks to improved cassava varieties developed through an ACIAR supported project.
Commencing in 2016, the research initiative worked with ethnic minorities in in Son La province to grow more lucrative cassava varieties, with farming communities increasing their productivity by as much as 76%.
Run by the University of Queensland and the International Center for Tropical Agriculture (CIAT), the project also focused on improving value-chain linkages to ensure cassava farmers received the highest possible return.
'The demand in the global starch, livestock feed, and energy markets continues to grow. Smallholder farmers can enhance their livelihood with cassava,' said Howard Hall, ACIAR's Agribusiness Program Manager. 'The project team has been able to develop strong partnerships between researchers, local government, and industry to test innovations and scale them through trader networks'.
When the project commenced in Son La, there were minimal cassava varieties available to farmers, with the two most popular providing relatively low yields.
A lack of farmer knowledge about different cassava varieties and how to grow them efficiently was hampering efforts and farmers would also freely exchange varieties amongst communities, increasing the chance of spreading devastating diseases, such as cassava mosaic disease prevalent in the south of Vietnam.
With the in-country researchers from the Northern Mountainous Agriculture and Forestry Science Institute (NOMAFSI) and Root Crops Research and Development Center , the project has trialled new varieties since 2017, providing farmers with high-yield variants, quality fertilisers and training in efficient farming techniques.
It didn't take long for farmers to notice the difference.
'I harvested nine tonnes of new type cassavas in 2019 and 12 tonnes in 2020. Before, I could only harvest as much as three or four tonnes with the cassava I used to plant,' says Luong Van Minh, a local farmer in Son La province who has worked with NOMAFSI to apply new breeds and improved farming techniques.
'In 2020, I sold cassava to local traders at the highest price ever – that is 15,000 VND (almost 1 AUD) per 10 kilos. I have bought a pig with earnings from cassava.'
Local farmers like Minh can double their income by selling cassava to the two local cassava starch companies. 'But my place is too far from the company location, and I do not have vehicles to transport cassava,' Minh said.
Furthermore, farmers can only sell cassava to the companies based on the fresh root weight rather than starch volume. The new varieties provide high yield and high starch volume, meaning that the opportunity to boost income for farmers is still very high.
'The local companies have not developed cassava production zone because they still enjoy competition-free purchases thanks to relatively abundant fresh roots supply,' said Ms. Cu Thi Le Thuy from CIAT, who analysed value-chain linkages as part of the project.
'They can outcompete traders purchasing dried chips. We have improved some connections by engaging the business, farmers, and local government agriculture agencies to test and promote suitable varieties. To strengthen this newly established linkage, we hope to see more robust support from the local government,' Ms. Thuy added.
The project also recommended Son La authority to speed up evaluation and disseminate new and improved varieties in collaboration with the local industry. The local seed system development will help minimize harvest loss and disease risk and improve cassava production returns for farmers and industry.
The project, Developing value-chain linkages to enhance the adoption of profitable and sustainable cassava production systems in Vietnam and Indonesia, ran from 2016 to 2020 and was funded through the ACIAR Agribusiness Research Program.