Indonesian farmers cash in on higher quality milk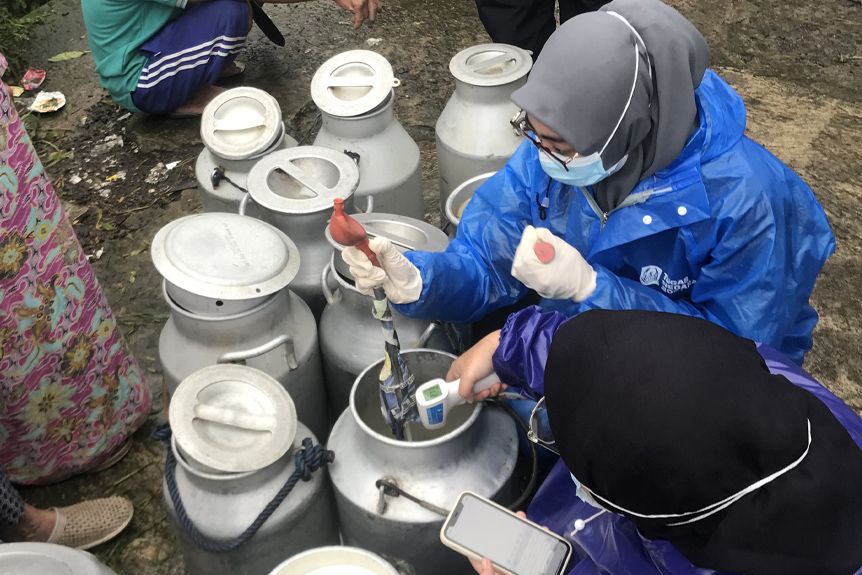 Smallholder Indonesian dairy farmers in West Java are being paid more when they deliver "better" milk as part of an ACIAR-supported trial to boost the quality of milk production in the country.
Low milk quality is a problem for Indonesia's dairy sector, with high bacterial counts impacting product shelf-life and restricting the number of products it can be used for.
ACIAR Research Program Manager for Agribusiness, Mr Howard Hall, explains that by improving milk quality, farmers can achieve higher returns, while processors, retailers and customers can consume more nutritious milk products. It's a win-win.
'With an emerging middle-class looking to buy more protein, increasing local dairy production is key priority of the Government of Indonesia, which aims to achieve 60% self-sufficiency by 2025, as well as improve the livelihoods of smallholder dairy farming communities,' said Mr Hall.
'ACIAR has been supporting Australia and Indonesian collaboration since 2012 and these latest trial results underline the importance of taking a system-wide view of the whole agri-food chain.'
The trial is part of the IndoDairy project supported by ACIAR and led by Professor Wendy Umberger of the University of Adelaide's Centre for Global Food and Resources (GFAR).
'By adopting simple hygiene practices such as using hot water and detergent to wash milking equipment, farmers can reduce bacterial counts,' said GFAR Project Coordinator, Mr Jack Hetherington.
'This improves milk quality and allows farmers to supply higher value "fresh" milk.' 
The trial was conducted in the village of Cisarua in West Java, with the local milk processor Cimory, and the village level cooperative KUD Giri Tani and its farmer members.
Cimory can test truck consignments of milk at their processing plant but they can't test an individual farmer's milk.
'This means that all farmers, regardless of milk quality, get paid the same. They don't see the point in changing their practices as there is no individual benefit to them,' said Mr Hetherington.
'Through the project, we supported KUD Giri Tani to test farmers' milk individually and pay a premium for higher quality milk,' said Mr Hetherington.
Farmers typically make about 2,150 Indonesian Rupiah (19 Australian cents) profit per litre of milk, but under the trial, they can receive up to 1,000 rupiah on top of this for high-quality milk.
Cimory's Mr Randy Armahedi said it is important for the processor to receive high-quality fresh milk because it means they can expand their product range, especially into liquid milk products.
'Based on the data, there is an improvement in the quality of milk. But what is important is the change in the spirit of farmers, which helps them to maintain these changes and develop their farming business,' he said.
Dairy farmer and KUD Giri Tani representative Mr Miftah Rahman said, 'This study opened the eyes of the KUD board and made us realise that nothing is impossible. Previously we doubted whether the quality of milk supplied by farmers could be improved, but the results show it can be done.'
He adds that some farmers used to supply "dirty" milk that was rejected several times. But the incentives have changed their attitudes and behaviours, and their milk has become "very clean".
The trial follows training for local dairy farmers which introduced them to practices that reduce bacterial counts. The training was conducted by Bogor Agricultural University Vocational School under the leadership of Professor Arief Daryanto.
Professor Umberger added that, 'A good outcome for this study would be that the dairy cooperative is able to sustain the price incentives, which will ultimately benefit everyone along the value chain, including farmers, milk processors and consumers.'
The five-year project is funded through the ACIAR Agribusiness Research Program and is scheduled to conclude in June 2021.