Livestock profits on the 'upp' thanks to feed app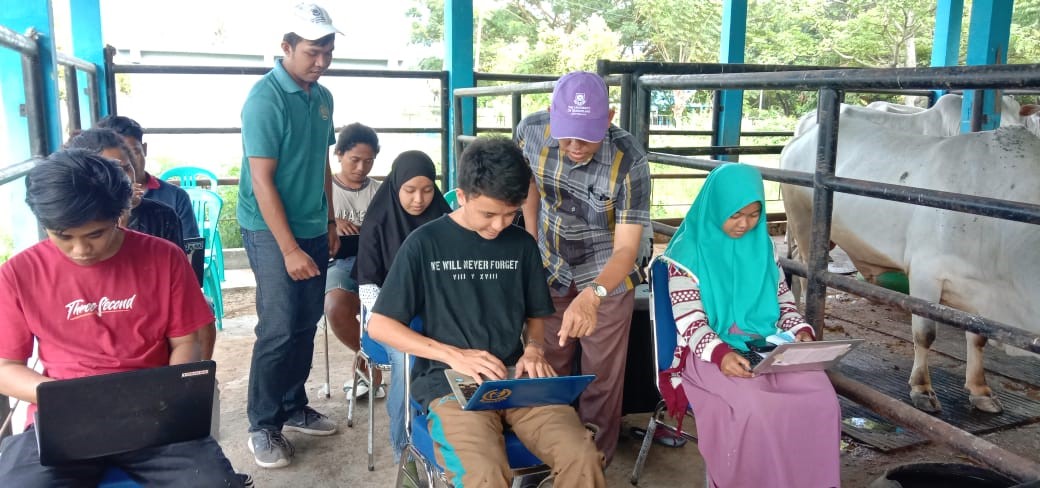 Indonesian beef farmers can now calculate a nutritious and cost-effective ration for their livestock in the palm of their hand.
And for the early adopters of this technology, the resulting increase in livestock weight gain is paying financial dividends.
Australian and Indonesian researchers have been working with Indonesian farmers for the past four years, creating a feed formulation app and spreadsheet to guide livestock feeding decisions as part of an ACIAR-supported project improving the profitability of small-scale beef producers.
Cattle in Indonesia are raised mainly by smallholder rural communities with limited knowledge of how livestock diets impact cattle growth rates.
By providing smallholder beef producers with simple solutions to improve feed rations, the project hopes to double growth rates, boost household incomes and assist Indonesia in meeting the growing domestic demand for beef products.
University of Queensland research fellow Dr Karen Harper is chief investigator for the project.
She said the aptly named Beef-Upp Android app and the excel spreadsheet, known as the ACIAR least-cost ration formulator, both calculated least-cost rations for livestock production using local feed sources.
'We assessed the feeds available in different areas and created different diets using the spreadsheet calculator,' Dr Harper said. 
'At each university site, we measured liveweight response curves to determine best bet diets for the different regions and used these diets in village trials.'
As part of the trials, villages were given a set of scales to weigh their cattle, while junior scientists helped farmers prepare diets.
'Farmers realised they could create effective rations from the feed around them which improved liveweight gain and profitability,' Dr Harper said.
Initial village trials showed liveweight increases of 60 to more than 200% a day (off a low base), depending on the cattle breed and feeding regime and substantially increased profit. 
In addition, having the ability to weigh cattle bolstered farmer confidence when negotiating sales.
The Beef-Upp app, developed using information technology students from the University of Queensland, was created so farmers could easily alter their rations to reflect changes in feed pricing and availability. It also has built-in safeguards to maintain livestock health.
The least-cost ration formulator is targeted to scientists or those with nutritional knowledge.
ACIAR project coordinator in Central Sulawesi Professor Marsetyo and junior scientist Wayan Sulendre train farmers and students to use the feeding tools.
Professor Marsetyo said Beef-Upp was easy to understand, provided information about different types of feed and enabled farmers to formulate rations based on different animal production targets.
He said Beef-Upp and the ACIAR least-cost ration formulator changed how farmers approached feeding.
'Farmers, when providing feed, consider the type of feed, its nutrient content and their target for bodyweight gain,' he said. 'Previously, they fed cattle with low quality feed as a single ration and did not think about targeted liveweight gain and sale weight.'
ACIAR Indonesian project manager Dr Cuk Tri Noviandi uses social media and YouTube to teach young farmers and students about the formulator.
He said these farmers understood how formulating low-cost rations with adequate nutrients would boost their livestock profits and they sought education to improve their nutritional knowledge. 
ACIAR has funded Indonesian beef research for many years, according to ACIAR Livestock Systems Research Program Manager Dr Anna Okello.
'We've developed a really good cohort of beef research capacity in Indonesia and the app and least-cost ration formulator, in many ways, capture this research and hand it on,' she said.
Learn more via the ACIAR website.