Measuring agricultural research impacts beyond numbers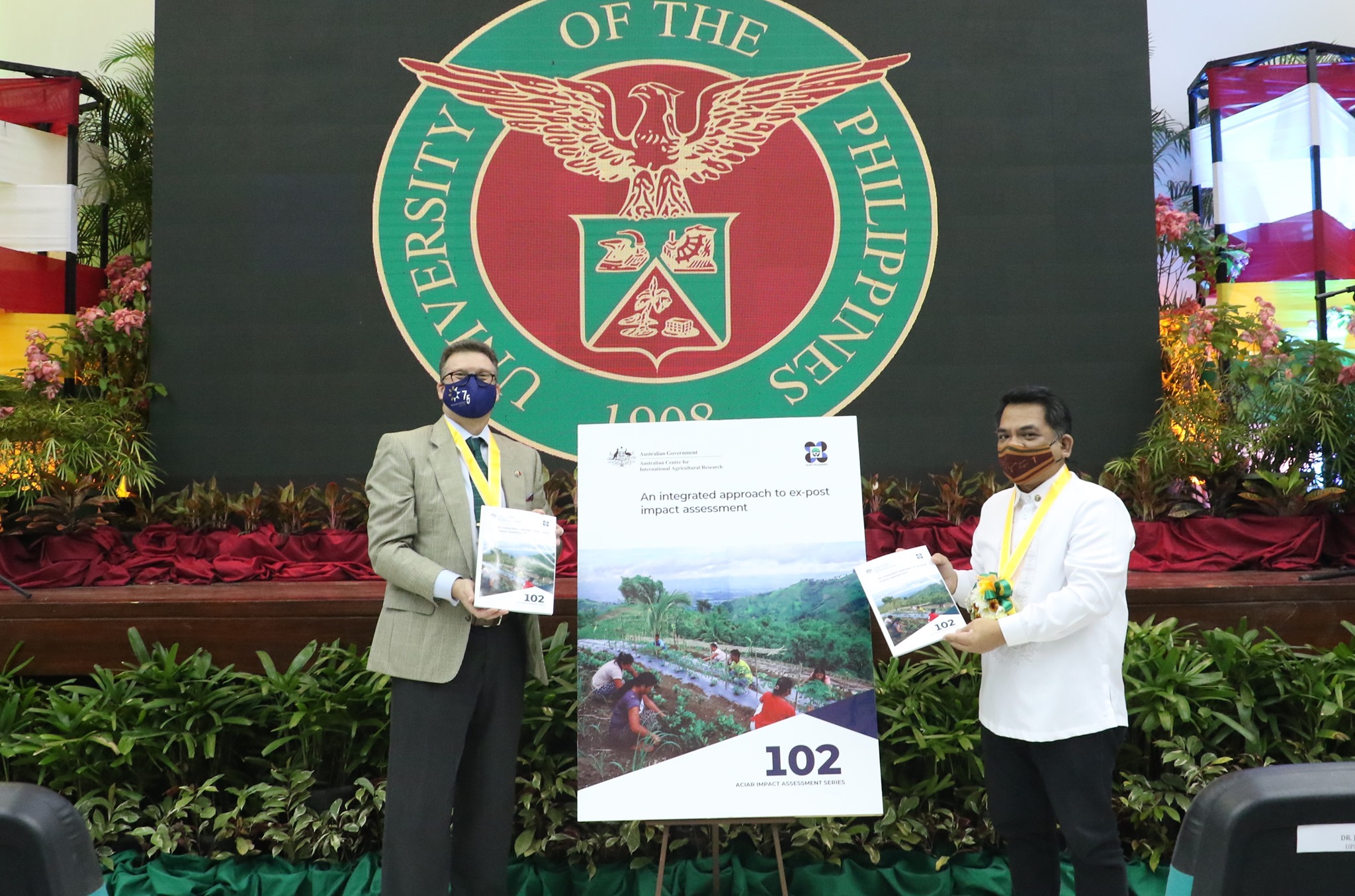 Looking beyond the economic benefits is the focus of a research collaboration between Australia and the Philippines aimed at finding better ways to assess the impacts of agricultural research for development programs.
A newly launched publication, the ACIAR Impact Assessment Series No. 102: An Integrated Approach to Ex-post Impact Assessment, is a product of several years of research that looked at developing solutions to the challenge of evaluating research impacts beyond the "numbers", or the economic frameworks and values that result from research work. 
The publication was launched at an event to commemorate the 43rd anniversary of the University of the Philippines Los Banos (UPLB) College of Economics and Management attended by Australian Embassy in the Philippines Deputy Head of Mission Richard Sisson and UPLB Chancellor Dr Jose Camacho, Jr.
'This Australian–Philippines collaboration clearly has much potential for scaling up and adoption, and one that could potentially change the landscape of impact evaluations for many development programs,' said Mr Sisson.
There is a growing acknowledgment within organisations, including ACIAR and the Department of Science and Technology - Philippine Council for Agriculture, Aquatic and Natural Resources Research and Development (DOST-PCAARRD), that conventional economic frameworks evaluating research impact do not capture the full spectrum of outcomes that flow from agricultural research-for-development investments.
ACIAR and DOST-PCAARRD, building on a previous research project, supported the collaboration of the Commonwealth Scientific and Industrial Research Organisation (CSIRO), the Visayas State University and the UPLB in developing mixed method approaches to impact assessment.
'Impact assessment has been integral in the DOST-PCAARRD monitoring and evaluation initiatives to ensure effective research and development governance and social accountability. This approach to impact assessment has been tailored to the Philippine context to generate comprehensive and in-depth results useful in packaging succeeding programs and in developing policies,' said DOST-PCAARRD Executive Director Dr Reynaldo Ebora.
Agricultural research and development projects are becoming increasingly more complex. While there are many available frameworks to assess and measure the impacts of these projects, there are still insufficient approaches examining broader impacts that integrate livelihood, economic, social and environmental aspects.
Chancellor Camacho, who is also one of the report's authors, said, 'through collaborative effort, CSIRO through ACIAR, UPLB, VSU, and DOST-PCAARRD have come up with a framework that exemplifies an integrated approach to ex-post impact assessment, which aims to remedy the blind spots of past approaches.'
'The publication will play a role in taking the framework to its proper audience, helping to make it understandable, and ultimately, actionable.'
The approach provides a framework for thinking about different types of impacts and impact pathways, and the different options for exploring and capturing these impacts.
'As the world strives towards the 17 Sustainable Development Goals under the United Nations Agenda 2030, we need better ways of tracking and measuring progress that can comprehend the full suite of social, environmental, economic and ethical dimensions. Importantly, these new frameworks and tools need to be useful for, and able to be implemented by, partners in low- and middle-income countries,' ACIAR Chief Executive Officer Andrew Campbell said.
Learn more and download the new publication via the ACIAR website.