PNG's galip nut commercialised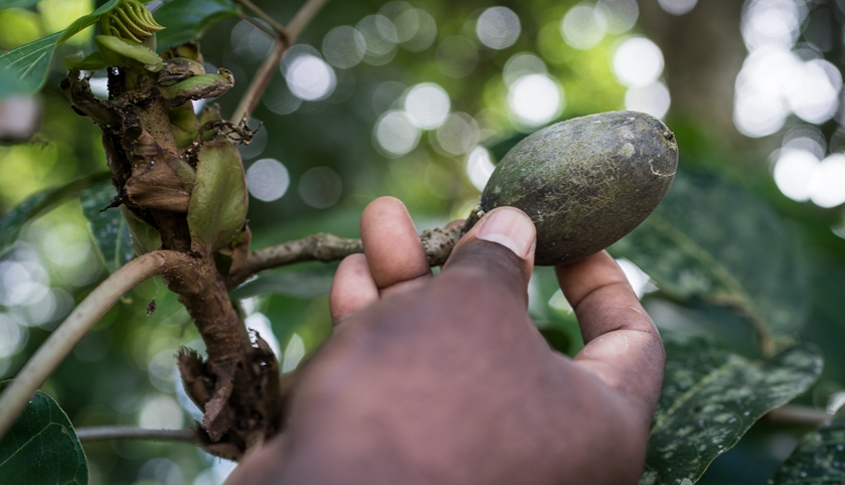 A long-running effort to commercialise Papua New Guinea's galip nut has reached a crucial stage, with products now being sold in-store for the first time.

'The Galip Nut Company' was founded in May earlier this year as part of an ACIAR-funded project aiming to enhance economic, social and environmental benefits from market-focused agroforestry crop systems in the Pacific.
Run by the University of the Sunshine Coast since 2015, the project is now testing consumer appetites by selling natural, roasted and peeled variants in 100 gram, 60 gram and one-kilogram quantities—making it the first indigenous wild grown nut ever commercialised in PNG.
'There are not many examples in the world where an indigenous product has been taken from just a traditional use to a point where it becomes a commercial product,' says Tony Bartlett, Forestry Research Program Manager at ACIAR.
'We developed a pilot factory in Kerevat with ACIAR funding,' says Bartlett. 'We have been running that for about three or four years starting from only 100 kilograms of nut production to now last year we purchased 65 tons and processed all that in the factory.'
Australian High Commissioner Bruce Davis this week announced $1.5 million funding over three years to further support and develop an outline for a 'best practice approach' for the galip nut industry in Papua New Guinea.
'With minimal new nuts coming on the market, the galip nut has great commercial potential,' Mr Davis said.
'This is very much an indigenous Papua New Guinean product and one that we are very pleased to be associated with.
'The potential for success is significant. We see this as a 1000 to 2000-tonne industry. It is such a great story of making sure that growing small and diverse opportunities, particularly in East and West New Britain.
'The long-term aim is to scale the project out, and ACIAR's research team hopes to position Papua New Guinea's galip nut industry as a player in the global export market within the next five-to-10 years,' Mr Davis added.
Nuts have huge potential to improve the livelihood of the rural poor in developing countries and meet the Millennium Development Goal to eradicate poverty and hunger. Nuts also have excellent nutritional value, can be stored for long periods and can be sold for cash, processed and exported to distant markets.
The project, Enhancing value-added products and environmental benefits from agroforestry systems in Papua New Guinea and the Pacific, is one of 5 projects in the Transformative Agriculture and Enterprise Development (TADEP) program, which aims to foster private sector-led development in agriculture, increase agricultural productive capacity and improve access to markets for farmers in Papua New Guinea and Bougainville, particularly women farmers.
The project is supported in-country by the PNG's National Agriculture and Research Institute with the University of Adelaide and Southern Cross University collaborating institutions.