Research breakthrough could lead to repair of damaged coral reefs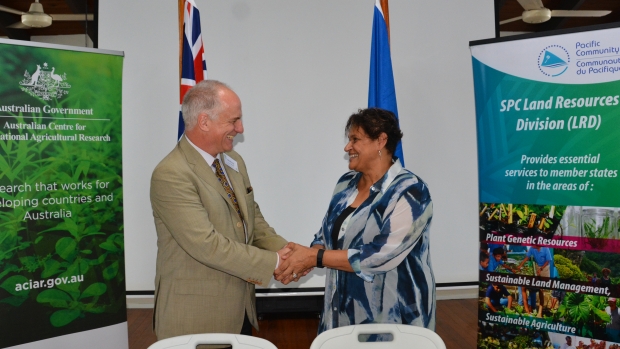 A research partnership backed by the Australian Centre for International Agricultural Research (ACIAR) has made a breakthrough that could mean the restoration and repair of reefs around the world, including our own Great Barrier Reef–and it all relies on hot, steamy, coral sex.
The project, led by Southern Cross University's Professor Peter Harrison, has been working in the Philippines, in an area of reef highly degraded by blast fishing.
"Degradation and loss of coral reefs around the world is among the most obvious examples of the damage humans have done to our planet. Our research shows that some reefs can be repaired," Professor Harrison said.
Professor Harrison's team grows millions of coral larvae in tanks, and then delivers them onto the reefs in large underwater mesh tents. The results have been incredible.
"This research is globally significant. It's important for the reef areas we're working on in the Philippines, but also important to the future of other damaged coral reefs including the Great Barrier Reef," Prof Harrison said.
"What we have proven is that microscopic coral larvae can settle and grow as colonies to the size of dinner plates within three years, and be able to sexually reproduce at this early age. This is the first study anywhere in the world that has successfully re-established a breeding coral population from coral larvae settling directly on the reef, and proves that we can start to restore damaged and degraded reefs," he said.
Professor Harrison stressed that protection of our reefs should be our highest priority.
"Being able to start to repair and restore reefs at small scales is good, but the best possible way to protect and preserve our reef environments is not to harm them in the first place," he said.
ACIAR's General Manager of Country Programs, Dr Peter Horne, said that ACIAR's support for scientific research like the coral seeding project was vital.
"ACIAR does a lot of excellent work in a lot of places around the world. In my view, it's important that we keep taking on these sorts of research projects; challenging scientific ideas that, if they're able to be successfully applied, can yield gigantic benefits.
"The way that Australian scientists have been able to partner with the University of the Philippines and their expert marine scientists is typical of so much of the work ACIAR is involved in.
"We're really excited to be able to support and fund this project, and we're very proud of the work Peter and his team have been doing.
About ACIAR: The Australian Centre for International Agricultural Research (ACIAR) invests in applied research to improve agricultural productivity and sustainability and food system resilience in developing countries.
ACIAR is an Australian Government statutory authority within the Foreign Affairs portfolio and is Australia's specialist international agricultural research for development (R4D) agency.
We work primarily with countries of the Indo-Pacific region through bilateral and multilateral research partnerships. The beneficiaries of these programs include farmers, rural poor, consumers, researchers and policymakers.
Further information and interview requests contact: Simon Tolstrup, Royce, P: 0408 331 356 E: [email protected]