SPC and ACIAR sign Strategic Partnership Agreement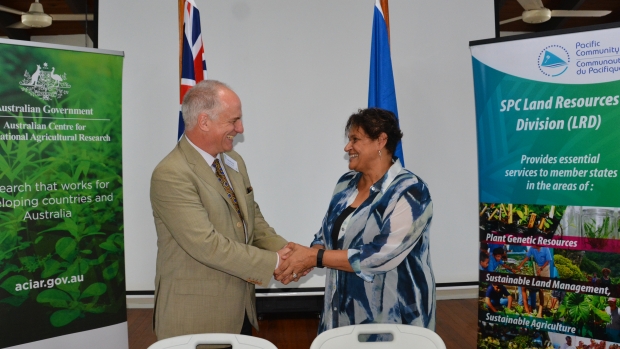 Suva, Fiji –The Pacific Community (SPC) and its longstanding partner, the Australian Centre for International Agricultural Research (ACIAR) have signed a Strategic Partnership Agreement for 2018-2021. The agreement backed by a 1.7m AUD commitment by ACIAR, sets the stage for accelerating agricultural research efforts across the region.
The official signing ceremony took place at the SPC campus in Narere on 12 March, 2018 with SPC's Deputy Director General, Dr Audrey Aumua and the ACIAR Chief Executive Officer, Professor Andrew Campbell.
The partnership will support and expand the capabilities of SPC's Land Resources Division (LRD) and its Fisheries, Aquaculture and Marine Ecosystems division (FAME) in delivering strategic services to Pacific Island Countries and Territories (PICTs). Early priorities identified, include improving genetic resources through conservation and use of food and tree crops; research and development planning for Climate Smart Agriculture; building capacities of women in agriculture; and developing innovative approaches to reverse declines in coastal fisheries.
Dr Aumua stated that, "The vision of a sustainable and resilient Pacific rests on the ability of our region to provide, to protect and to expand our agricultural resources. ACIAR shares this vision and we are very pleased to be working with them on issues that will help improve the lives of Pacific people."
Drawing on the longstanding relationship between ACIAR and SPC, spanning over 30 years, Professor Andrew Campbell noted that, "ACIAR is pleased to expand its support for SPC to a strategic level. Our partnership recognises our roles of key science partner, and agricultural research broker and funder, and will enable future co-investment in well-targeted research to underpin sustainable development in areas of mutual interest."
Beyond the immediate research priorities, the partnership will also help establish stronger relations between SPC and ACIAR by streamlining areas of strategic collaboration; incorporating greater participation of ACIAR in regional consultation processes undertaken by SPC; and ensuring that there is support for effective communication and management activities.
The signing ceremony coincided with the joint meeting of the Commission for International Agricultural Research, and ACIAR's Policy Advisory Council, of which SPC's Director General, Dr Colin Tukuitonga is a member.
This Strategic Partnership Arrangement between ACIAR and SPC aligns with the SPC – Government of Australia (GOA) Partnership 2014 – 2023.
Media contacts:
Salome Tukuafu, SPC Information and Communications Management Officer (Land Resources Division) [email protected] +679 3379287
Michelle Nakamura, ACIAR Director, Outreach, [email protected], +61 2 62170521