Ugandan mums get fish booster to fight COVID-19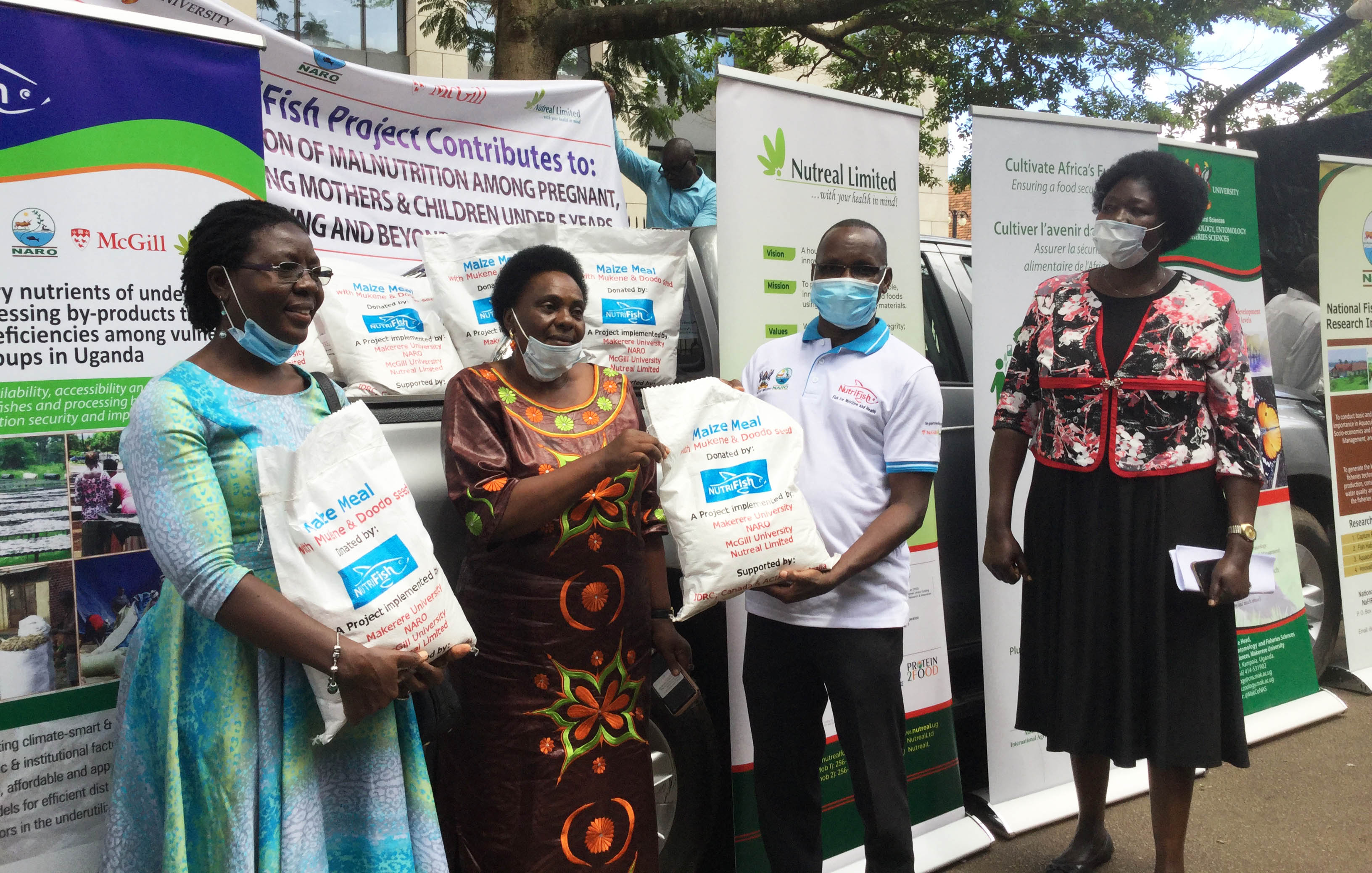 A new fish-enriched maize meal has been fast-tracked to mothers and their young children in a Ugandan hospital to help improve their nutritional status and reduce the impact of COVID-19.  
Pregnant and lactating mothers, and children aged below five years, are projected to be the most affected by COVID-19 in Uganda because they are at a higher risk of malnutrition—due to their high daily nutrient requirements—making them more vulnerable to infection.
In response to the Ugandan President's appeal for help, the NutriFish project team prioritised its development of a nutrient-dense fish-enriched maize meal flour and donated 2.5 tons of it to the Mwanamugimu Nutrition Rehabilitation Unit at Mulago Hospital in Kampala.
NutriFish is one of nine projects under Cultivate Africa's Future (CultiAF)—a co-funded partnership between ACIAR and Canada's International Development Research Centre (IDRC)—which aims to improve food and nutrition security, resilience, and gender equality across eastern and southern Africa.
'The fish-enriched composite flour will be used to prepare meals for mothers whose children are admitted to the unit—it can be used to replace ordinary maize flour,' says Dr Dorothy Nakimbugwe, NutriFish project coordinator, Director of Nutreal Ltd, Uganda, and Associate Professor, Department of Food Technology and Nutrition, School of Food Technology, Nutrition and Bio-Engineering at Makerere University.
Through improved post-harvest and processing technologies of fish, NutriFish aims to address the nutritional needs of people who cannot afford expensive commercial fish but who are in critical need of high-quality, nutritious diets.
Dr Nakimbugwe explains that the flour can be prepared as 'posho'—a traditional Ugandan meal made from maize. The flour comprises a mix of maize flour certified as 'high quality' by the Uganda National Bureau of Standards, Silver fish (mukene) and nutritious amaranth grain (dodo seeds). A 200gm portion provides 32% energy, 40% protein, 28% iron, 56% zinc and 36% vitamin A of recommended daily requirements.
After the women and their children are discharged from the unit and for the following three months, each mother will be provided with 10kg per month of the composite flour for use at home to help prevent relapse into malnutrition and returning to the hospital for treatment.
One mother who tried the flours says, 'I made the meal mix and my children, who are sometimes picky about what they eat, enjoyed it!' Her children commented on the fish smell, so she served it with fish sauce. 'I actually liked and enjoyed it,' she adds.
Dr Jackson Efitre, Senior Lecturer at Makerere University College of Natural Sciences and Principal Investigator for the NutriFish project, consumes the flour himself and credits the flexibility and resourcefulness of those involved for getting the flour to the unit.
'The fast-tracking of the donation of the fish-enriched maize meal was made possible due to the good working relations between the NutriFish project and the private sector and the ability to work online,' says Dr Jackson.
'The sourcing of the high-quality ingredients, packaging materials and payments were all done online —through phones and mobile money. This was all made possible through ACIAR and IDRC's kind permission to reallocate project funds to fast track the donation, for which the NutriFish team is grateful.'
The NutriFish project team is also working to develop a fish-based feeding regime for schools and refugee feeding programs; other fish and amaranth-enriched products including baby food for children aged 6-24 months; sauce that cooks in 10 minutes; and snacks and seasonings. Additionally, through the donation they are hoping to appeal to government and non-government organisations to scale-up production and distribution of fish-enriched foods to nutrition units in other health facilities, schools and refugee communities in Uganda that lack suitable complementary foods to prevent rather than treat malnutrition.