Vietnam alumni collaborate on food system challenges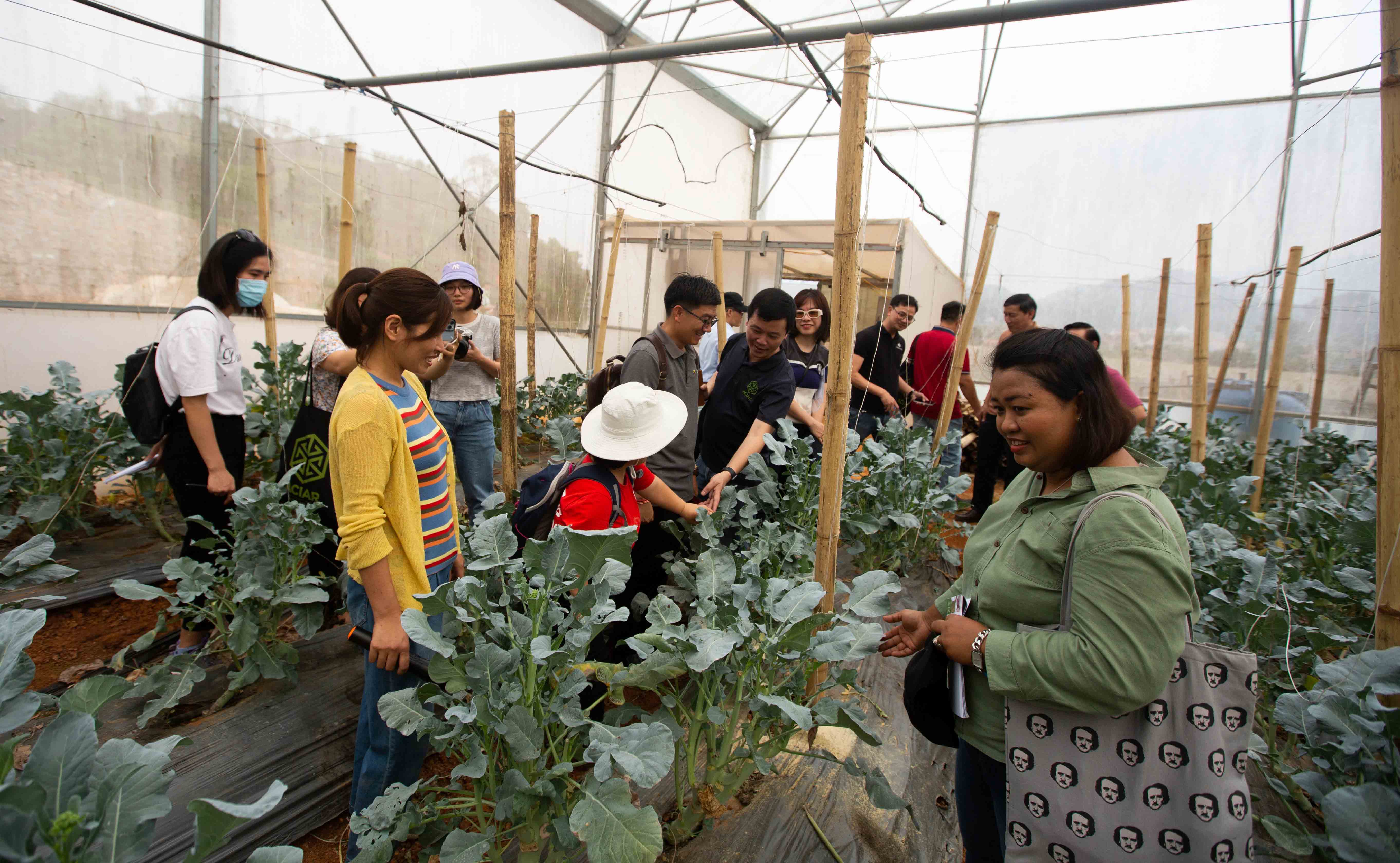 How can a 'pitching' session help boost innovative solutions amongst agricultural researchers to tackle some of the most pressing challenges facing Vietnam's food system? 
ACIAR Alumni and Australia Awards recipients from across Vietnam and South-East Asia visited rural communities in northwest Vietnam last week to see first-hand the challenges facing rural communities.
The researchers then developed different methods of addressing the development challenges. They pitched their ideas to an expert panel in Hanoi, covering significant challenges facing Vietnam in developing sustainable, responsible, and transparent food systems.
Panel member, Special Representative for Australian Agriculture and Commissioner for International Agricultural Research, Ms Su McCluskey was impressed with the innovative ideas, which proposed actions to rejuvenate food systems, enhance nutrition and improve rural livelihoods through agribusiness initiatives while mitigating the impact of climate change on smallholder farmers and the environment. 
'The group amazed me with their coherent and innovative ways of thinking and the extension of ideas and expertise generated in such a short time, which may help lead to some transformative project of strong impact for the food system in future,' said Ms McCluskey.
'As the ACIAR mission is strongly centred around the food systems, and Australia and Vietnam share many challenges in developing sustainable agricultural growth, including climate change, this kind of alumni-led innovation is one of the most effective ways to optimise the two countries' collaboration in agricultural research.
'The Vietnamese alumni group is one outstanding and vivid example of how ACIAR has efficiently delivered its core mandate of building research capacity for its partner countries. These agricultural scientists have exquisitely proven their leadership in driving bottom-up research that benefits their home country and the region.'
The initiative was part of the ACIAR Vietnam alumni group's annual networking and planning program, one of the highlight events to celebrate 30 years of ACIAR investment in Vietnam and 50 years of the bilateral relationship between Australia and Vietnam. 
In addition to pitching ideas for food system transformation, alumni also discussed recent career breakthroughs and further planned to engage in the ACIAR-Vietnam research partnership.
Dr Nguyen Anh Duc from the Vietnam National University of Agriculture, an alumnus who completed his PhD at the University of Adelaide on understanding the changes in food consumption patterns of urban citizens in Vietnam, said he was proud to be part of the ACIAR Alumni network.
'I am very proud to be part of this dynamic group and highly appreciate a strong connecting opportunity like this event, where we can exchange and explore feasible ways to translate our research capacity into profitable farming and agribusiness practice for farmers.
'We even aim to influence further overarching food systems policies that can impact millions of farmers in Vietnam,' added Dr Duc. 
Long-standing Vietnamese member of Australia's Policy Advisory Council Dr Nguyen Van Bo said that ACIAR capacity-building initiatives have considerably impacted Vietnam's agricultural and policy capability and contributed to the broader relationship between Australia and Vietnam.
'In my opinion, one of the most important changes ACIAR has helped build in Vietnam over the last 30 years is the capacity of the Vietnamese scientist and research institutions,' said Dr Bo.
'Through direct involvement in ACIAR-funded projects, receiving ACIAR scholarships and studying in Australia, and networking opportunities, the researchers have learned about critical thinking, a systematic approach from the Australian colleagues.' 
'These are much more important than financial support because a scientist with an upgraded mindset and skills can detect and solve problems more quickly and effectively.' 
More than 120 early to mid-year researchers in Vietnam have received support from ACIAR to study in Australia, with many going on to leadership roles in their institutions and supporting ACIAR-funded research to improve the lives of rural communities across Vietnam. 
Learn more about ACIAR investment in Vietnam and the ACIAR Capacity Building Program.