Vietnam alumni resilient in pandemic response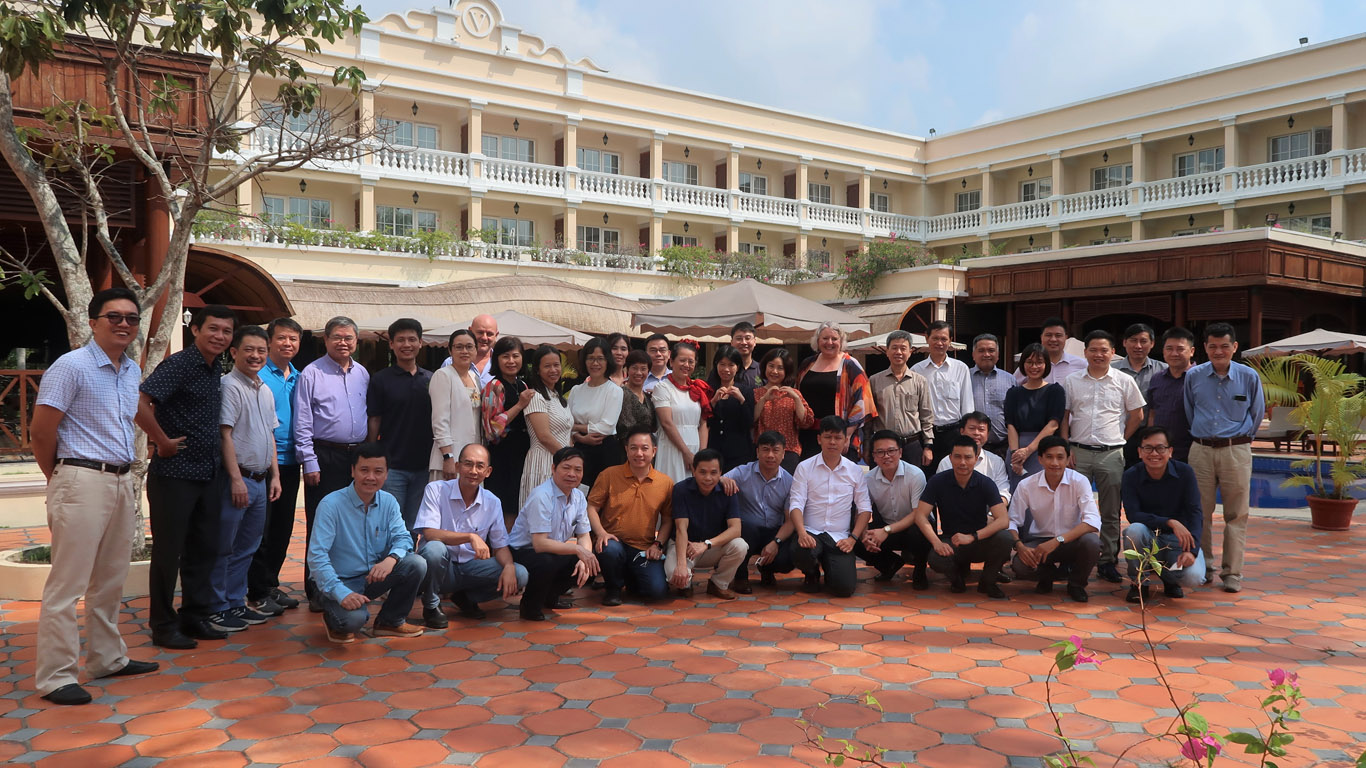 ACIAR alumni in Vietnam have united to share research findings commissioned in response to COVID-19 and its impact on the country's agricultural systems. 
Eight alumni presented key results and experiences after leading research funded through the ACIAR Alumni Research Support Facility (ARSF), an initiative launched in April 2020 to respond quickly to the pandemic.
The insights were presented to the broader ACIAR alumni network in Vietnam, who met last week in Can Tho City to plan capacity building activities and foster multi-disciplined research collaboration opportunities.
The annual meeting is only the second time the Vietnamese cohort of ACIAR alumni has been able to hold a large in-person meeting since the beginning of the COVID-19 pandemic.
ACIAR General Manager for Outreach and Capacity Building, Ms Eleanor Dean, attended the event and was pleased to hear firsthand the impact of ACIAR capacity-building efforts, especially in responding to the impacts of the pandemic.  
'It's inspiring to see ACIAR alumni in Vietnam driving cross-learning and multi-discipline cooperation, which is becoming increasingly important in dealing with today's complex issues,' said Ms Dean.
'The ARSF funding for COVID-related impacts is also a great example of pulling ACIAR alumni expertise together to contribute greatly to Vietnam's sustainable development and recovery from the pandemic.'
With ongoing support from ACIAR, the alumni network continues to grow as a professional community each year, leveraging what they have learned in Australia to improve Vietnam's agricultural research capacity.
During the COVID-19 pandemic, the group managed to 'meet' regularly, organising hybrid training sessions on project monitoring and evaluation for its members and a workshop on COVID-related impacts on Vietnam's agrifood system. The network also attended other forums and discussions initiated by the alumni's home institutions.
'Receiving an ACIAR fellowship and then being a part of the Vietnam ACIAR alumni network has completely changed my way of thinking and working approach,' said Dr Pham Thi Hoa, a Meryl Williams Fellow (MWF) alumna in Vietnam.
Being an alumna herself, Hoa has also received ARSF funding to study the adaptation strategies of vegetable and flower farmers in Lam Dong province in the Central Highlands of Vietnam.
'The Meryl Williams Fellowship that I participated in 2019 is far different from the other scholarships I have had, designed to empower women scientists in agriculture,' said Hoa.
'I have applied all the MWF lessons when doing the ARSF-funded research during the pandemic, pulling together my inner strengths to be resilient and creative at the same time.
'Through the connection with the Vietnam ACIAR alumni network and the larger ACIAR alumni Network, I have realised the importance of networking and partnerships to strengthen the research outcome and make more practical recommendations.'
Since 1993, ACIAR has supported over 100 Vietnamese to gain postgraduate qualifications in Australia through current fellowship programs—John Allwright Fellowship, John Dillon Fellowship, and Meryl William Fellowship.
'We're proud to see how much our alumni appreciate and love the community. Moreover, this community will continue to grow in numbers and quality as the younger researchers learn from more senior colleagues,' said Ms Nguyen Thi Thanh An, ACIAR Vietnam Country Manager.        
'Many alumni have achieved significant success and get promoted to leadership positions in many disciplines and sectors, within government, research institutions, and the private sector,' she added.  
With a strong commitment to building the capacities of agricultural professionals around the world, ACIAR has invested in individual researchers and institutions in its partner countries to implement agricultural research projects and co-lead the bilateral cooperation for agricultural development.
Learn more via the ACIAR website.