Overview
This project aims to identify the structure of current circular biodigester systems and the potential climate co-benefits in Fiji and using the evidence, support a transdisciplinary research design approach for the multi-year project CLIM/2022/107 on circular agri-food-energy systems for climate co-benefits in the Pacific.
While there has been extensive work globally on bio-gas digester systems, and the impacts they have on emissions and deforestation reductions, there is more limited understanding of these systems in small island developing states.
Anaerobic digestion (AD) is a biochemical process in which biogas and digestate are produced from organic matter (such as sewage, livestock or food waste) in the absence of oxygen. The final produce from AD can be used for combined heat and power generation, or as a transport fuel, with digestate residues used for potential fertilizer for household home gardens or in agricultural applications. AD forms part of a broader suite of potential circular technologies that can link food and energy systems, and there have been several feasibility studies over the last 15-20 years which all conclude there is high potential for biogas in the Pacific. The study will be designed using transdisciplinary methodologies involving research, industry, and community knowledge to define areas of development opportunity for food-energy production systems.
The Climate Change Program aims to support governments, communities and businesses to work together to drive transformative shifts in livelihoods under climate change. Critical areas of focus are: 1) change in large-scale multi-stakeholder governance of systems and 2) institutional mechanisms that optimise multiple systems benefits simultaneously (like mitigation, adaptation, livelihood, and food security benefits). These priorities aim to create stronger enabling conditions for small-scale producers to make the kinds of changes that will secure or improve their livelihoods under climate change while contributing to and benefitting from mitigation activities.
While Pacific Islands Countries contributions to greenhouse gasses are negligible, there is an increasing will to showcase efforts to develop initiatives that support mitigation, adaptation, and broader livelihood opportunities for Pacific communities. These multiple socio-environmental and economic co-benefits may come from localised food system interventions.
One emerging technology in Pacific islands is the use of biodigesters to convert agricultural waste (from food waste and manure) into biogas energy and fertilizers for home gardens. While the use of these technologies is well documented in Asia and Africa, the unique island geography and cultural context of the Pacific provide an opportunity to build more appropriate place-based approaches to support the use of bio-digesters as a mitigation, adaptation, and livelihood support tool. This research activity will support the establishment of a multi-stakeholder partnership involving researchers, civil society, and business to determine the scope and boundaries of a complete study into co-benefits analysis and scaling factors for biodigesters in Fiji, and possibly other Pacific Island Countries.
Expected activities and outcomes
Identifying potential climate co-benefits of circular food biodigester systems and their associated governance structures.
Producing a journal-style paper on the potential types of climate co-benefits for Pacific islands from biodigester systems, and existing sustainability governance frameworks for governing circular food-energy systems.
Producing a stakeholder mapping and matrix and systems-informed stakeholder matrix for identifying actors and partners for the full-scale project.
Producing a narrative report on the case study of bio-digesters in Fiji, including an overview of the type of baseline data that exists on inputs and outputs, co-benefits data, and costs and benefits of biodigesters.
An initial qualitative analysis of the decision-making and governance structures that can support the up-scaling of bioenergy systems.
Co-producing project plan for project CLIM/2022/107 on governing climate co-benefits of food-energy systems in the Pacific islands. 
Map
Image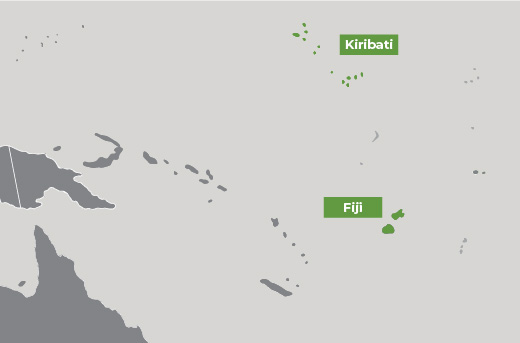 Key partners
Pacific Grow
University of Technology Sydney
Wildlife Conservation Society
Eco Grow Fiji