Overview
This project aims to 

increase farmer income, systems productivity and food security by delivering high-yielding, disease and pest resistant mungbean varieties to smallholder farmers
Declining crop yields, increased agricultural risks, diminishing soil fertility and environmental degradation are some of the main challenges which continue to threaten societal goals of improving food, income and nutrition security especially in smallholder farming.
There is large demand for options for sustainable intensification of tropical cropping systems of Africa, South Asia and Australia.
The project will build on current ACIAR projects researching mungbean agronomy and contribution to cropping system intensification in Myanmar and Bangladesh.
Expected project outcomes
Creating New traits and methods for mungbean improvement.

Increasing knowledge on legumes and legumes traits.

Implementing capacity development of breeders including training on better database management, application of marker assisted selection, statistical methods in breeding and adoption of integrated pest management strategies.

Gaining access to new traits introgressed in breeding lines, allowing them to deliver new varieties, more adapted to farmers' needs, faster.
Map
Image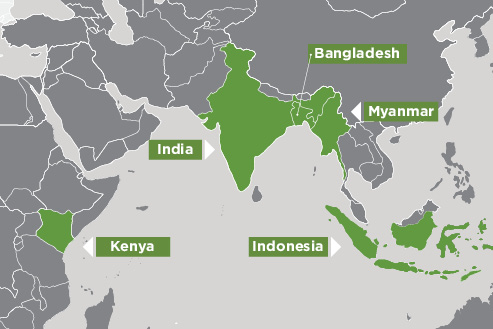 Key partners
Department of Agriculture and Fisheries Queensland, Australia
Bangladesh Agricultural Research Institute
Indian Institute of Pulses Research, Kanpur
Indonesian Legumes and Tuber Crops Research Institute
Kenya Agricultural and Livestock Research Organisation
Department of Agricultural Research, Myanmar