Overview
This project aims to investigate and remediate food loss in Pacific Island value chains using a gender sensitive participatory approach to widen fruit and vegetable choices for overall improvement of Pacific diets and nutrition.
Food loss not only incorporates the real loss of production output before it reaches a consumer but also encompasses a loss in value resulting from decreased quality during transit and storage or the inability to handle and store produce properly. Whilst there has been a large amount of research documenting post-harvest losses, interventions that work in a developing country context are rare.
From the time that agricultural produce leaves the farm, there are multiple points in the value chain, from distribution to storage and processing, where valuable food is lost. Whilst it is important to understand how smallholder farmers can increase yields and production levels overall, addressing areas of food loss outside the farm can also lead to more resilient food systems.
We have also observed gender inequality and a lack of gender awareness within value chains in the Pacific. For instance, in Solomon Islands, women vendors often stay overnight at established markets in unsafe and unhygienic conditions (Georgeou et al 2019). In Samoa, the Government recognises the important role women's committees play in agricultural production, while at the same time, cultural norms arising from colonial times still require women to balance these roles with household duties and family care taking activities (UN Women, 2012). A similar trend is observed in Tonga, where the discord is even more apparent because women are not allowed to own land (Nagarajan, 2009). In Fiji, despite women contributing significantly to agriculture and fishing, men often take control of the decision making (UN Women, 2012). Women have been recorded to produce the vast majority of agricultural produce in Solomon Islands, but men dominate the production and sale of more lucrative cash crops (Bourke et al, 2006). These issues highlight some of the challenges faced by women in the Pacific within agriculture, which are also potential underlying drivers of food loss.
While there is a body of knowledge on the extent of food loss in the Pacific and its wider implications, we need to understand the drivers/resistors of change, and to identify strategies that not only reduce loss but improve overall resilience.
Expected project outcomes
Improved farmer and vendor practice using tested interventions and technologies to reduce food loss.
Reduced food losses across the Pacific region.
Increased fruit, vegetable and root-crop availability.
Increased affordability and consumption of fruit and vegetables in the Pacific.
Improved livelihoods of farmers and vendors.
---
Summary of achievements to date
2022-23
The project has made headway in capacity building project partners – not only in foresighting methodologies, but also in being aware of gender concepts and conducting gender-inclusive research. The team has co-designed the food loss survey to ensure it is unwrapping information that is needed and relevant to all partner countries. The Pacific partners are learning to drive research from within, supported by our partners from Australia.
This project is part of the Food Loss Research Program—a partnership between ACIAR and Canada's International Research Development Centre. The program works with partners in developing countries to address food loss through innovative, locally driven solutions.
 
Map
Image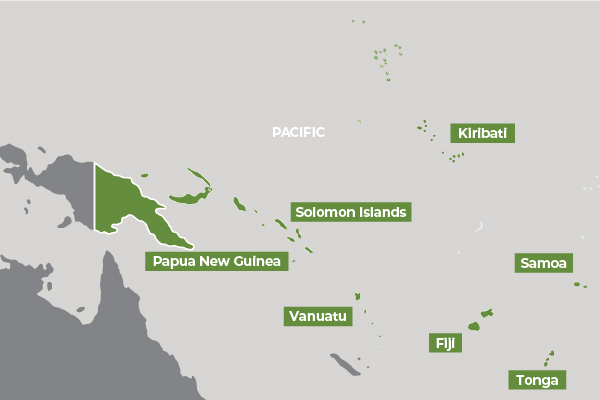 Key partners
Fiji National University
Scientific Research Organisation of Samoa
Solomon Islands National University
Tonga Trust
University of the Sunshine Coast