Overview
This project aims to describe key food environment constraints and opportunities for healthy and vegetable-rich diets across the urban-rural nexus in Fiji, and where this points in terms of food system policies and interventions.
Pacific Island Countries (PICs) are among the most malnourished populations in the world. These countries (with available data) show an average of 77.3% of adults living with overweight or obesity (48.8% with obesity), and non-communicable chronic diseases are the leading cause of death1. The Pacific Islands concurrently deal with child stunting ranging from 5% to 50% of children under age 52. Anaemia is also widespread, particularly among women of reproductive age (15-49 years old) ranging from 25.0% in the Federated States of Micronesia to 37.7% in Solomon Islands, and children under age 5 with an average regional prevalence of 37.3%1.
Underpinning these forms of malnutrition are unhealthy diets and in particular the lack of vegetables which provide key micronutrients, phytonutrients and fibre for health. Despite awareness and the place that fruit and vegetables have in traditional diets, concerns about food safety, high prices of fruit and vegetables, limited convenience of fresh produce, and preference for processed and imported foods, have been identified as important barriers to fruit and vegetable consumption5,6. This is in the context of easy-to-cook rice and packaged processed foods becoming more available, convenient, and tailored to shifting taste preferences (of salty, fatty and sugary foods) and their associated novelty2,7. Diet quality is often found to be poorer in urban areas, largely driven by a food environment with lack of access to home gardens or land on which to grow food, and a high and increasing reliance on market-purchased foods3,9. Beyond the rural-urban divide and some work on inland vs coastal contexts, there has been little work to understand the different experiences of food environments by different population groups, with an equity lens12. Food systems in the Pacific, including Fiji, are becoming ever more integrated into global food markets, changing the types of food that are available and affordable to populations, in combination with crop production not keeping pace with population growth in many areas13.
The project will initially create scientific evidence and build the capacity of local researchers in food systems and food environment research.
---
1. UNICEF. 2022. Double Duty Actions to prevent and manage multiple forms of malnutrition across the Pacific Islands. Produced by Dikoda (unpublished)
2. GAIN and Johns Hopkins University. Food Systems Dashboard. https://foodsystemsdashboard.org/compareandanalyze; 2021.
3. Vogliano C, Raneri JE, Maelaua J, Coad J, Wham C, Burlingame B. Assessing Diet Quality of Indigenous Food Systems in Three Geographically Distinct Solomon Islands Sites (Melanesia, Pacific Islands). Nutrients 2021; 13(1): 30.
5. Morgan 2016: Appetite, "Factors influencing fruit and vegetable intake among Fijians" http://dx.doi.org/10.1016/j.appet.2016.03.003
6. Hawea 2021: "Cultural determinants of fruits and vegetable consumption in indigenous Fijian children:" https://doi.org/10.1177/1010539521103845
7. Vogliano C, Raneri JE, Coad J, et al. Dietary agrobiodiversity for improved nutrition and health outcomes within a transitioning indigenous Solomon Island food system. Food Security 2021: 1-29.
9. Farrell P, Thow AM, Schuster S, Vizintin P, Negin J. Access to a nutritious diet in Samoa: local insights. Ecology of food and nutrition 2019; 58(3): 189-206.
12. Friel S, Baker PI. Equity, food security and health equity in the Asia Pacific region. Asia Pacific journal of clinical nutrition 2009; 18(4): 620-32.
13. Andrew NL, Allison EH, Brewer T, et al. Continuity and change in the contemporary Pacific food system. Global Food Security 2022; 32: 100608.
Activities and expected project outcomes
Co-designing inclusive and evidence-informed programmes and policies.
Significant Push, Pull and Policy entry points for food system change are empirically identified in each context.
Changed or new programs and policies addressing key food system entry points in support of vegetable-rich healthy diets.

Vegetable consumption is part of a healthy diet, and increasing its consumption contributes to addressing all forms of malnutrition, including overweight/obesity and diet-related non-communicable diseases.
Map
Image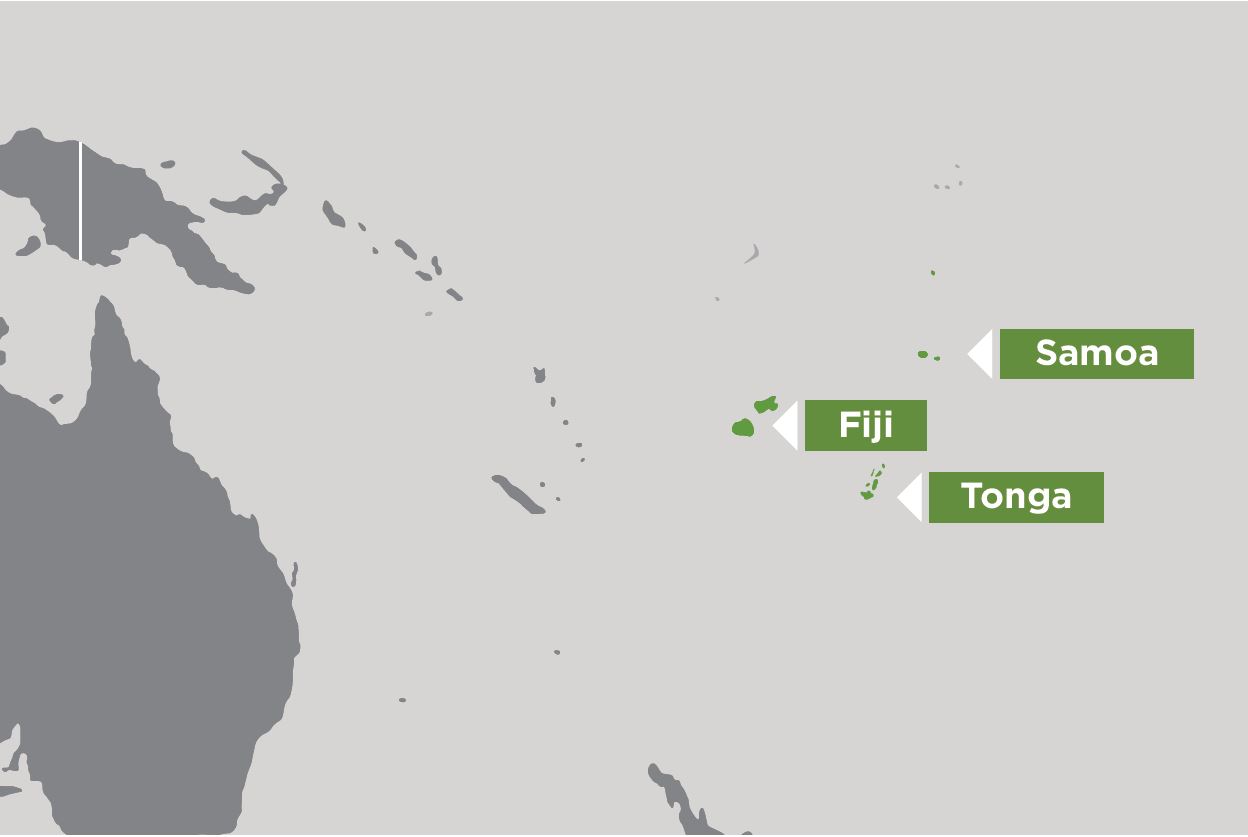 Key partners
Consumer Council of Fiji
Dikoda Ltd
World Vegetable Centre