Overview
This project aims to improve the productivity and profitability of smallholder beekeeping production and create opportunities for the participation of women and families in Papua New Guinea and Fiji.
Despite recent setbacks from mite infestations in Papua New Guinea (PNG) and a major cyclone in Fiji, enterprises based on beekeeping offer many opportunities for smallholder farmers. In both countries there is strong domestic demand for honey with potential for the export of honey and beeswax.
A small research activity has identified barriers for local smallholder beekeepers, particularly around pest and disease control, lack of queen rearing or genetic improvement programs, poor understanding and application of bee nutrition principles, and, access to appropriate materials and techniques.
Smallholder beekeeping initiatives are also hampered by limited access to markets, limited shelf-life of bee products and a lack of organised marketing efforts.
Expected project outcomes
This four-year project will improve the productivity and profitability of smallholder beekeeper production by:
Developing and testing appropriate technical, business and marketing practices for new and established bee-based businesses.

Improving community-based control of diseases that constrain production and trade of bees, honey and other bee products.

Build the capacity of extension and development agencies to support beekeeping as a platform for sustainable small enterprises.

Develop best-practice guidelines and bee management training materials that can be rolled out to other Pacific countries facing similar bee-related challenges and conditions.

Make policy recommendations for the establishment of a beekeeping industry body in Papua New Guinea by convening and supporting discussions among beekeeper groups and government agencies.

Possible development of new techniques for the control of varroa and tropilaeleps mites will be of global significance, due to the heavy financial losses incurred by beekeepers in combating the biosecurity threat.
---
Summary of outcomes to date
2021–22
Published peer-reviewed research and recommendations for improving financial services for beekeeping.
First new honey bee genetics in over 20 years imported into Fiji, anticipated yield increases of 20%, established on Makogai island to enable dedicated long-term isolated bee breeding program and livestock biosecurity.
Value-added product training has been delivered to almost 100 people (77% women), 80% of people have continued to make products post-workshop and ~ 30% have made cash incomes from selling VAPs (average $413FJD pp).
Training program, co-funded by BAF, delivered to 27 honey bee biosecurity staff on pest and disease identification, monitoring and management.
Development of PNG National Community Development Workers Mentorship unit.
Map
Image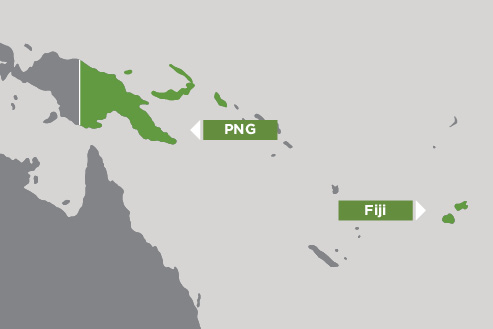 Key partners
Biosecurity Authority of Fiji
Coffee Industry Corporation
Department of Agriculture and Livestock
Fiji Beekeepers Association
Ministry of Agriculture