Overview
This project is looking at opportunities to improve collaboration between human and animal health sectors and to use incentive-based regulation to intervene in veterinary markets in Cambodia, Lao PDR and Vietnam to improve health security outcomes.
The need to further develop One Health approaches in the Mekong region is urgent and exemplified by the current outbreak of African Swine Fever (ASF) and previous outbreaks of avian influenzas that have spread to human populations.
This project aims to support this development in different ways in three Mekong countries. Specifically, the research will seek to understand how veterinary service markets might be better managed and regulated by those working in human health, agriculture and animal health.
This project is part of the Research for One Health Systems Strengthening Program co-funded with DFAT addressing zoonoses, antimicrobial resistance and systems strengthening within the Asia Pacific.
Project outcomes
Increasing knowledge, experience and skills of both human-health and animal-health researchers in the Mekong countries.
Increasing understanding, knowledge, capacity and skills of government officials in the animal-health and human-health sectors.
Establishing working relationships between human- and animal-health ministries as a foundation for advancing towards One Health goals.
Accessing evidence for improved design and management of interventions aimed at improving agricultural production and national health outcomes.
Map
Image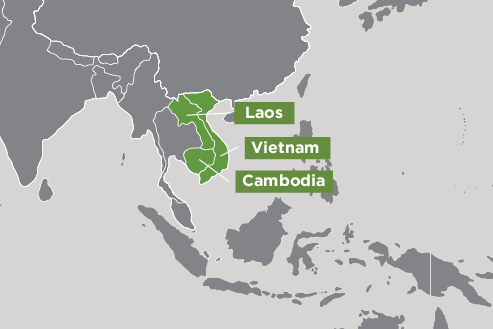 Key partners
Ministry of Agriculture, Cambodia
National Institute for Public Health, Cambodia