Overview
This project aims to enhance the development and adoption of insect farming businesses in East Africa through commercialisation of safe and culturally acceptable insect-based products for animal feed.
Insect farming for improved animal feed continues to gain global recognition due to their high feed conversion ratio, nutrient-rich biomass, reduced water and land requirements, reduced capital and labour investment, and low ecological footprint.
Given the national/regional public goods nature of products that, for example, utilise waste streams and increase the efficiency of existing livestock production systems, this project is expected to bring a broad range of environmental and health benefits to communities in target countries. The project will also ensure enterprises that build opportunities for women and youth remain central to activities, and proactively monitor gender balance in all stakeholder engagement activities to encourage female participation.
Project outcomes
Increasing availability in quantity and quality of insect-based feed for livestock and fish.

Reducing environmental burden from less dependence on marine fishing and cultivation of arable land to produce animal feed protein.

Increasing waste mitigation through bioconversion using insects.

Reducing gender gap and increasing employment opportunities and income generation of the various stakeholders along the value chain, particularly women and youth.
Map
Image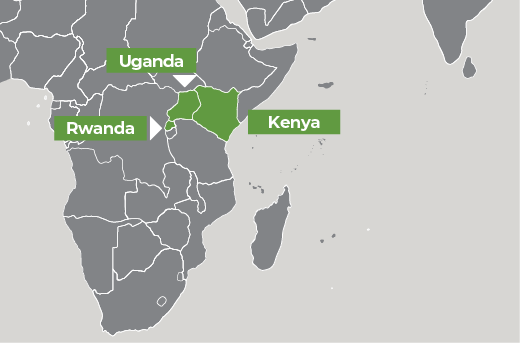 Key partners
CSIRO/QAAFI
International Centre of Insect Physiology and Ecology (ICIPE)
Rockefeller Foundation