Overview
This project aims to assess the capacity and issues related to delivery of analytical services across the agricultural chemistry (ag-chem) laboratories in the Pacific including in Fiji, Samoa, Tonga, Vanuatu and Solomon Islands.
It will also look beyond these countries to explore opportunities and common problems that can be addressed through a regional network approach to delivery of analytical services. Ideally these laboratories provide valuable data on soils, water, and plants, that will support development and improvement in productivity and sustainability of agricultural systems. Facing unique operational challenges in sustaining the quality of services, ag-chem laboratories of the Pacific Island Countries and Territories (PICTs) provide analytical services within the countries in which they operate, supporting government programs, development and research initiatives, and in some cases providing services to private customers. The ability of these laboratories to provide reliable and accurate data and information is important in supporting sustainable development, improvements in agricultural production, carbon accounting and natural resource management within the PICTs. This project will, therefore, seek to enable and mentor the PICT laboratories in developing a solution to the individual and shared issues they face in delivering analytical services to their customers.
Expected activities and outcomes
Undertaking an assessment of the soil, water and plant analysis that the PICT ag-chem laboratories are responsible for delivering to meet current and future demands of customers (e.g. government programs and initiatives, development agencies and investors, research partners, private sector, civil society).
Assessing the suitability of current analytical methods utilised by laboratories to meet current and future demands of customers with consideration of the context (customer needs, human resources, infrastructure, logistics, sample volumes, etc) of the laboratories.
Working closely with the individual PICT ag-chem laboratories, identify the primary constraints they face that limit their capacity to the consistently provide analytical services that meet their customers' needs and to sustain accuracy and precision in methodologies.
Assessing the current and future technology and infrastructure requirements of the PICT ag-chem laboratories and provide an assessment of the costs associated with on-going operations and maintenance.
Reviewing other historical and current programs that to aimed to support coordination among the PICT ag-chem laboratories, particularly SPACNET and recent engagement of ASPAC with these laboratories. Also consider the value and opportunities that GLOSOLAN and other Global Soil Partnership initiatives may offer to these laboratories.
Working collectively with the PICT laboratories, facilitating the development of a pathway to sustainable delivery of analytical services through a regionally coordinated laboratory network.
Working with the PICT laboratories developing a business case and model for coordinated support from Pacific regional partners that will enable the sustained delivery of reliable and valuable analytical services across a coordinated network of ag-chem laboratories delivering to the needs of the PICTs. This should include: a) Appropriate analytical methods and technologies to meet the analytical needs of the Pacific b) Provision of capacity building in forms that are flexible and meet the needs of the laboratories c) Support for infrastructure and technology investments with associated maintenance programs to maintain reliable delivery of services d) Consideration of logistics within the Pacific for services, support, consumables, sample handling.
Map
Image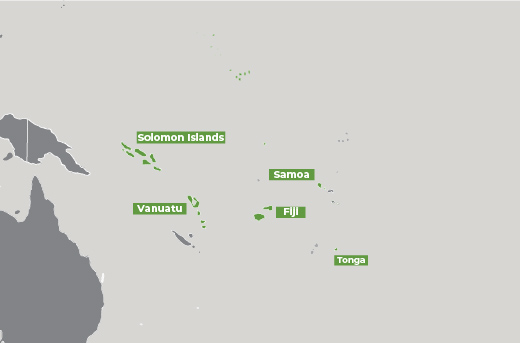 Key partners
Monash University
Soil Science Australia