Overview
This project aims to 

support consultations with African agricultural and water management agencies to understand the needs, opportunities and gaps for using Earth observations (EO)-based services to increase agricultural productivity and sustainability, including through improved water use, and; 

develop a Roadmap for Digital Earth Africa (DE Africa) to deliver services tailored to these needs to improve productivity and build resilience.
Food security and water resource management are high priority topics and DE Africa products and services are currently positioned to enable country-level action. With a very strong focus on food and water security, DE Africa is an operational platform that makes EO data and derived products accessible to a diverse range of users across the continent, including policy makers, scientists and industry. 
In order to achieve and fully realise the benefits of EO products to users across Africa (from smallholder farmers to national level policy-makers), the proposed work will greatly improve our understanding of user needs and information gaps, including how best to: support uptake amongst national and sub-national policy and program makers; and deliver such information to farmers and farm extension officers to empower them to take proportionate and timely management actions and intervention.
Expected project outcomes
Awareness of the application of EO data to support development issues raised, through consultation with a diverse range of national to regional organisations, spanning at least ten countries across Eastern and Southern Africa.

Women and men user needs are better understood and used to guide development of fit for purpose products and services.

Strengthened network of stakeholders in the food and water security sectors.

Priority products and services are identified, with a development Roadmap providing a solid foundation for future funding for DE Africa.
Map
Image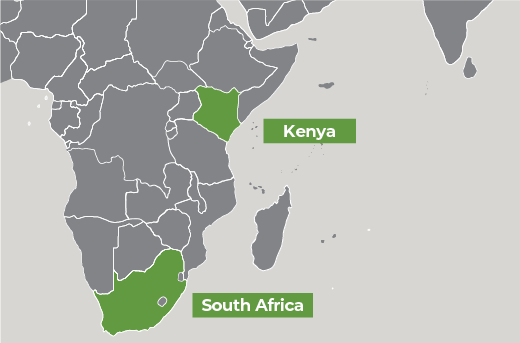 Key partners
Association for Strengthening Agricultural Research in Eastern and Central Africa
Geoscience Australia