Date released
19 September 2018
The oil palm industry in PNG isn't just critically important for the export income it provides, it is also a source of income for nearly 20,000 smallholder families and an estimated 200,000 people.
The long-term sustainability of the industry depends on oil palm stands being replanted approximately every 22 years but, because of increased social and economic pressures, farmers have been delaying replanting until many of their palms are too tall to harvest.
Dr Gina Koczberski and Professor George Curry of Curtin University have been involved in a number of ACIAR oil palm research projects in PNG. Dr Koczberski explains how the problem in this instance was not just an agricultural or scientific one but also a socio-economic dilemma. The standard replanting program sees farmers replacing a two-hectare stand of oil palms in one go.
'The growers know they need to replant their ageing stands of oil palm, but doing so means they have to firstly go into debt (via a replanting loan from the oil palm companies that pays for the seedlings) and secondly go without income from a two hectare stand for two years while the new oil palms mature enough to produce fruit. That's a double disadvantage, so it's no wonder growers were reluctant to replant,' says Dr Koczberski.
Through a number of research projects commissioned by ACIAR and conducted collaboratively between Curtin University, James Cook University, PNG University of Technology and the Oil Palm Research Association, a solution was devised where a two-hectare stand of oil palm could be replanted one hectare at a time, two to three years apart.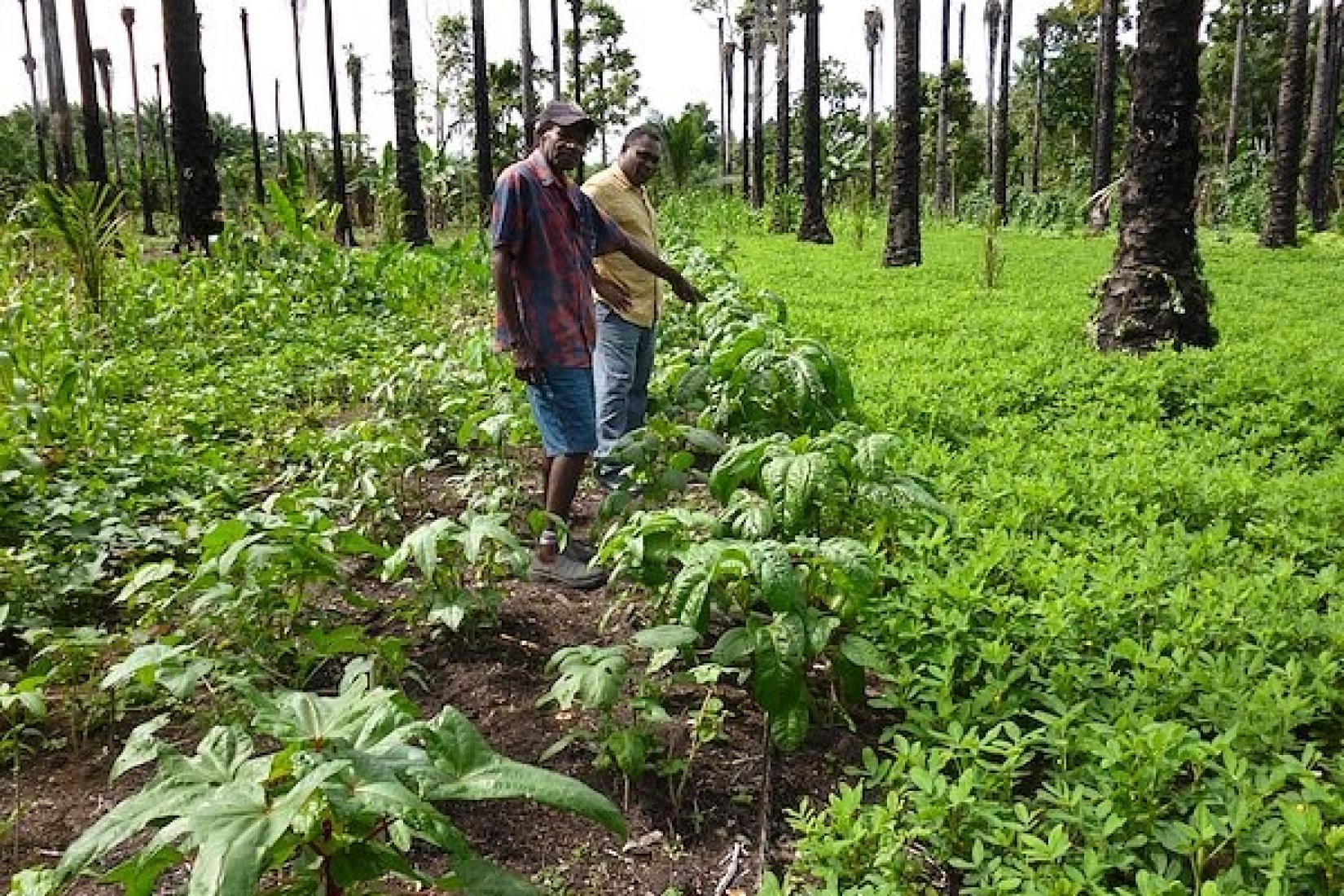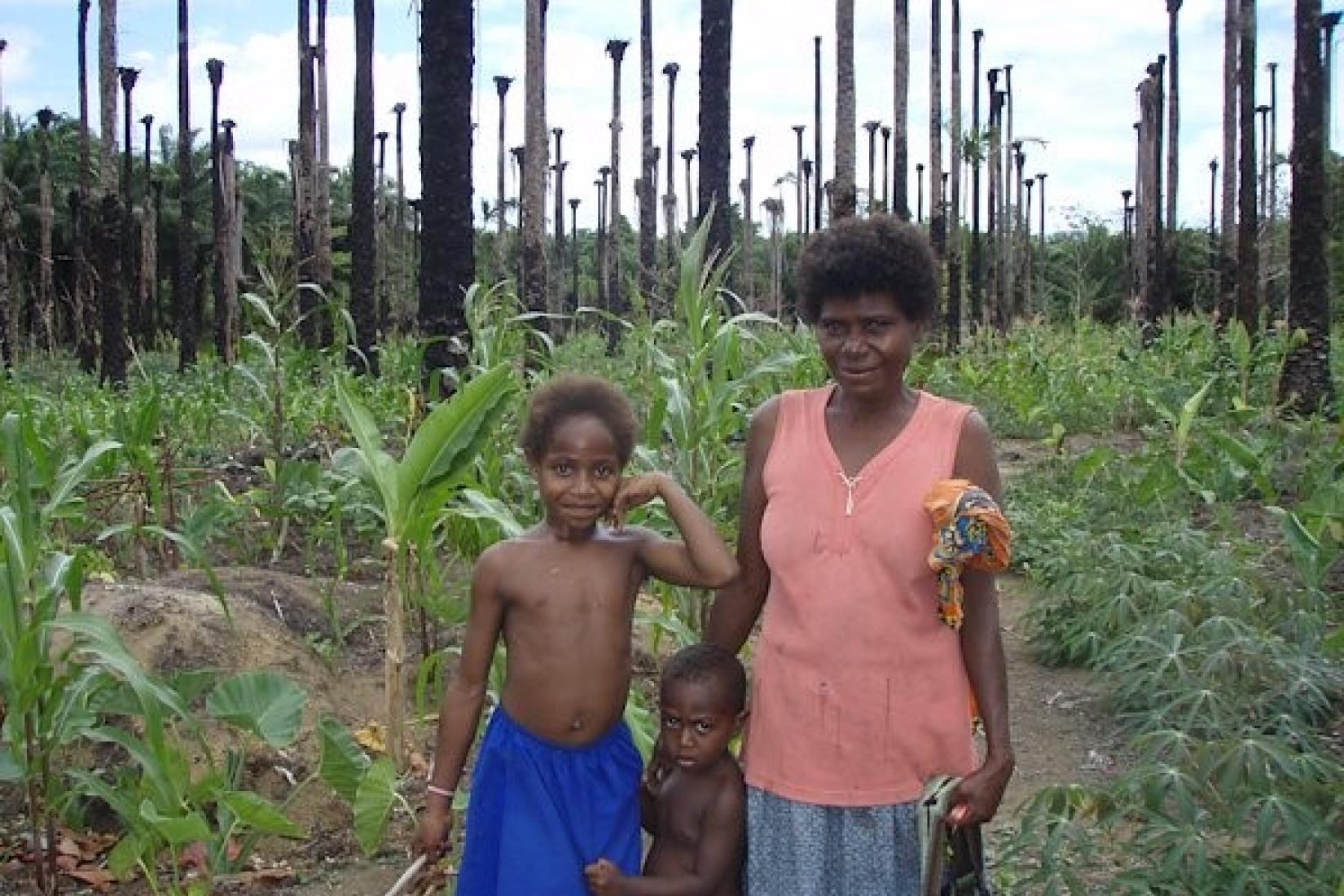 Instead of four hectares of oil palm being in production with a two-hectare replant, our replanting program suggests five hectares of oil palm in production with a one-hectare replant. Using this new program, farmers have five palms in production for every seedling compared with two palms for every seedling in the traditional model. This means more income is available for the farmers, which makes loan repayments much easier to manage.
When the old palms are taken out of production to make way for the new seedlings, their fronds collapse around the trunk allowing sunlight to penetrate to the ground and making it possible to grow fruit and vegetables for two to three years until the canopy of the new oil palm closes. Staggered replanting under the new one hectare replant model has the added efficiency of doubling the period that farmers can grow food crops on their own blocks.
Professor Curry also says that the involvement of some of the oil palm companies and the main extension agency, the Oil Palm Industry Corporation, were instrumental in the success of the project.
'Hargy Oil Palms hosted and supported the trial of the one-hectare replant program because they could see how it would benefit the industry in terms of long-term sustainability.'
'These research projects and ACIAR's investments in PNG have been valued by farmers and the oil palm industry alike. Each research project has been able to build on a previous one, which means we see outcomes that have positively impacted the income potential of smallholder communities and improved food security.'
ACIAR PROJECT: Strengthening livelihoods for food security amongst cocoa and oil palm farming communities in Papua New Guinea. (ASEM/2012/072)