Date released
24 November 2022
They are not a vegetable or fruit, but a marine animal related to starfish and sea urchins. They are highly valued as a prestigious dried seafood in Asian cuisine.
Sea cucumbers, so-called for their resemblance to cucumbers, may seem ordinary marine animals, but they can fetch up to US$1,600 per kilogram when processed and dried. Sea cucumbers are also highly valued for their perceived nutraceutical value and use in traditional medicine. Some studies have reported that sea cucumber consumption may help deter the aging of muscles and improve immunity. Recently, sea cucumbers have gained increased attention as a source of high-quality marine collagen, offering an alternative to mammalian collagen.
Such is the demand for sea cucumbers over recent decades that natural stocks have been depleted globally due to overfishing, illegal trading, and poor fisheries management. Coastal communities, particularly in tropical countries that depend on them for livelihood, have felt the impact of the loss of wild sourced sea cucumbers, not just on their reduced incomes but also within their marine environment.
Replenishing a fast-diminishing marine resource
Recognising the economic and livelihood potential of community-based sea cucumber farming, ACIAR has been supporting the improvement of its culture methods, hatchery production, grow-out technologies and fisheries management in South-East Asia, particularly in Vietnam and the Philippines, for more than a decade.
Much of the demand for engaging in sea cucumber farming is from communities with a tradition of harvesting wild sea cucumbers but with access to diminishing stocks, such as those throughout South-East Asia, northern Australia and the central Pacific.
'Sea cucumber mariculture offers a significant alternative livelihood opportunity for these communities,' said Professor Paul Southgate from the University of the Sunshine Coast (UniSC), who has been leading ACIAR-supported research projects on tropical aquaculture including on sea cucumbers.
The Philippines, in particular, used to be among the top global producers of wild caught sea cucumbers.
'The Philippines is a very biodiverse country. We have over 100 species of sea cucumbers of which at least 40 are commercially processed. One of the high-value species we have is Holothuria scabra or sandfish,' said Professor Annette Meñez of the University of the Philippines Marine Science Institute (UP-MSI) and country project coordinator of the ACIAR-supported sea cucumber research project.
'The Philippines used to be a top producer of dried and processed sea cucumbers, called bêche-de-mer, in the 1980s. Then our stocks began to be overexploited and subsequently collapsed. This resulted in 2 major concerns – loss of income for the community fishers and the degradation of the habitats where the sea cucumbers were collected.
'Sea cucumbers are also important in replenishing nutrients in the sea – if they are gone, other organisms and plants will also be affected, explained Professor Meñez.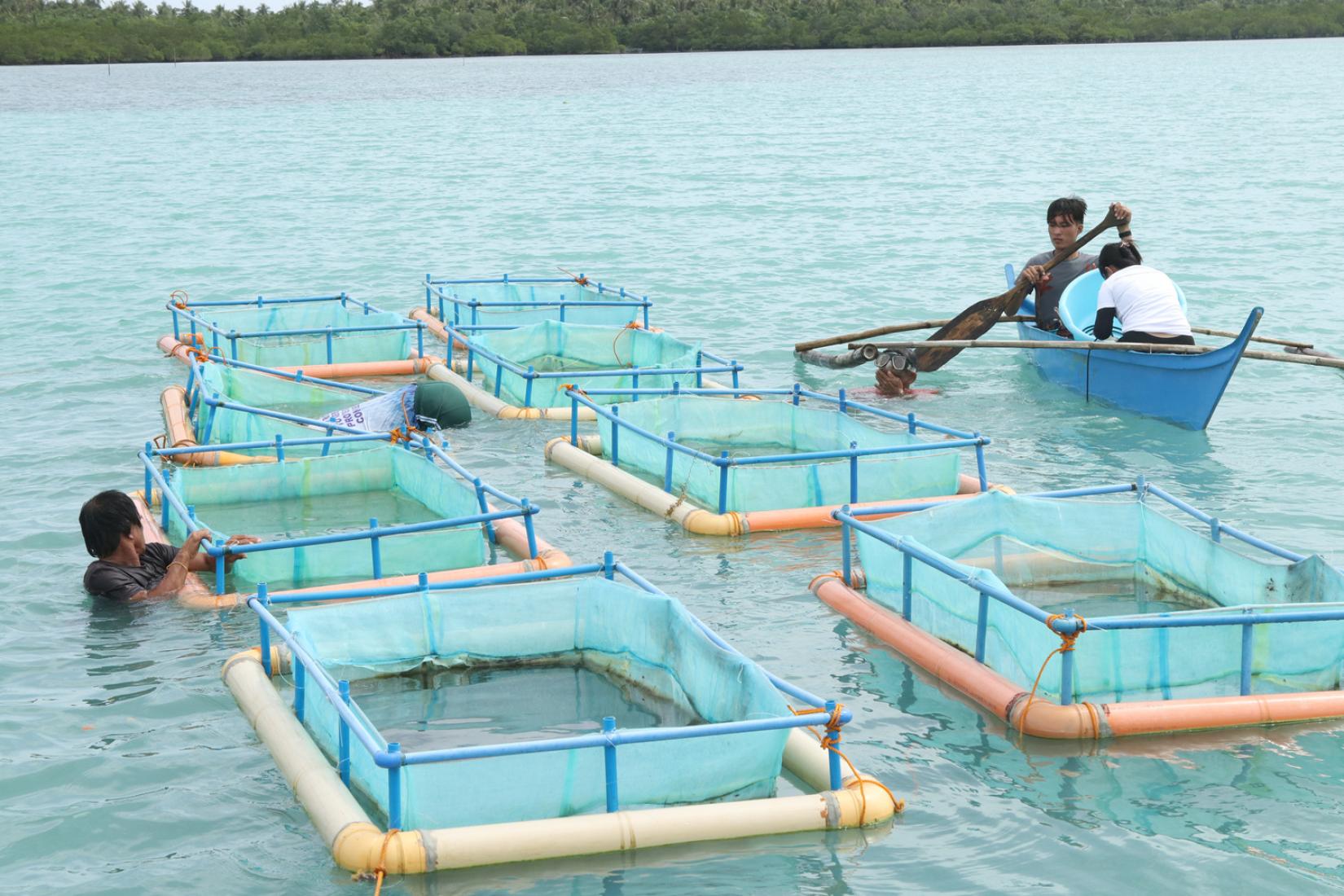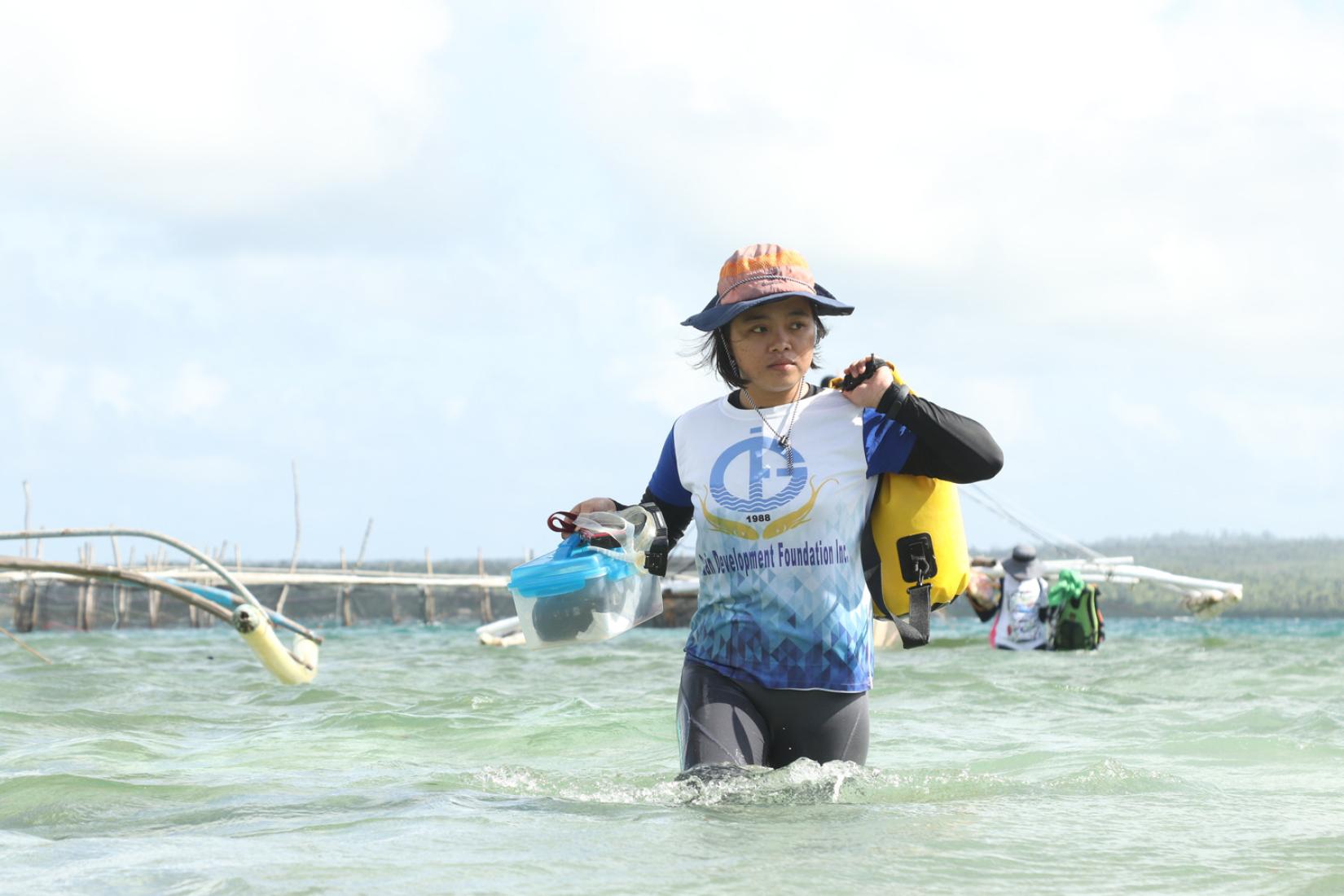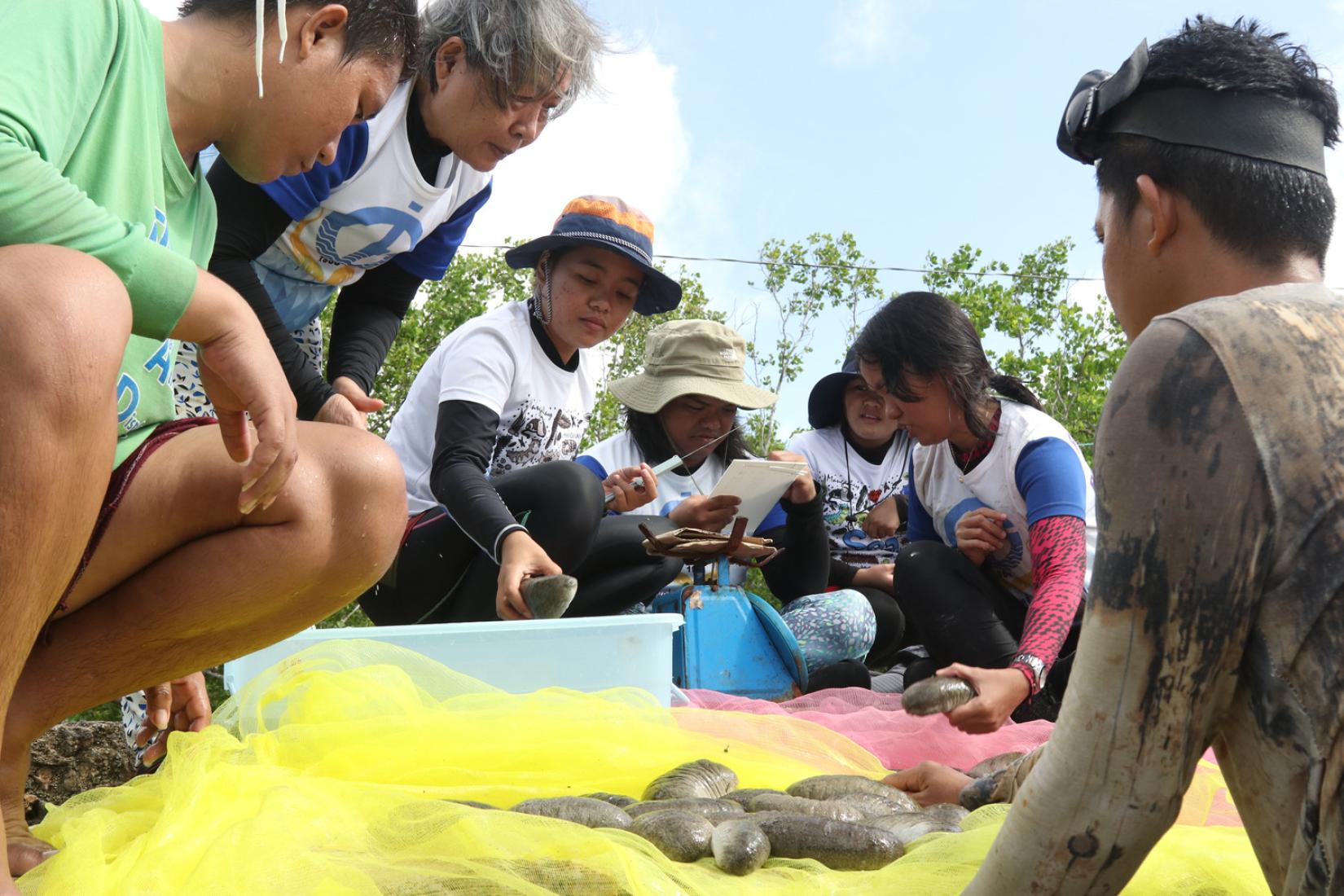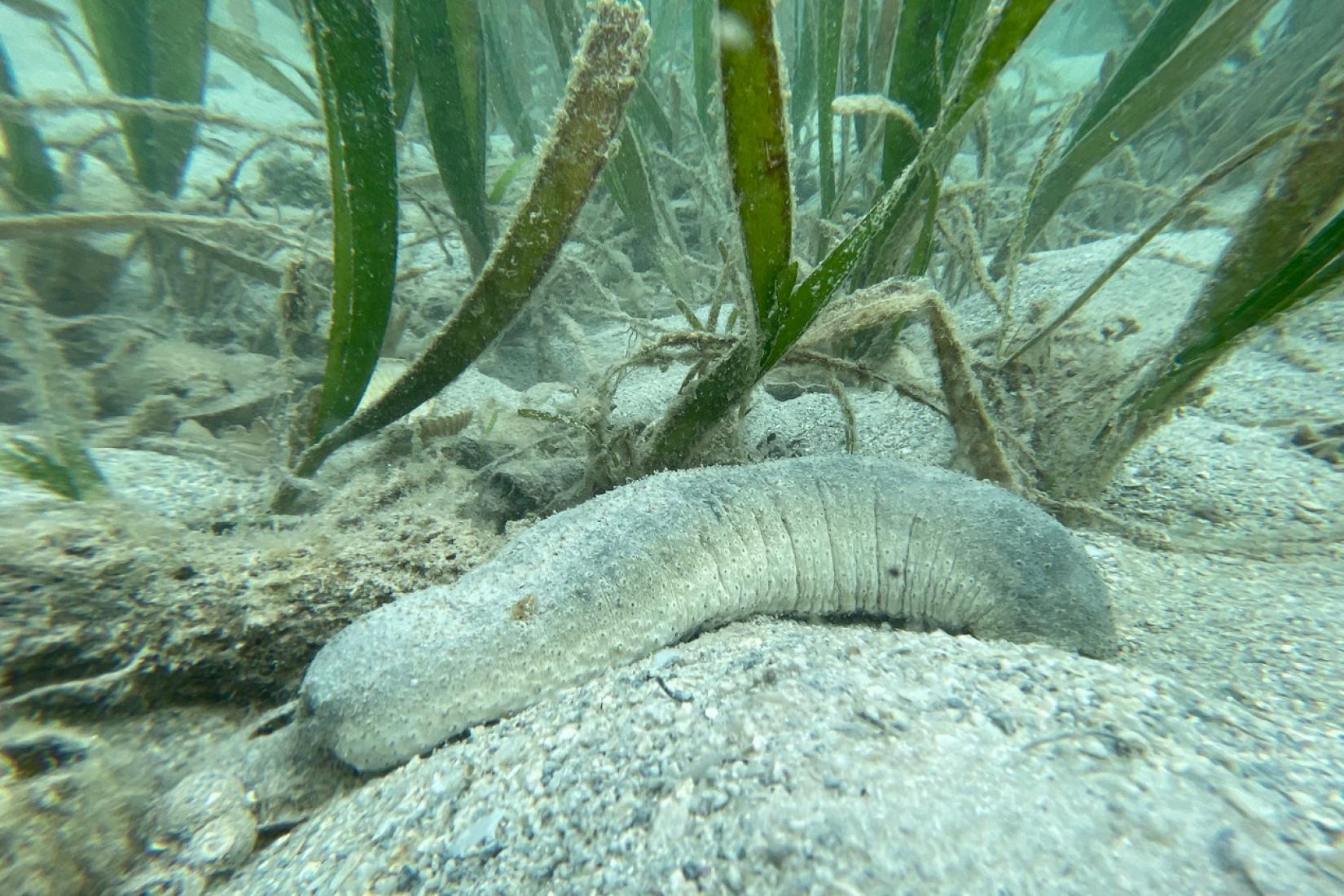 Research teams from UP-MSI and UniSC have also identified more suitable areas for hatcheries and sea ranches, using cheaper and more locally accessible hatchery production materials, minimising impacts of predators on sandfish stocks, and improving post-harvest processing methods. The project also supports the Philippine Government's research and development programs to improve the fisheries sector in the country.
'What we have been developing is a community-based sandfish culture management system for smallholder fishers. Sandfish mariculture is a relatively new technology, a solution to help increase, improve the quality of, and manage sandfish stocks,' said Professor Meñez.
'We are simulating what's happening in nature. We produce the sandfish larvae and juveniles in a hatchery and then grow them to an appropriate size for release into the sea, improving their probability of survival.'
Through an earlier project funded by the Philippines Government's Department of Science and Technology, the UP-MSI developed the 'floating hapa' technology, composed of mesh net enclosures that serve as ocean nurseries for growing sandfish juveniles. This technology was further improved and expanded with support from ACIAR.
While knowledge about hatchery and later-stage grow-out methods have significantly developed over the years, community-based sea cucumber farming of the juvenile sea cucumbers needs to be further strengthened.
In partnership with Guiuan Development Foundation, Inc (GDFI), the Department of Agriculture - Bureau of Fisheries and Aquatic Resources Region 8, Southeast Asian Fisheries Development Center/Aquaculture Department and Mindanao State University Naawan, community-based sea ranches have been established at 8 sites across Pangasinan, Zambales, Iloilo, Eastern Samar, and Misamis Oriental provinces. A sea ranch is a protected area of about 5 hectares of inshore waters where sea cucumbers can be safely grown, maintained and harvested.
'There is science in all aspects of sandfish production – from the hatchery to their release to the sea ranches. The animal tends to stay in the general area of release and so can be left to grow to the optimal harvest size for commanding higher prices in the market,' said Professor Meñez.
Engaging communities in research
The research teams have developed and further refined community-based culture technology for sandfish farming. However, there is a more important aspect to the success of the project – the community members themselves must be engaged to make decisions about how they want this new livelihood opportunity integrated into their community and its economic activities.
A related ACIAR study found that in the initial 8 community sea ranches, sandfish farming has become a viable option for a supplemental livelihood activity for fishers and their households.
 'This research project demonstrates that effective partnerships benefit everyone. We are now gradually seeing the results of a promising new livelihood through community-based sea cucumber mariculture in the Philippines, as clearly demonstrated by the communities' commitment to engaging in the research.  They have a deep understanding of their marine environment and readily acknowledge that sustainable livelihoods are secured where resource management arrangements are in place,' said ACIAR Research Program Manager for Fisheries, Professor Ann Fleming.
While the potential to earn additional income is what initially draws communities to participate in the project, over time they appreciate the importance of sea cucumbers beyond the livelihood opportunity.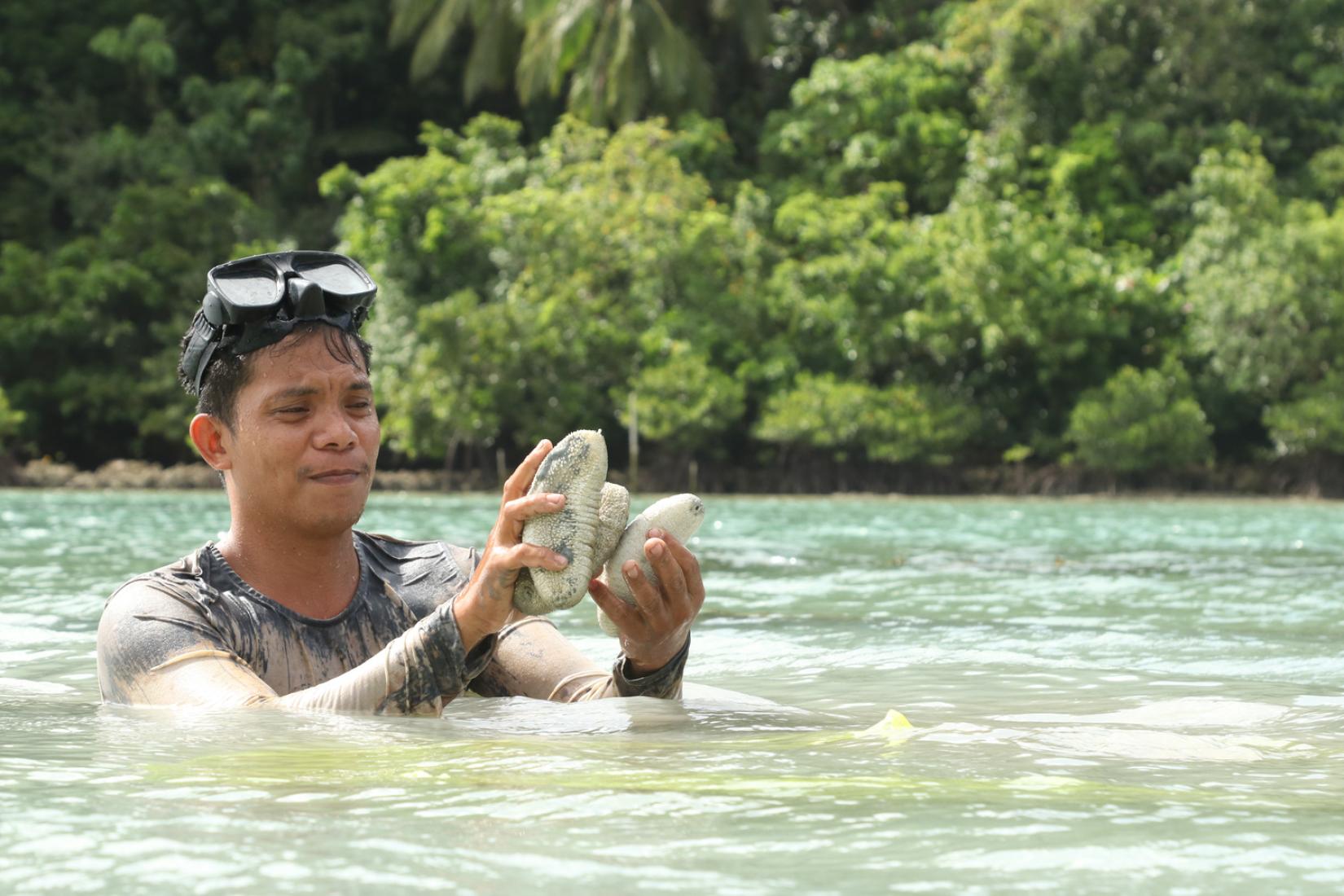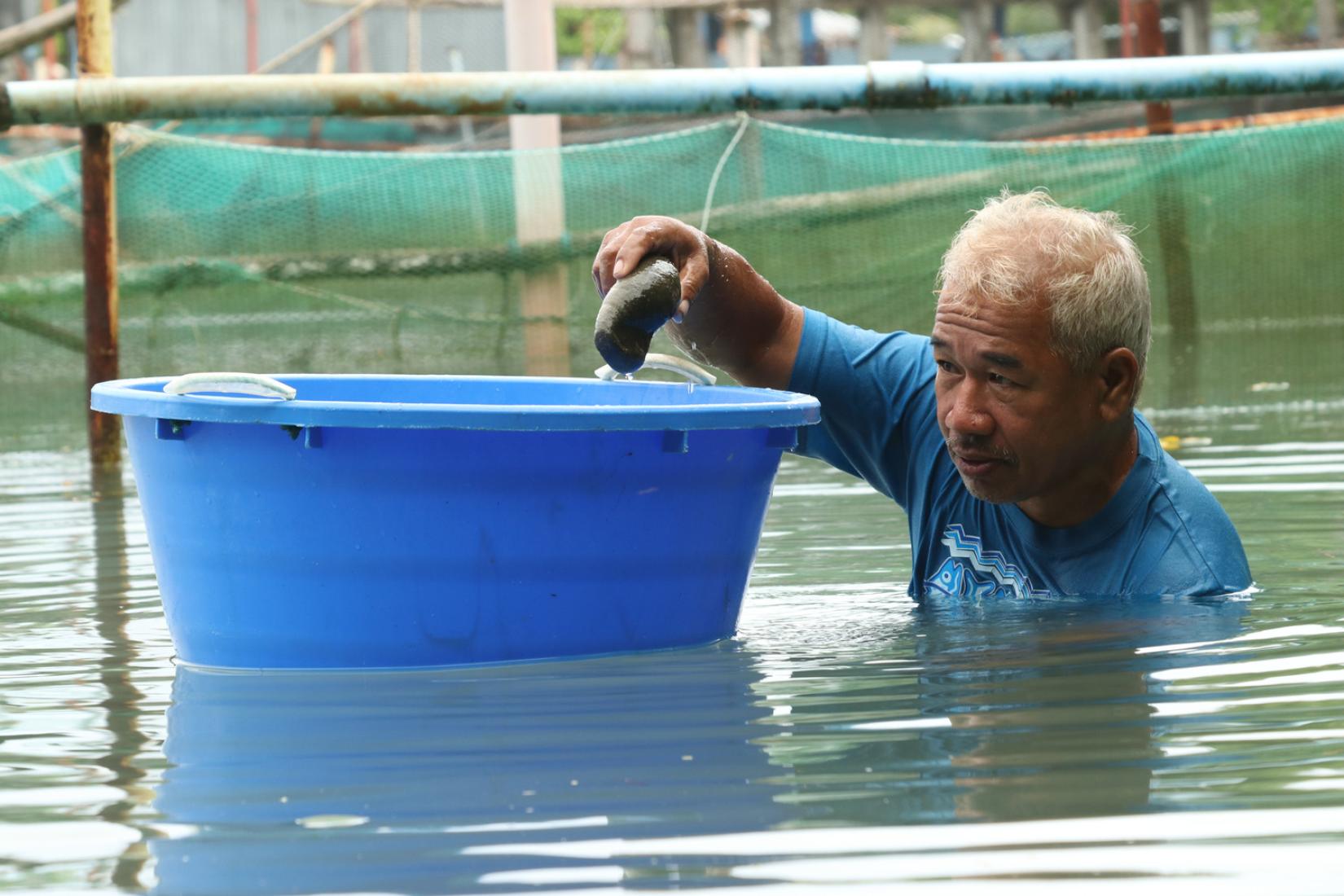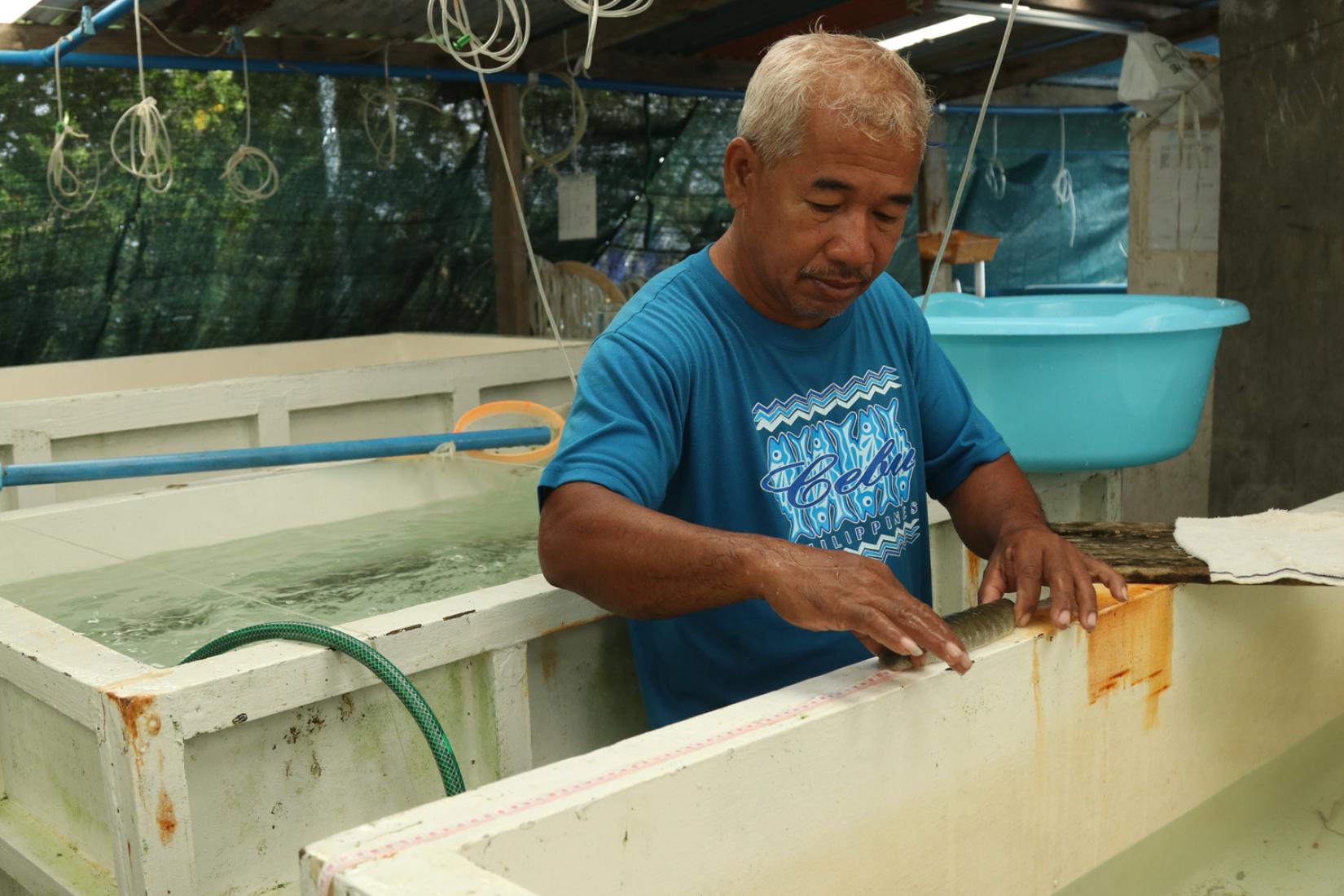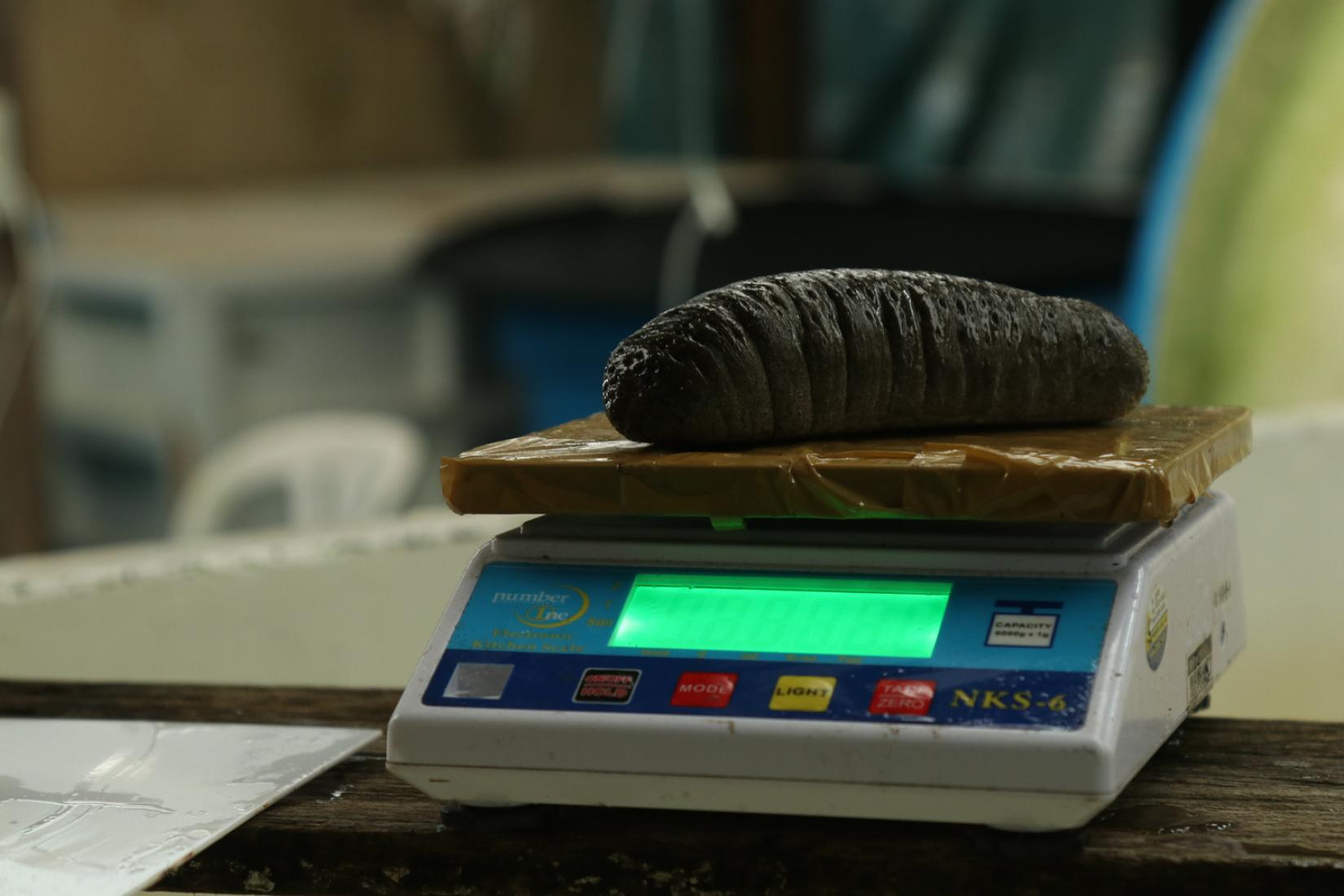 The research team has been working closely with community members to further strengthen coastal resource management, monitoring the growth and development of sea cucumbers, control of predators and poachers, and maintenance of sea ranching sites including cleaning of holding pens for small juveniles.
 'We did not place that much importance on sea cucumber farming before. I remember when I was young, my family would sell them so that we could have additional money for our school allowance. We used to think we could do anything with them and harvest them whenever we want. Until there came a time that almost all of the sea cucumbers were gone,' said Ms Jessica Macawile, a fisher from Guiuan in Eastern Samar province.
'We now know why sea cucumbers are important and why we need to preserve and protect them. We are very happy now that there are a lot of sea cucumbers again here in our community; there are even other species aside from the sandfish,' continued Ms Macawile.
At the height of the COVID-19 pandemic, when research teams were unable to travel to project sites, community members looked after the management of the nursery and sea ranches.
Community fisher Mr Rene Ronabio explained the aims of his community.
'We want to grow our sea ranch and we want other people to know about this area that we are protecting. We want to further promote what we are doing here so that more people will support us like the local government units and the private sector.'
The research work is showing significant results with production of increasing volumes of premium grade-size sea cucumbers as culture knowledge improves.
'We have developed the technology but how you adapt it to other areas will depend on the opportunities and the stakeholders,' said Professor Meñez. We know that sea cucumber farming offers good livelihood opportunities for coastal communities and that this is worth investing in. Now we are encouraging public and private partners to invest more so that the technology can be further expanded to other areas.'  
Learn more about the project via the ACIAR website.