Overview
This project is supporting increased production capacity and further expansion of community-based sea cucumber farming in Vietnam and the Philippines.
Overfishing and poor fisheries management of sea cucumber fisheries in many parts of the tropics has created severe declines in sea cucumber stocks, and even the closure of some fisheries. This has had major impacts on income-generation opportunities for coastal communities.
However, strong demand for dried sea cucumbers from China and South-East Asian markets, where they can make $200-$400 per kg, provides significant sea cucumber mariculture opportunities for coastal communities throughout South-East Asia, northern Australia and the central Pacific.
There have been significant developments towards commercial-scale hatchery and grow-out technologies for sandfish (one of the more valuable tropical sea cucumber species).
However, improved technical skills are required to increase reliability of current culture methods and support increased production capacity of community-based sandfish culture in Vietnam and the Philippines.
This project will further develop technical skills and improve the reliability of culture methods.
Expected project outcomes
Expansion of sandfish culture in partner countries providing improved income generation and livelihood options in communities.
Economic and social benefits of more reliable culture methods facilitating expansion of sandfish culture and improved productivity.
Greater opportunity for community groups to engage with sandfish culture and improved livelihood opportunities, particularly for women.
Increased capacity for sustainable culture of sandfish.
Improved sandfish farming skills and increased sandfish production.
Development of sandfish culture technology to a point supporting scale-out to new sites and communities.
Economic and social impacts realised in communities across partner countries.


---
Summary of outcomes to date
2020–21
Luzon Node (UPMSI)
A total of 47,000 first stage juveniles have been reared in two sites from three spawning batches while 5,120 juveniles have been released in the Victory Sea Ranch. To expand and scale-up sandfish production within the region, sandfish culture orientations were organized, engaging various local government units and people's organizations.
Recently, a new 1-hectare restocking site in Brgy. Pilar, Bolinao was established in partnership with the Bolinao Local Government Unit, managed by local sea wardens.
600 sandfish juveniles were initially released in three sea pens while 6,000 first-stage juveniles were released in floating hapas at the site. Two potential release sites in Pangasinan are targeted for juvenile release in late 2021.
In-situ field trials investigating the size-dependent predation of sandfish to Thalamita crenata have been conducted while hatchery experiments on predation are underway to investigate predator-prey interactions and juvenile sandfish anti-predator behaviours. Larval diet using commercial micro-algal concentrates (ISO1800, TW 1200, Shell1800) was investigated in a larval rearing experiment. Live micro-algae were shown to have a relatively higher percentage of settlement and survival compared to commercial feeds. Further experiments are needed to verify the optimal ration of feeds during larval rearing. These will be coordinated with similar research at SEAFDEC which will include assessment of locally-made micro-algae concentrates.
For the genetic audit component of the project, sample collection has been completed at 12 target sites. All tissues have been transported to MSI, and DNA extraction has been completed for 300 out of 560 samples (~54%). A Memorandum of Agreement between the Department of Agriculture, MERF and UPMSI has been finalized. This will be used to secure permits for export of DNA extracts for sequencing. A preliminary analysis examining the feasibility of DArTseq to generate SNP genotypes for H. scabra has been accepted for publication in the international journal 'Animal Genetics'.
Western Visayas Node (SEAFDEC/AQD)
Experiments using imported commercial micro-algae products as food for sandfish larvae have been completed, and alternative species identified to reduce dependency on live algal cultures. However, limited and delayed access to imported products will pose problems in the longer term and the efficacy of alternative locally-produced micro-algae concentrates will be explored.
Lab-based sandfish predation experiments have been completed using trigger fish and crabs as predators. Medium sized (>15 g) sandfish showed more predator-avoidance behaviour than small (>5 g) juveniles. Results showed that conditioned (i.e., had experienced the presence of crab) sandfish buried significantly longer than naïve sandfish. It was also observed that sandfish were able to shift their burying period in response to predator cues.
Travel to the field (e.g., Sagay site) has been stopped since Mar 2020 because of the COVID pandemic. However, local partners have managed to maintain and monitor sandfish stocks in the sea ranch.
Eastern Visayas Node (GDFI)
Within the reporting period, a total 33,490 sandfish were released in four sea ranch sites. Tissue sample collection for the project genetic audit component in Eastern Visayas target areas were completed and sent to UPMSI.
A series of field trials during full moon and new moon have identified probable predators within two sea ranch sites (Maliwaliw and Cabunga-an). Initial trial runs on mosquito net viability have been completed at two sites and a cleaning frequency experiment is underway at one site. Four sea ranch sites have been delineated and nine permanent sampling sites were established. Subsequent pen experiments are underway.
Despite COVID-19 restrictions, a face-to-face socio-economic survey was conducted with proper safety protocols observed. Awareness-raising training and orientation activities were also conducted successfully in Buyayawon and Cabunga-an expansion sites along with subsequent production trials. Mercedes expansion sites (Cabunga-an and Buyayawon) have supported good growth and survival of sandfish compared to Cantomoja. Also, to help ranch co-managers earn better income from selling sandfish, especially in Maliwaliw, different drying techniques were explored.
Mindanao Node (MSUN)
Four hatchery runs were conducted which were produced 189,079 first stage juveniles supporting release of 13,854 release-size juveniles at Laguindingan, Plaridel, and Kauswagan.
Tissue collection for the genetic audit study was completed from five sites in Mindanao and sent to UPMSI via LBC courier.
Re-established old site at Kauswagan, Lanao del Norte which present and future activities will utilise in close collaboration with the Fisheries section of the Municipal Agricultural Office of Kauswagan.
Predation experiments were conducted on the effects of potential predators (fiddler crab Uca sp. and sea slug Stylocheilus sp.) on sandfish juveniles under laboratory conditions
Ongoing experiments were conducted to assess the effects of levels of enclosure protection on the growth and survival of sandfish juveniles reared in floating hapas.
Conducted household interview and key informant interview at Plaridel, Misamis Occidental.
Vietnam
Successful protocols for co-culture of sandfish and Babylonia snails have been developed which not only provide farmers with a second crop and improve profitability but can improve water and substrate quality reducing the environmental impacts of pond-based sandfish farming.
Extension activities have supported uptake of co-culture methods by farmers to improve productivity and production value support resilience within the sector.
The value of supplemental feeding with Sargassum products has been demonstrated as a basis for further developing improved pond-culture methods for sandfish, maximizing yield and value of crop.
Map
Image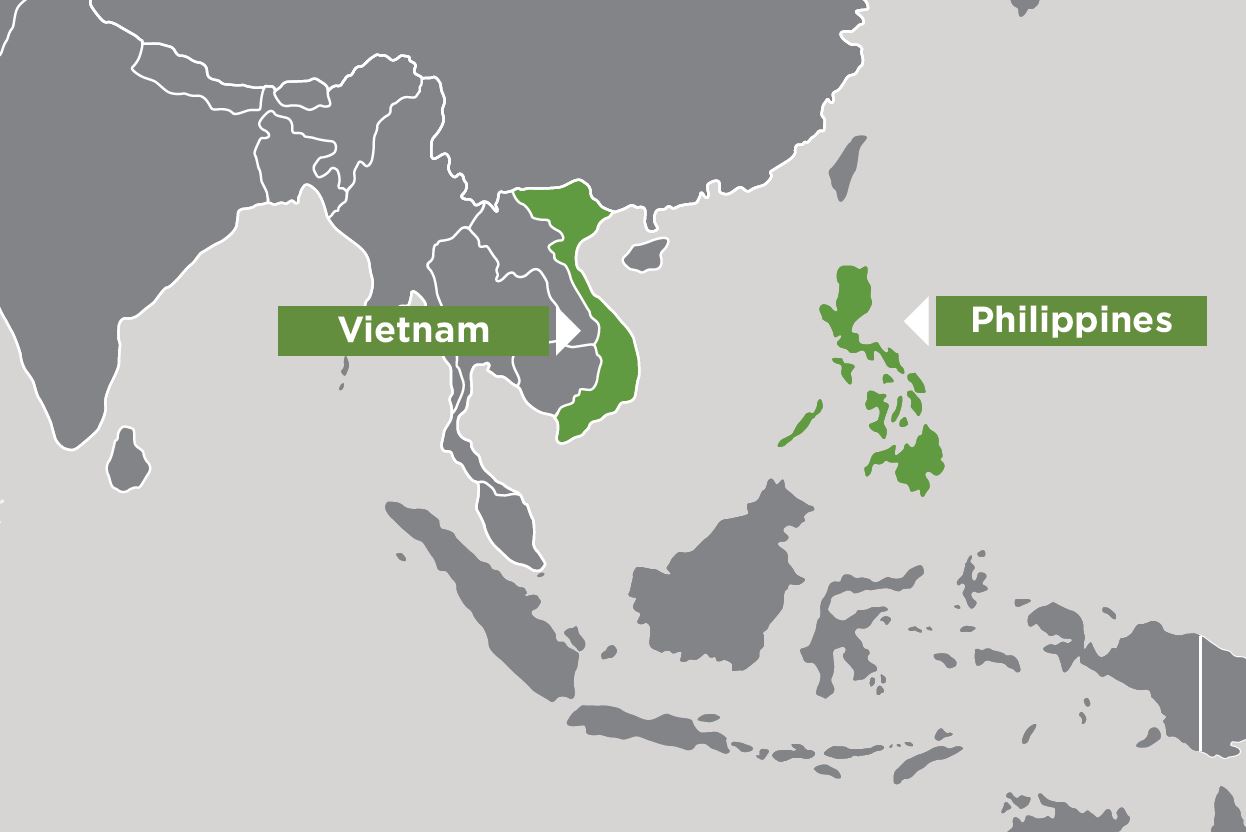 Key partners
Guiuan Development Foundation Incorporated
Marine Science Institute - University of the Philippines
Mindanao State University at Naawan
Southeast Asian Fisheries Development Centre
University of the Sunshine Coast