Visualising transformative adaptation for resilient food systems
Image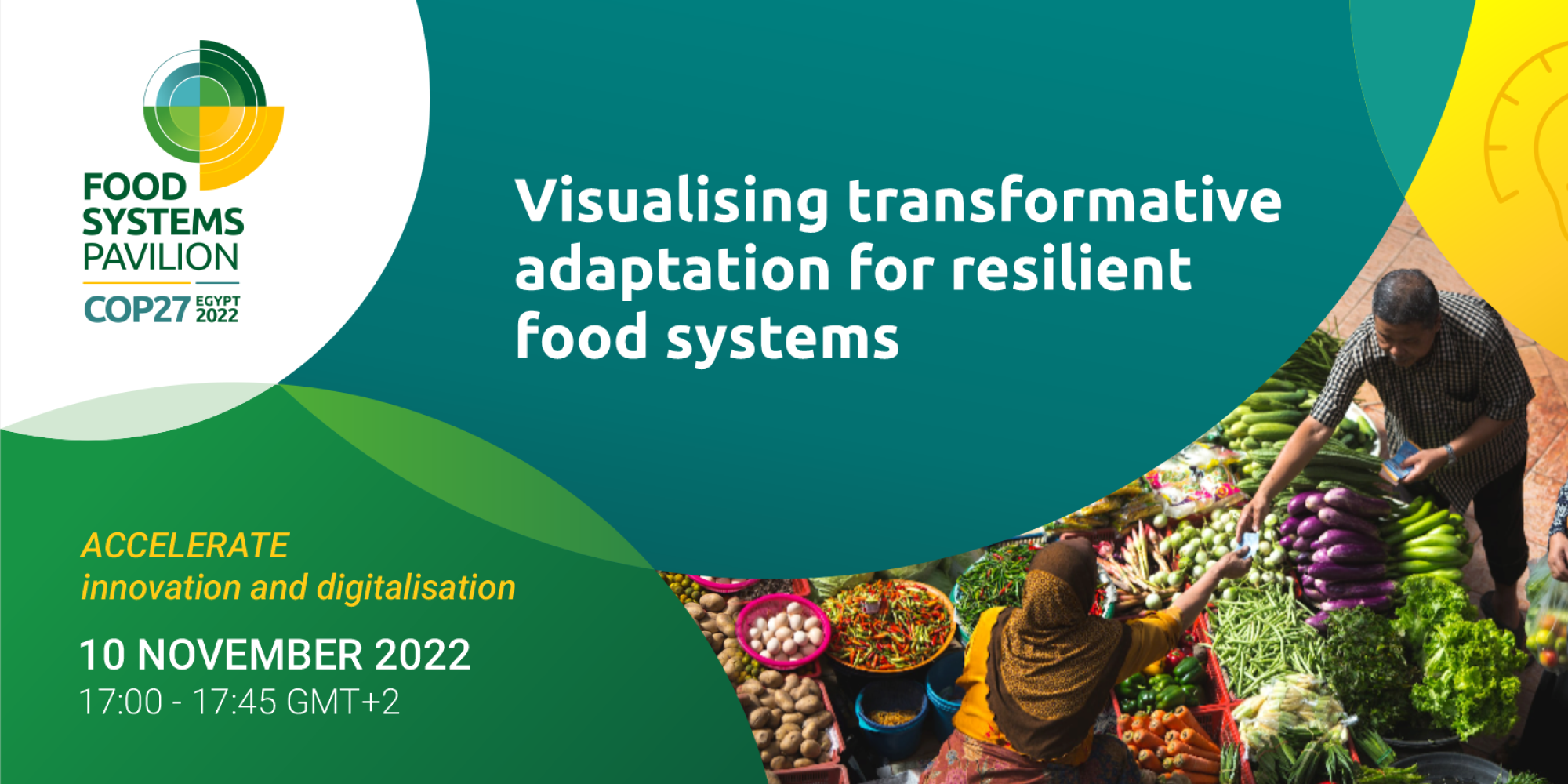 10 November 2022 5:00pm UTC+2 (Sharm El-Sheikh, Egypt EET) | 11 November 2022 2:00am UTC +11 (AEDT)
Transformative adaptation recognises the urgent need for accelerating adaptation action for agriculture and food systems. While the word 'transformation' can sound like just a new way to talk about more ambition and more implementation, there is substantial science behind it. When applied to adaptation, the concept becomes 'transformative adaptation', which stresses the need for changing the fundamental attributes of systems to address the root causes of vulnerability (Fedele et al. 2019, Hellin et al. 2021), enable ongoing shifts in where and how food is produced to keep up with changes in climate and other disruptors (Wise et al. 2014, Carter et al. 2021) and exercise novel leverage points to scale these changes (Huq 2017). The overall intent is to extend action beyond the adaptation limits of current food systems (Klein et al. 2014).
Understanding even just a small amount of this science can help de-mystify transformation in food systems and point to specific and tangible actions that can put us on the pathway of transformative adaptation. It is up to us all to take the initiative to make more of a difference.  Connecting with the science of transformative adaptation can help us realise those words have specific meaning and point toward ways in which we can take action differently to have much greater impact.
This session will reveal the science and thus specificity of transformative adaptation through showcasing 3 transformative adaptation visions in a 'Pecha Kucha' style presentation (storytelling through images). These visions will show us – through images – what the science tells us about transformative adaptation and thus the specific actions that can be taken to accelerate a global food systems transformation.
Speakers
Ana Maria Loboguerrero -  Alliance of Bioversity International and International Center for Tropical Agriculture (CIAT)
Dhanush Dinesh - Clim-Eat
Veronica Doerr - ACIAR
Rebecca Carter - World Resources Institute
Be part of the conversation on implementation - 10 November at the Food Systems Pavilion in Sharm El-Sheikh, or via the livestream: foodsystemspavilion.com 
Find out more about the 'Visualising transformative adaptation for resilient food systems' event. 
COP27 event - How to implement food systems change