How to implement food systems change
Image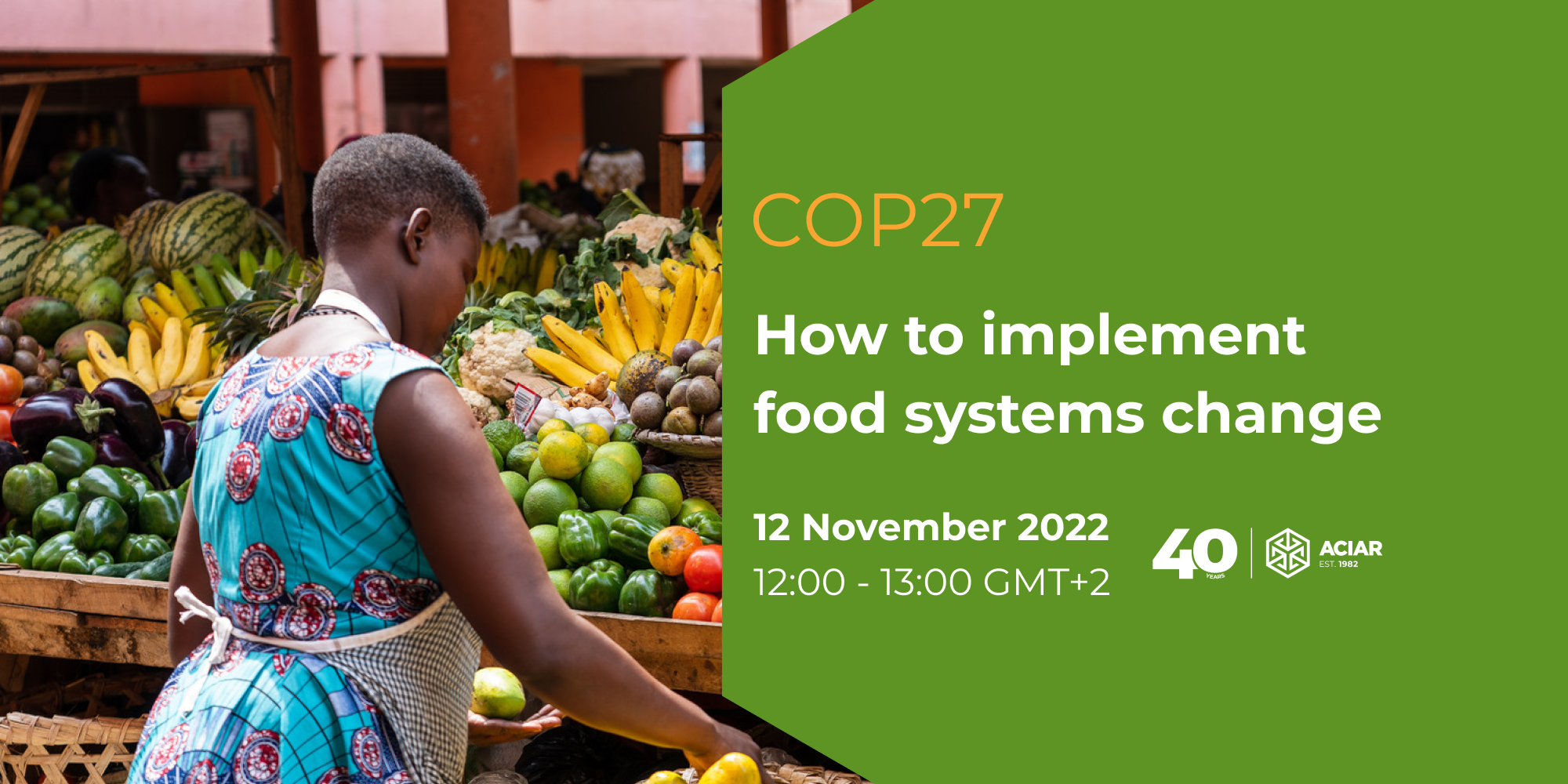 12 November 2022 12:00pm UTC+2 (Sharm El-Sheikh, Egypt EET) |  9:00pm UTC +11 (AEDT)
Food systems change, even 'transformation', has been highlighted as a way to accelerate adaptation and mitigation in agriculture. As the focus shifts from ambition to implementation, key questions remain about how to tangibly implement food systems change. Yet many of the necessary building blocks have already been identified and trialled through research-for-development projects. The Australian Centre for International Agricultural Research will share what we have learned about implementing food systems change in a context of climate change, showcasing a panel of speakers from partnerships we have supported in Africa and in the Pacific. Young scholars from the Pacific will prompt us to be honest and ambitious, leading us in an open discussion about how we can all accelerate the implementation of food systems change.
Speakers
Essam Mohammed
Essam Mohammed is the Interim Director General of WorldFish and CGIAR's Acting Senior Director of Aquatic Food Systems. He is a leading interdisciplinary systems thinker, researcher and policy adviser with deep roots in the economics of the ocean and fisheries. Prior to his current role, he was WorldFish's Global Lead for Climate Resilience and Environmental Sustainability, and was previously the Head of Blue Economy with the International Institute for Environment and Development (IIED).
Njongenhle (Njoe) Nyoni
Njoe Nyoni is a Capacity Strengthening Manager at FANRPAN, Africa's Food, Agriculture and Natural Resources Policy Analysis Network.  He is an agriculture and food systems expert focusing on climate change adaptation and mitigation, building the capacity of state and non-state actors to translate empirical evidence into policy options and action on climate-driven food systems change, particularly in low-middle income countries.
Catherine Muthuri
Catherine Muthuri is the Country Director Kenya and Regional Convenor East Africa for CIFOR-ICRAF. Originally an associate professor in plant ecophysiology from Jomo Kenyatta University, she joined World Agroforestry 12 years ago as a scientist in their Systems Theme. She leads projects and a research cluster focused on sustainably diversifying and intensifying production systems with trees. Catherine is a recipient of the Elder of the Order of the Burning Spear (EBS), a Presidential Award, in recognition of her distinguished service to Kenya.
George Carter
George Carter is a Research Fellow in Geopolitics and Regionalism, at the Department of Pacific Affairs at The Australian National University (ANU). He is also the Director for the ANU Pacific Institute – a network hub of over 200 scholars connecting and promoting Pacific Studies. His research explores people's influence in decision-making processes in international politics, with an emphasis on Pacific states and Small Island Developing States' agency in multilateral climate change negotiations, regionalism, climate security, and climate knowledge and education. He serves his family and village in Samoa, where he holds the matai/chiefly title of Sala.
Veronica Doerr
Veronica Doerr is the Research Program Manager for Climate Change at the Australian Centre for International Agricultural Research (ACIAR). An expert in integrating biophysical and social research, and designing research for impact, she now brokers, enables and funds research partnerships for systems transformation in how society manages climate change and creates a more sustainable world. Prior to joining ACIAR to commence its Climate Change Program, she managed climate adaptation and systems sustainability programs at Australia's national science organisation, the CSIRO.
Christian-Yves Amato-Ali
Christian Amato-Ali is completing a Masters of Science in Climate Change at the University of the South Pacific (USP). He was awarded a scholarship from ACIAR's Pacific Agriculture, Scholarships, Support & Climate Resilience Program (PASS-CR), a Future Thinkers award from PASS-CR to strengthen the climate resilience components of his work, and is a 2021 USP Gold Medal recipient. He is working on the connections between food security, food loss, and climate resilience and is representing Fiji at COP27.
Salote Nasalo
Salote Nasalo is completing a Masters of Science in Climate Change at the University of the South Pacific (USP). She was awarded a scholarship from ACIAR's Pacific Agriculture, Scholarships, Support & Climate Resilience Program (PASS-CR), and is passionate about connecting her indigenous Fijian heritage, her love of nature and family, and her duty to serve as a custodian of the land for future generations. She is researching mangrove rehabilitation and natural regeneration to improve the livelihoods of coastal communities in the Pacific, and is representing Fiji at COP27.
Fiona Simson
Fiona Simson is first and foremost a farmer, running a mixed farming enterprise in northern New South Wales, Australia. But she is also a passionate advocate for agriculture and a skilled executive leader. She serves as the current President of Australia's National Farmers Federation and also the Chair of Australia's Commission for International Agricultural Research, advising ACIAR and Australia's Minister for Foreign Affairs on agricultural research and development.
Find out more about Australian engagement at COP27 
COP27 event - Visualising transformative adaptation for resilient food systems