Critical need for Australian expertise to tackle food systems threats in the Mekong Delta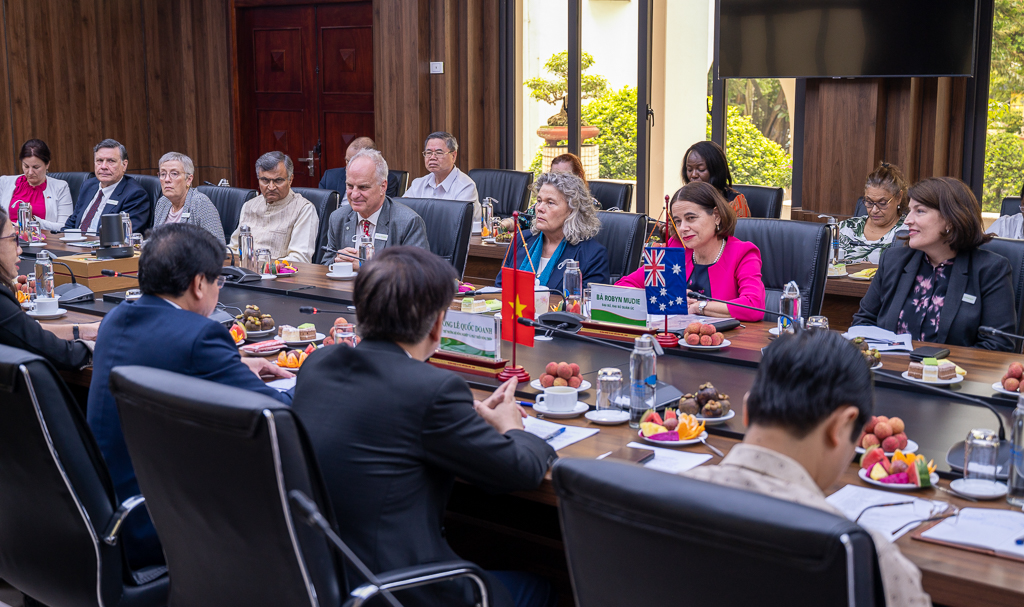 Two Australian advisory bodies – the Commission for International Agricultural Research and the Policy Advisory Council – recently visited Vietnam to see first-hand the major challenges facing one of the region's critical food bowls, the 40,500 km2 Mekong Delta.
The Mekong Delta is a major rice, fisheries and fruit producing region that underpins Vietnam's role as the world's second largest rice exporter. Recent high-resolution mapping has revealed that the lower Delta is much lower than previously assumed, with a mean elevation of just 0.8m above sea level. Sea level rises and land subsidence from ground water extraction are combining to lower the elevation of the Delta by as much as 5cm per year. Increasing incursion of saline water is forcing many farmers out of rice and fruit production.
Vietnam is addressing these challenges on multiple fronts, including engineering, crop breeding and livelihood diversification, notably rice-shrimp mixed farming and others. The scale of the threats is formidable. A 1 metre sea level rise - which at current rates may occur before 2050 - will see >30% of this major food bowl become permanently inundated and up to 20 million people severely impacted. This is not just a drastic national challenge for Vietnam but one that will impact regional and global food supply. Vietnam needs international research and policy collaboration to counter the significant challenges.
Further, the urgency of the problems facing the Delta is mirrored throughout South East Asia and the Pacific. Sea level rises, along with subsidence and reduced flow from upstream, means that saline intrusion in this region is happening much faster than global averages. More extreme rainfall and drought events are predicted to cut per capita crop production by up to a third. The urgency for action is clear.
Australia has a critical role to play. Through our agricultural innovation systems and long experience with climate extremes and volatility, we have strong and diverse expertise that can help address these challenges, many of which we share with our neighbouring countries. Vietnam, along with other Indo Pacific nations, look to partner and collaborate with Australia to further develop technologies to help farmers and the entire food system adapt to the new realities and transform their agrifood systems. Co-invested collaborative research and capacity building models, like the one that Vietnam and the Australian Centre for International Agricultural Research are developing, will be critical to address the complex impacts of climate change on food systems and natural resources.
Based on our observations in the Mekong Delta and given the scale and urgency of the threats to global food systems, the Commission and Policy Advisory Council will host a Food Systems Dialogue in Brisbane on 1 November this year. The aim is not to dwell on the scale and nature of the problems, but to focus on transformative food system options that need urgent global support through international research and development collaboration.
Mrs Fiona Simson Professor Wendy Umberger
Commission Chair Policy Advisory Council President