Australia's Commission for International Agricultural Research & PAC visit Vietnam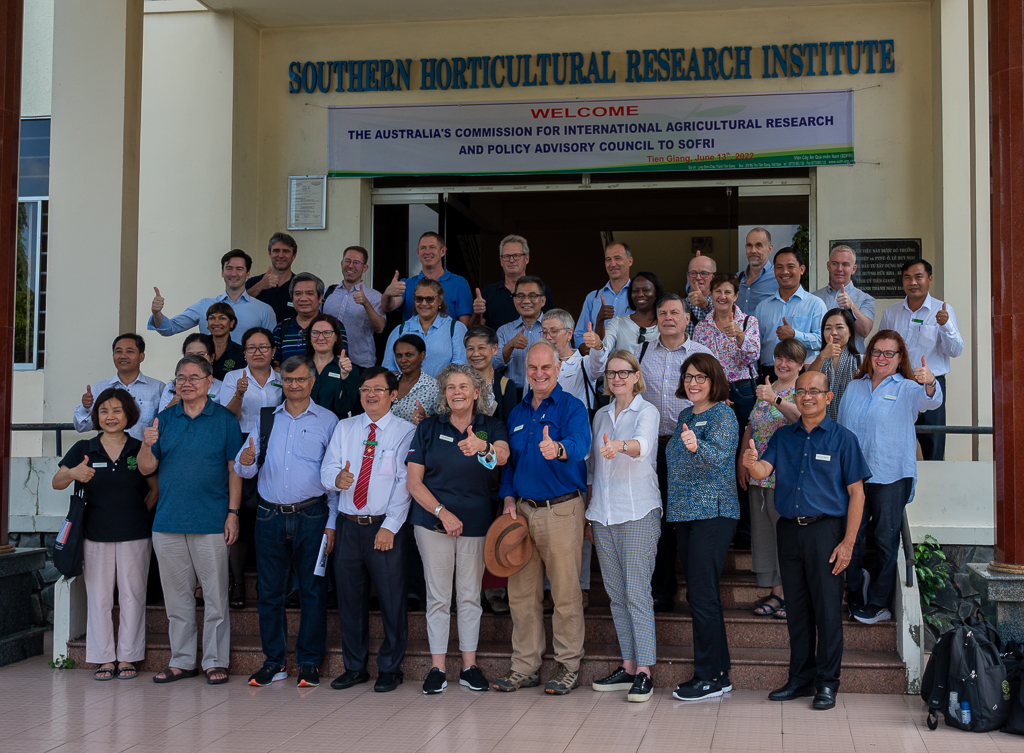 Australia's Commission for International Agricultural Research (Commission) and Policy Advisory Council (PAC) visited Vietnam last week to learn about the country's agricultural development priorities and explore research opportunities with Australia.
The Commission and PAC feature leading experts from across the Indo-Pacific who provide advice on agricultural development issues to Australia's Minister for Foreign Affairs.
A major focus of the delegation's visit was the Mekong Delta in country's south, where the impacts of climate change are placing increasing stress on the region's agricultural production and food security.
Commissioner and ACIAR CEO Professor Andrew Campbell said Vietnam is one of Australia's most significant long-term research partners; a partnership that will be vital in meeting sustainable development challenges in the years ahead.
'Vietnam is one of Australia's most important strategic partners in the Indo-Pacific region. ACIAR has been working in Vietnam for almost 30 years with many enduring partnerships at the national and institutional levels,' said Prof Campbell.
'It's immensely valuable to have the Commission and the PAC in Vietnam to see first-hand how ACIAR investment has contributed to sustainable agricultural systems and to explore how Australia can deepen and further that effort.'
The delegation visited multiple ACIAR-supported projects in the Mekong Delta that are helping smallholder farmers become more resilient to climate change, including a project led by Charles Sturt University to increase the production and profitability of saline-affected crop production systems.
Member of the Vietnam Panel on Climate Change Dr Nguyen Van Bo has been on the PAC since 2004 and welcomed the delegation's engagement with local researchers and farmers.
'The Mekong is Vietnam's most dynamic agricultural production hub, but it's also the most affected by the impacts of climate change, with rising seas levels, increasing soil salinity and drought,' said Dr Bo.
'Farmers in this region are also among the poorest in the country. There is no better place to witness the emerging challenges facing Vietnamese farmers and researchers than the Mekong.'
'I am delighted the delegation was able to meet with agricultural leaders to understand the future challenges and assess what research efforts are needed to protect local food security and rural livelihoods.'
The Commission and PAC also travelled to Hanoi to meet with various research partners including, a high-level discussion with Vietnam's Ministry of Agriculture and Rural Development (MARD).
'Upon seeing and discussing the most pressing emerging issues, the Commission and the PAC can identify bilateral and multilateral research opportunities that will be mutually beneficial for Vietnam and Australia,' said Dr Bo.
While in Vietnam's capital, the delegation also visited traditional Vietnamese wet markets and modern food retailers to compare smallholder farmers' channels to sell their produce.
They also met with farmers benefitting from an ACIAR-funded project helping rural communities grow safe vegetables that are then sold in high-value markets, dramatically increasing household incomes.  
The Commission and PAC visit different ACIAR partner countries each year to understand developing countries' agricultural challenges and explore what opportunities Australian research expertise and investment could offer to then provide advice to Australia's Minister for Foreign Affairs.
Before Vietnam, the Commission visited Indonesia in 2020, Laos in 2019, Fiji/Vanuatu in 2018, Myanmar in 2017, and Pakistan in 2016. 
---

The Commission for International Agricultural Research comprises 7 Australian Commissioners who provide collective decision-making and expert advice to the Minister for Foreign Affairs in relation to program formulation for agricultural research and development, priority setting, funding and other matters as requested by the Minister. Meet the Commissioners.
The Policy Advisory Council (PAC) consists of 12 members from across the Indo-Pacific. The Council gives a valuable insight into the development priorities of countries throughout the region and how Australia's expertise in agricultural research can contribute to these priorities through research collaborations. The PAC also assists the Australian Centre for International Agricultural Research in the planning and implementation of its research portfolio to improve food security and reduce poverty throughout our region. Meet the PAC members.