Overview
T

his project aims to understand the decision making processes underlying climate finance allocations and to identify potentially novel ways of intervening in or managing around climate finance flows to increase their ability to support gender equity, community-based goals and adaptive processes in the Pacific.
The project will examine:
the types of adaptation projects that get funded

main recipients and sources of climate finance, if locally-led and gender equitable processes are related and are being supported by existing climate finance streams, and

if there are key institutional barriers to supporting these processes associated with the major sources of international climate finance.
Project outcomes
Exploring how the funding institutions set up by the United Nations Framework Convention on Climate Change (UNFCCC) prioritise agricultural adaptation finance in the Pacific and assess how gender, community-led, collaborative, and learning-based approaches have been integrated within these activities.
Understanding the barriers to accessing climate finance for women and community-based approaches as well as work-around solutions that Civil Society Organisations (CSO) in the Pacific use.
Identifying current climate finance options that may best support gender equity outcomes and community-based adaptation approaches in agriculture. 
Identifying potential novel future interventions that could change, or better navigate, the climate finance institutional landscape to achieve gender and systems change outcomes. 
Improving the effectiveness of climate finance for agricultural adaptation initiatives in the Pacific by ensuring finance is accessible at the community level, supports collaborative, adjustable and learning-based adaptation interventions, and involves mechanisms to support gender equality transformation. 
Map
Image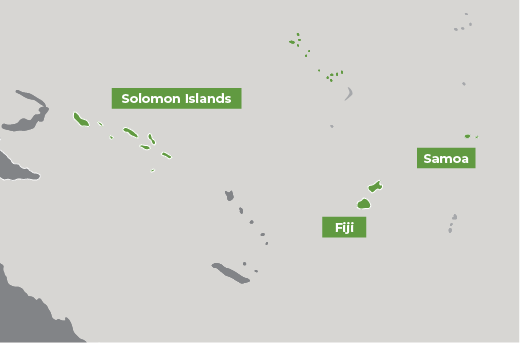 Key partners
Queensland University of Technology