ACIAR and Vietnam strengthen partnership through pandemic challenges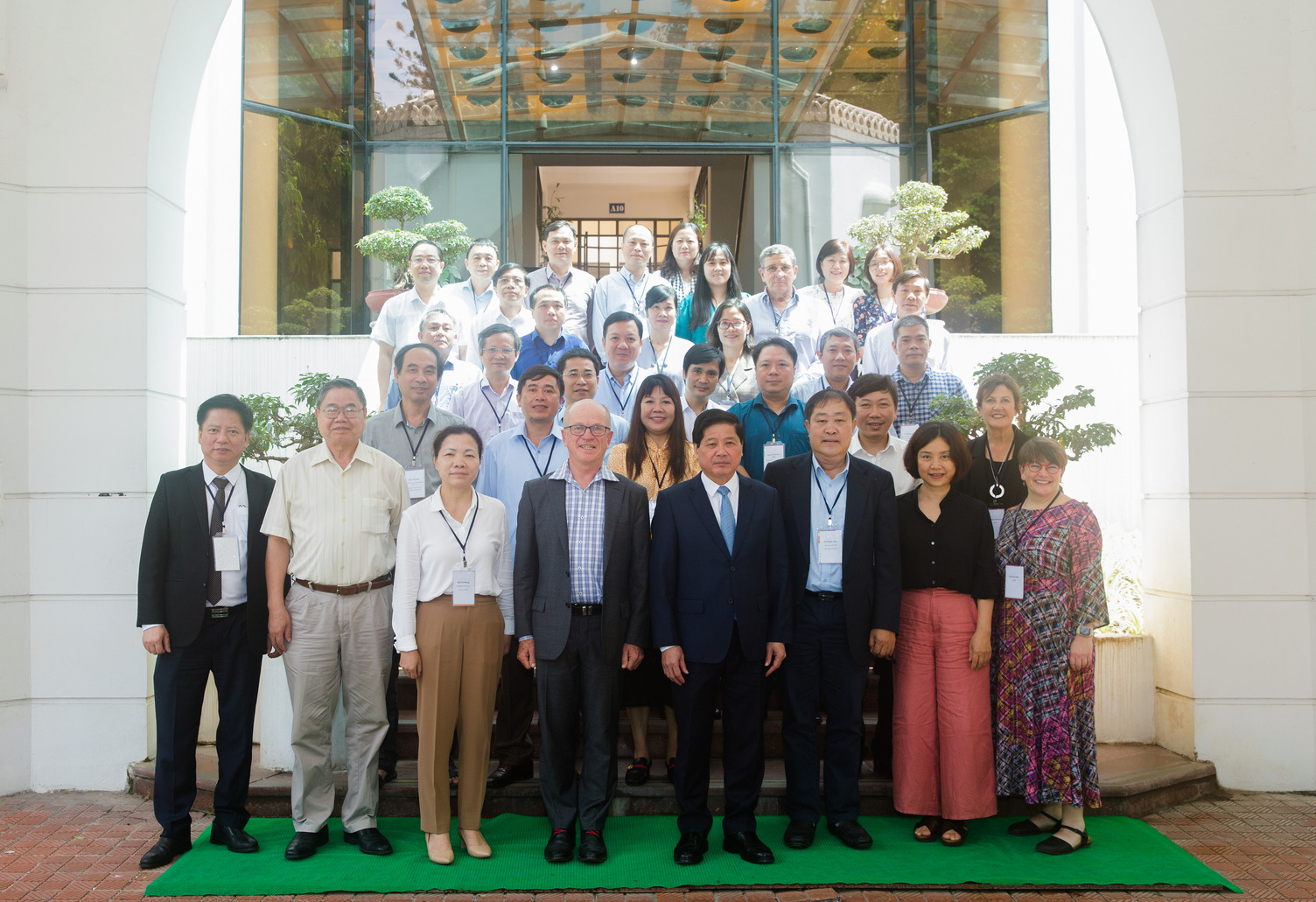 Agricultural research leaders from ACIAR and Vietnam met in Hanoi yesterday to discuss Vietnam's future research and development priorities.
Led by Vietnam's Ministry of Agriculture and Rural Development (MARD), the meeting focused on a long-term collaborative research strategy between the two countries and how Australian agricultural expertise could further contribute to Vietnam's agriculture development priorities over the next decade.
The meeting marked the first time in nearly 3 years that ACIAR and MARD could meet in person due to pandemic-related travel restrictions. 
ACIAR General Manager of Country Partnerships, Dr Peter Horne, said the meeting provided a valuable opportunity to review the implementation of the ACIAR-Vietnam 10-year strategy (2017-2027).
'It was very helpful of MARD to suggest this review meeting, halfway through our 10-year partnership commitment. It was the right time to review what we have achieved together over the last 5 years, including almost 3 very challenging years of COVID,' Dr Horne said.
'We have gained extremely useful insights on partnership management through challenging times, which will help us better shape how we will collaborate in the future.'
ACIAR has been an enduring partner of Vietnam since 1993, investing in more than 200 agricultural research projects worth A$126 million.
The 2 countries share many challenges and opportunities in the agriculture sector, with agricultural trade offering valuable opportunities to collaborate through agribusiness initiatives.
Despite the pandemic, Vietnam's agriculture sector is one of few that achieved substantial growth in 2021, with a record-breaking export value of US$48.6 billion (A$67.3 billion).
'This new record didn't come by accident,' Dr Horne said.
'It is the result of many long-running efforts in Vietnam working towards the transformation of a low-input, low-output system to a high-value product system. We are very proud to have contributed a small part to that transformation and keen to continue to be a trusted partner of Vietnam in the journey ahead.'
The current ACIAR-Vietnam strategy has pivoted towards supporting Vietnamese partners in helping the smallholder agriculture sector to commercialise, with a focus on connecting agricultural scientists and farmers with the private sector.
'Agribusiness is currently our largest program of research collaboration with Vietnam,' Dr Horne said.
'We are exploring new ways to engage with businesses better, such as through a new Agribusiness Reference Group. The initiative connects researchers with businesses with the intention of ensuring research is better targeted to meet market needs.
'At the same time, we need to focus on the needs of those smallholder farmers who remain the most vulnerable in the agricultural supply chains, with many still living in poverty,' Dr Horne said.
More broadly, the 10-year ACIAR-Vietnam strategy highlighted the shared goals and priorities of the 2 countries, which has served as a backbone of ACIAR investment in Vietnam. It also provides guiding principles for the collaborating partners in designing ACIAR-supported projects in the country.
MARD Vice Minister, Dr Le Quoc Doanh, welcomed the meeting and reiterated the value of the long-running partnership with ACIAR. 
'One of the strongest advantages of our partnership is the mutual acknowledgment of shared goals and benefits. ACIAR has always put Vietnam's priorities at the centre of its investment decisions. Most ACIAR-supported projects have addressed the right pressures on the agriculture sector and been well-received by our national and provincial agricultural officers and farmers,' said Dr Le Quoc Doanh, Vice Minister of MARD.
Over the last decade, the ACIAR-Vietnam research collaboration has witnessed an increase in the scale of bilateral and multilateral projects involving Vietnam. Research has also moved from purely technical to more social-integrated programs and focused on strengthening value chains and improving the livelihoods of smallholder farmers.
Despite the significant challenges of the COVID-19 pandemic, Vietnamese researchers have grown in confidence with increased responsibilities in implementing projects without the direct support of international experts in the field due to travel restrictions.
'Vietnamese researchers have demonstrated their very strong capability to lead research collaboration, not only in Vietnam but more broadly in the region,' Dr Horne said.
'For example, we are pleased to support Vietnamese researchers to share their expertise in aquaculture feed formulation with other Southeast Asian countries such as Indonesia and the Philippines.
'Their increased confidence in leading through the pandemic has flagged a strong opportunity for us to continue supporting this kind of research leadership in the region' said Dr Horne.
ACIAR has continually invested in Vietnam's scientific and policy capability since 1993, with more than 100 government officials and researchers completing various ACIAR-funded scholarship programs. In 2021, ACIAR launched an in-country version of its John Dillon Fellowship research leadership program, with 19 emerging research leaders from Vietnam joining the program.
Learn more about ACIAR investment in Vietnam via the ACIAR website.