New farming practices boost PNG sweetpotato production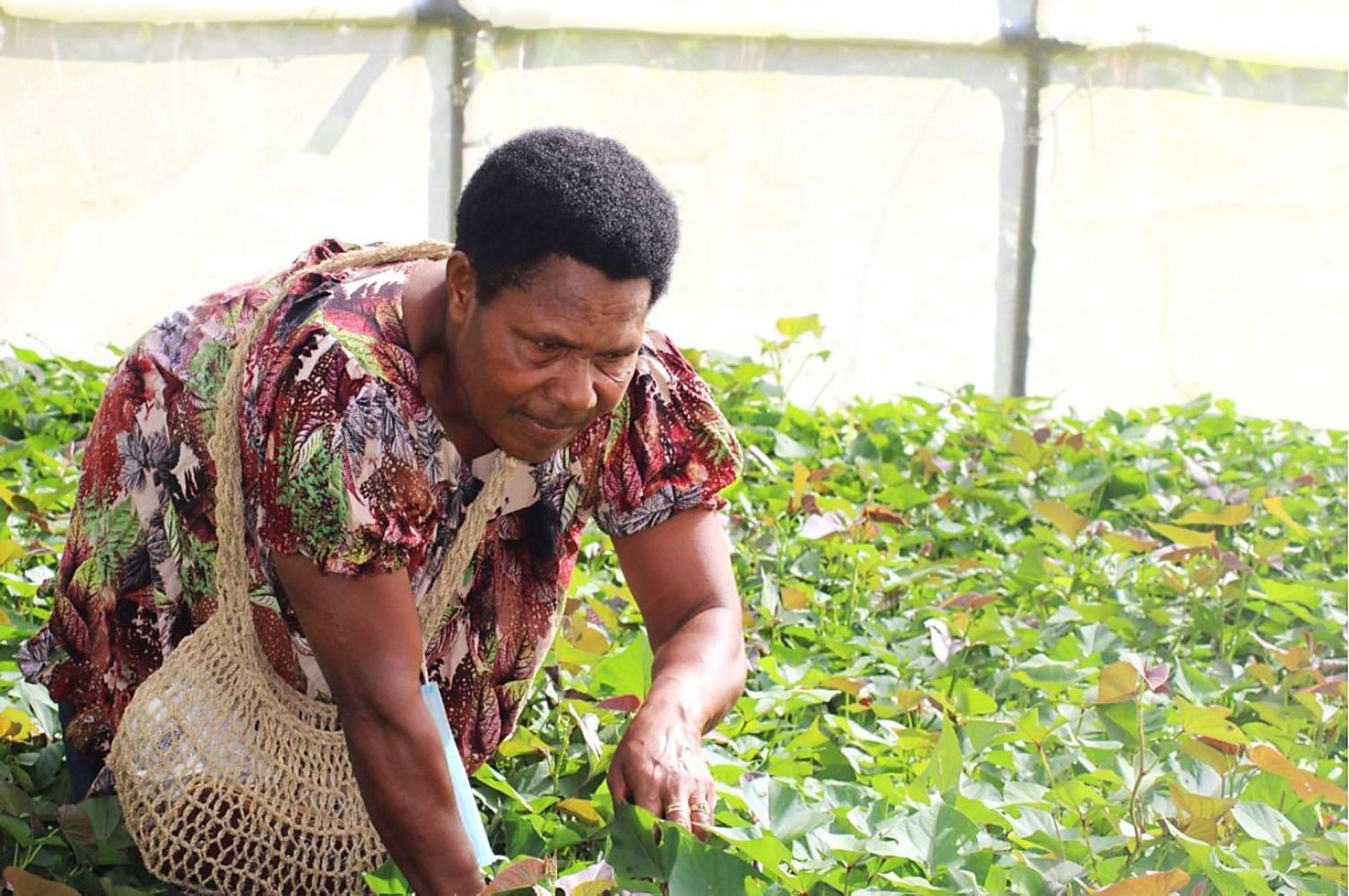 Sweetpotato farmers in Papua New Guinea (PNG) are benefiting from new irrigation systems that are helping to increase production and improve livelihoods.
Climate change is seeing many rural communities in highlands of PNG face increasing dry periods and less consistent rainfall. The worsening conditions frequently impact crop yields and in extreme cases have threatened local food security.
The new systems will provide farmers with a more dependable source of water that will bolster production and help shift rural communities from subsistence farming to more commercial-based production.
The irrigation systems were delivered through a project to commercialise sweetpotato in the Highlands of PNG under the Transformative Agriculture Development and Enterprise Development Program (TADEP),  jointly-funded by ACIAR and the Australian Government Department of Foreign Affairs and Trade (DFAT).
Project officer, Christian Bugajim from PNG's Fresh Produce Development Authority (FPDA) said they have set up irrigation systems at several project sites.
'In PNG we have underestimated the importance of irrigation for commercial farming,' Mr Bugajim said.  'But water is crucial to improving production and irrigation should be an important part of any farming system in the country.'
Sweetpotato farmer Rachel Suak Mok from Minj, Jiwaka Province is one of the first to trial the new irrigation system.
'Previously, it was really difficult for me. My garden is up on the mountain and water had to be carried from a creek which is at the bottom of the mountain,' Mrs Mok said.
'In the past, especially during the dry season, I have stood by and watched as my crops die because I was unable to water my gardens properly.'
The irrigation system comprises a water tank, piping and water pumps. Together they supply water from a nearby creek, directly to Mrs Mok's sweetpotato gardens. Through the project, PNG's National Agriculture Research Institute is working with the Queensland Department of Agriculture and Fisheries to produce virus-free sweetpotato planting material. This is then distributed by FPDA to the 14 farmers.
Combined, the new irrigation systems and the virus-free planting material is helping boost productivity.
ACIAR Research Program Manager for Horticulture, Irene Kernot said the project aims to support farmers move from subsistence farming to market-oriented sweetpotato production.
'Increases in sweetpotato production and reducing crop failure is a plus for food security in PNG. Commercialising sweetpotato also creates opportunities for Papua New Guineans to enter into business at different stages along the supply chain.'
The farmers have reported crops grown from the supplied clean seed are producing good quality sweetpotato with much higher yields. This has enabled growers to increase sales, including to newer markets such as the supermarket sector in Port Moresby.
The sweetpotato project is one of five projects under TADEP – a program jointly-funded by ACIAR and DFAT. The six-year program aims to increase agriculture production and quality, ensure gender equity and support individual and institutional development.
Feature image: Rachal Suak Mok from Minj, Jiwaka Province, inspecting her clean sweetpotato vines as part of the ACIAR project to commercialise sweetpotato.