New wheat restores hope to farmers in Bangladesh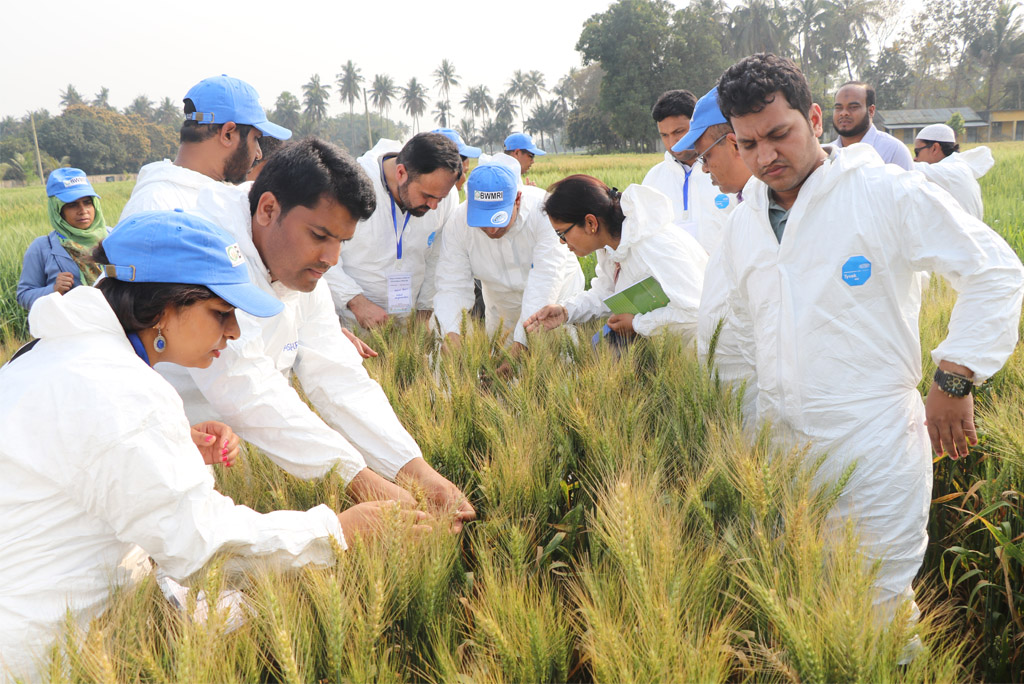 More than 10 new wheat varieties with better resistance to the devastating wheat blast disease have been released through a global collaboration supported by ACIAR. 
Detected in Bangladesh for the first time in 2016, wheat blast can decimate wheat crops and with it the livelihoods of farmers and their families. 
To curb this devastation and potentially prevent the disease spreading to other warmer regions of the globe, the international scientific community collaborated to find solutions.
As part of a project supported by ACIAR, the project team established 3 screening platforms to identify wheat with blast resistance—one in Bangladesh and 2 in Bolivia.
The resistant wheat germplasm identified through the screening process was then used to breed and release varieties adapted to Bangladesh.
Head of Wheat Pathology, International Maize and Wheat Improvement Center (CIMMYT), and project leader Dr Pawan Kumar Singh said, 'Nearly 10,000 wheat genotypes from CIMMYT and South Asia have been screened for wheat blast over multiple cropping seasons.'
Senior Scientist of the Wheat Breeding Division at Bangladesh Wheat and Maize Research Institute (BWMRI) Dr Muhammad Rezaul Kabir praised the magnitude of intervention that helped them develop the resistant varieties.
'At the onset of the disease in 2016, wheat cultivation was discouraged in several areas in the south and southwestern districts of Bangladesh,' Dr Kabir said.
'The release of wheat blast resistant varieties has renewed farmer confidence in wheat cultivation.'
Dr Eric Huttner, ACIAR Research Program Manager for Crops, said that by using the resistant wheat, millions of farmers will be able to generate profits from wheat production again.
'This will result in increased domestic production and reduced importation of wheat into Bangladesh where wheat consumption is increasing,' Dr Huttner said.
'In the next phase of the project, we will refine our understanding of the resistance and provide breeders with better tools to use the resistant wheat in new varieties. 
'We will take the release of the resistant varieties as a good case study to further understand farmers' interest in the varieties, access to them, and their adoption.'
With the support of international partners in providing germplasm for screening and breeding, wheat blast resistant varieties have been released in Bangladesh, India, Bolivia and Nepal.
Key partners in this project include CIMMYT in Mexico, BWMRI, and Bolivia's National Institute of Agricultural and Forestry Innovation (INIAF). The national agricultural research systems of India, Nepal and Pakistan contributed their own wheat lines which were tested at the screening platforms in Bangladesh and Bolivia.
Learn more about the project via the ACIAR website.