Overview
This project aims to identify and understand how agribusiness development opportunities can improve economic growth and livelihoods in the Pacific.
A flourishing agribusiness sector is vital for sustainable economic growth in the Pacific Island countries (PICs).
It is central to reducing poverty, especially in rural communities, and delivering an improved trade balance, both of which are key goals of Pacific Island governments and their development partners.
Agribusinesses in the PICs have many disadvantages but, despite the challenges, agribusiness has the potential to develop value chains in the agriculture, forestry and fisheries sectors that are more efficient and inclusive, and which take advantage of new opportunities for primary production, value-adding and marketing.
Building on the Pacific Agribusiness Research for Development Initiative (PARDI), this second phase will look at the reasons certain agribusinesses have succeeded, document their positive impacts on community livelihoods and investigate how best to extend and make their economic benefits more inclusive and sustainable.
Expected project outcomes
Positive impact on the commercial viability and business growth of at least 10 lead agribusinesses, farmer organisations and associated value chains.
New and/or more secure opportunities for potential employment and business development in the agribusiness sector for at least 100 individuals.
At least two new agribusinesses established and operating in each of the two project countries.
A greater awareness of the benefits and opportunities for agribusiness and its potential to become the mainstay of rural economies.
Increased knowledge and opportunities leading to greater confidence and an increased desire among rural people, especially youth and women, to participate more fully in agribusiness and other value-adding activities.
10 agritourism enterprises directly supported and enhanced and a further 20 indirectly.
5 honeybee enterprises directly supported and a further 30 indirectly.
2 tilapia enterprises directly supported and enhanced and a further +10 indirectly through Tilapia Fiji.
Map
Image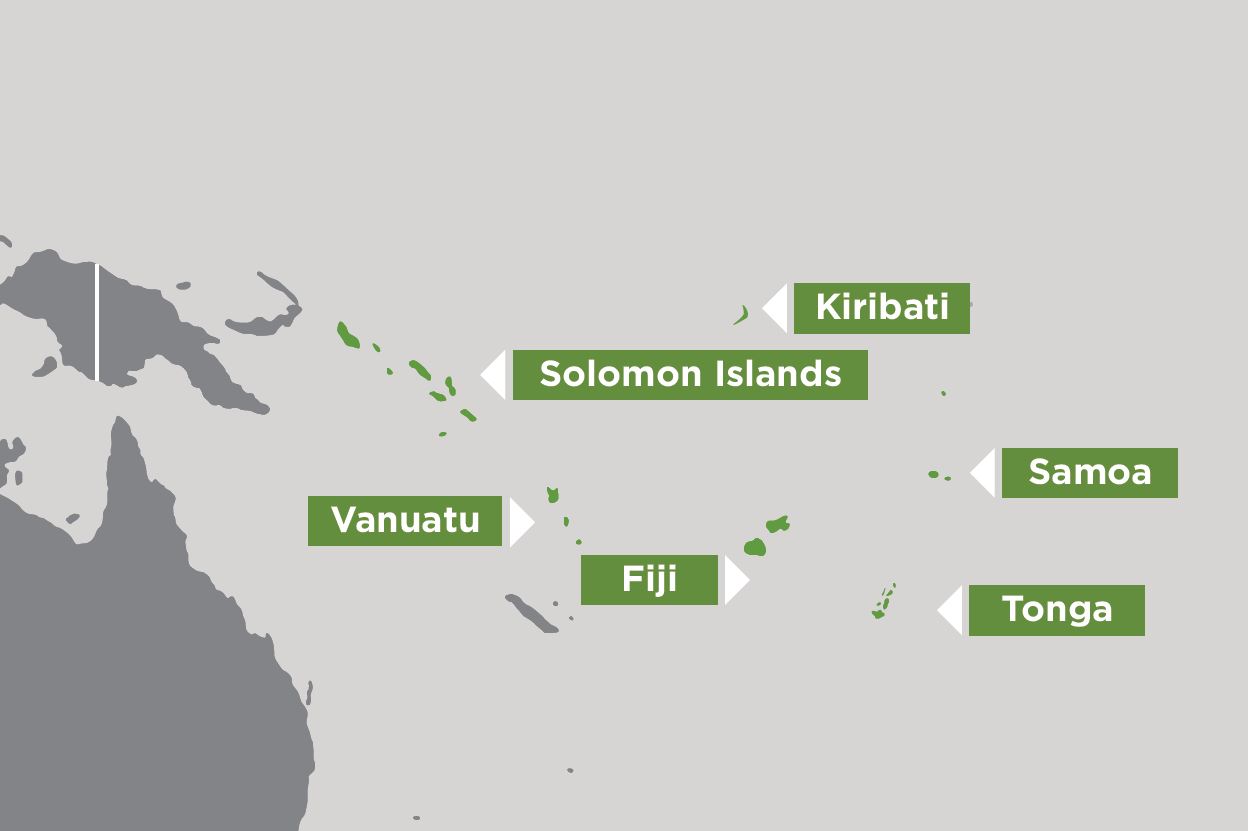 Key partners
Pacific Community Fiji
Pacific Island Farmers Organisation Network
Pacific Islands Development Forum
Pacific Islands Private Sector Organization
Southern Cross University
University of Adelaide
University of the South Pacific
University of the Sunshine Coast